Dir: Jason Reitman. US. 2013. 111mins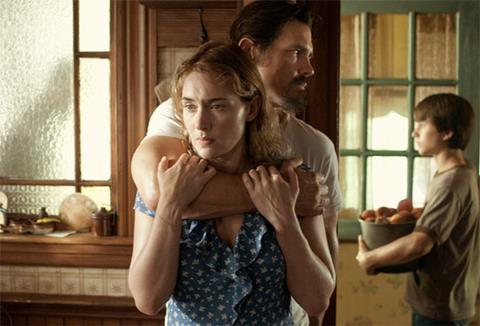 A mature and assured examination of an unusual but highly functional family unit, Labor Day works best when it allows the mystery at the heart of its narrative to take centre stage. Based on Joyce Maynard's novel about a divorced mother and teen son who get taken hostage by a dangerous escaped felon, writer-director Jason Reitman's fifth feature builds on the promise of his earlier work, showing him more confidently delving into ambiguous character studies and nuanced emotional terrain.
At its strongest, Reitman's film casts a non-judgmental eye on the proceedings, showing with small but telling moments how these three characters begin to form an ad hoc family.
After screening in Telluride and Toronto, Labor Day is slated for a December 25 release in the US, and while a movie about a kidnapping might not seem like jolly Christmas fare, this Paramount offering's eventual embrace of its more emotional side could make it an unexpectedly life-affirming choice for audiences. Buoyed by strong performances from the likes of Kate Winslet and Josh Brolin, Labor Day could ride awards buzz and rave reviews to solid theatrical business.
Set in 1987 in New England, the film takes a few moments to deftly establish its two central characters: Henry (Gattlin Griffith), a sensitive 13-year-old (who narrates the story from the perspective of his grownup self, voiced by Tobey Maguire); and Adele (Winslet), his depressive mother who has had a tough time navigating through life since her husband left her.
Henry is his mother's constant companion, but their bond gets sorely tested when a stranger named Frank (Brolin) approaches them at the store, a small bloody wound leaking through his white T-shirt. Recently escaped from prison, Frank demands that Adele take him back to her house where he'll stay until nightfall, when he'll make his getaway.
Labor Day sets up a touching two-character dynamic between Henry and Adele before upending that tender, melancholy tone with the appearance of Frank. A desperate, muscular man, Frank is a criminal, but at first we're not sure exactly what his crime is. Regardless, from the blood on his head and chest to his calm, steely gaze, Frank exudes the demeanour of a man not to be trifled with. But to his captives' surprise, he slowly begins to show a gentler side, teaching them how to bake pies and becoming quite comfortable around the lonely, repressed Adele.
At its strongest, Reitman's film casts a non-judgmental eye on the proceedings, showing with small but telling moments how these three characters begin to form an ad hoc family. Even though Frank should make a run for it, he decides he wants to stay longer — and, unexpectedly, Adele and Henry don't want him to leave, either. There is a slight degree of preposterousness that hangs on the edges of this narrative, but such is Reitman's control of the material — which he explores with steady, observant understatement — that we're willing to meet the characters halfway in their difficult attempt to make this relationship last.
The film's thematic core isn't too hard to ascertain — though he may be a criminal, Frank is the husband and father these captives have desperately needed — but Reitman gets considerable mileage out of this conceit, spinning a love story (actually, two) and a coming-of-age tale from this setup. And he benefits from a cast that's attuned to the material's restrained approach.
Offering a variation of her disillusioned, struggling housewife from Little Children, Winslet ably conveys both Adele's ever-present anxiety and her surprising emotional rebirth once Frank comes into her orbit. Likewise, Brolin is excellent at revealing little, hinting at Frank's violent past while exposing the man's other dimensions, including his sexual dynamism. And Griffith sidesteps preciousness at every turn, delivering a performance that evokes Henry's budding sexuality and adolescent uncertainty.
If there is fault to be found, it's that Labor Day can't sustain its superb tonal control. Throughout the film, we see glimpses of a flashback into Frank's pre-prison life, presenting vague clues into what landed him in jail. At first, these are artfully done, suggesting that Frank was married at one point, but as they go on, they play out in rather predictable fashion, leading us to believe one version of events and then surprising us with a twist. It's the first instance of the film abandoning some of its mystery for a more literal explication of the characters' full motivations.
This extends to the film's finale, which should not be spoiled but does present a somewhat idealised conclusion to the events that have come before. For most of Labor Day, Reitman allows us to wonder if these three seemingly mismatched characters can coexist, in the process illustrating how all families are a product of love, compassion, forgiveness and forgetting. Only in its final reels does Reitman spell out these sentiments in more boldfaced fashion.
Production companies: Indian Paintbrush, Right Of Way Films, Mr. Mudd
US distribution: Paramount Pictures, www.paramount.com
Producers: Lianne Halfon, Russell Smith, Jason Reitman, Helen Estabrook
Executive producers: Steven Rales, Mark Roybal, Michael Beugg, Jeffrey Clifford
Screenplay: Jason Reitman, based on the novel by Joyce Maynard
Cinematography: Eric Steelberg
Production designer: Steven Saklad
Editor: Dana E. Glauberman
Music: Rolfe Kent
Main cast: Kate Winslet, Josh Brolin, Gattlin Griffith, Tobey Maguire, Clark Gregg, JK Simmons, Brooke Smith, James Van Der Beek