Dir: Lynn Shelton. US. 2014. 100mins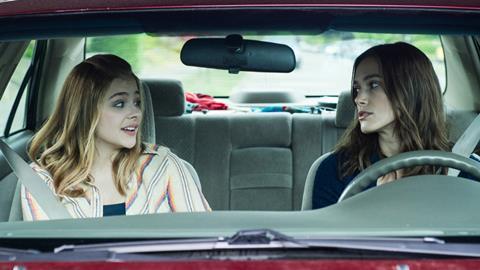 A twenty-something woman who wonders if her life was better in high school gets a chance to find out when she becomes the unlikely best friend of a teen in Laggies, a very likeable, often funny comedy that can't quite escape a certain conventionality. The latest from indie director Lynn Shelton — and her first film she didn't write — contains her usual warmth and engaging, unfussy performances. And yet Laggies fails to dig deep enough into its questions of maturity and commitment, resulting in a movie that's pleasant but slight.
Although Laggies does coast along a fairly expected path, Shelton does pull out a shock in the third act that's gutsier than anything that came before it.
Premiering at Sundance, Laggies boasts a cast topped by Keira Knightley, Chloë Grace Moretz and Sam Rockwell. Less noticeably micro-budget than Shelton's Humpday or Your Sister's Sister, this comedy seems more of a niche play than a mainstream crowd-pleaser, although the accessible storyline of mismatched friends might attract audiences who had previously resisted the filmmaker's intimate, insular character pieces.
Laggies introduces us to the lively, childish Megan (Knightley), who has been with her boyfriend Anthony (Mark Webber) since high school, never getting married and happy to watch her friends tie the knot and start families. But after seeing her father cheating on her mother at a party — and anxious that Anthony wants to get engaged — the unambitious, unmotivated Megan begins to panic that she's helpless to stop her inevitable slide into a staid adulthood.
That changes after meeting Annika (Moretz), a high school student who initially wants her to buy beer for her friends but who ends up viewing Megan as a mentor and cool older friend, an uncomplicated arrangement that Megan sees as a relief from her adult worries. Soon, Megan lies to Anthony, telling him she's going away for a weeklong career-counselling retreat, when in fact she's going to crash at Annika's house and decide whether she wants to marry Anthony. (In turn, she tells Annika that she's in between apartments, never mentioning Anthony or his wedding proposal.)
Working from a script by Andrea Seigel, Shelton (as she did with last year's Touchy Feely) is moving away from the heavily improvised style of her previous films, preferring a more polished, scripted approach.
As with Touchy Feely, though, Laggies suffers because of its smoothness. There's a sitcom-like sheen to the proceedings, which gives the film a breezy, confident slickness but lacks the edge and character insights that are the hallmarks of Shelton's finest films. While Laggies does have thoughts on the tedium of commitment and the fear of middle age, the central friendship between Megan and Annika doesn't offer much surprise. Even the introduction of Annika's bewildered single father (Rockwell) sets in motion a fairly predictable plot trajectory once he and Megan begin to bond.
With that said, Knightley intriguingly doesn't play Megan as an adorably screwed-up individual. Instead, Megan is seen as deeply immature, a condition that threatens to upend a long-term relationship she clearly treasures but is also beginning to view as a prison. There's a reckless restlessness to Megan that Knightley brings into focus, although she's less capable of showing other sides of the character's personality. As a result, there's no sharp commentary that comes from Megan regressing to her teenage self around Annika. Instead, it plays out as simple wish-fulfilment until the inevitable moment when Annika and her dad (not to mention Anthony) discover her bevy of lies.
Moretz and Rockwell, whose characters represent a fresh start for Megan, are both winning, especially Rockwell as a smart-aleck, charismatic lawyer whose hip rapport with his daughter belies his loneliness and insecurities. And although Laggies does coast along a fairly expected path, Shelton does pull out a shock in the third act that's gutsier than anything that came before it. One wishes the rest of the movie had been so willing to push into uncharted territory.
Production companies: Anonymous Content, The Solution Entertainment Group
US sales: Creative Artists Agency, www.caa.com; and United Talent Agency, www.unitedtalent.com
International sales: Lisa Wilson/The Solution Entertainment Group, lisa@thesolutionent.com
Producers: Steve Golin, Alix Madigan-Yorkin, Rosalie Swedlin, Myles Nestel
Executive producers: Paul Green, Jennifer Roth, Lisa Wilson, Shawn Simpson, Gordon Bijelonic, Craig Chapman
Screenplay: Andrea Seigel
Cinematography: Ben Kasulke
Production designer: John Lavin
Editor: Nat Sanders
Music: Benjamin Gibbard
Main cast: Keira Knightley, Chloë Grace Moretz, Sam Rockwell, Ellie Kemper, Jeff Garlin, Mark Webber