Three acclaimed films under its belt and Laika, the Portland, Oregon-based animation studio behind Coraline, is "just warming up" according to its founder.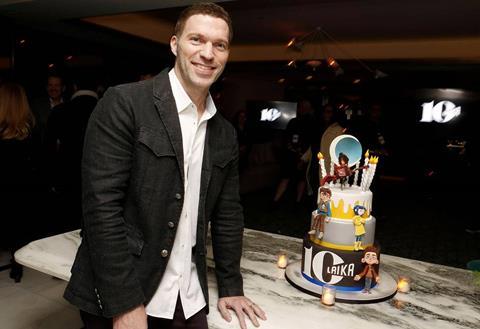 "When Laika began we had a simple goal: to make movies that matter," president, CEO, lead animator and producer Travis Knight told a small gathering at the London West Hollywood on Tuesday night.
"Laika is devoted to telling new and original stories in new and original ways."
On the occasion of the company's tenth birthday Knight, who could go toe-to-toe with Tony Stark in the charm and eloquence stakes, thanked his collaborators and his team.
He also paid fulsome praise to Focus Features, whom he described as "the perfect partners" after he knocked on doors with his drawings more than a decade ago and experienced "rejection, rejection and dispiriting rejection."
Knight added: "We have the bravest distributors in the world. They are lionhearted souls who took a chance on a ragged band of misfits from Oregon. Together, we share an abiding love for original stories and inventive storytelling."
Laika has made ParaNorman and The Boxtrolls since it broke out with Coraline in 2009. All three films have earned Academy Award nominations and bagged some Annies.
Coming up in 2016 is Knight's first film as director, Kubo And The Two Strings, about a youngster and his magical musical instrument in a fantastical Japan who must unlock the secret of his past to save his family.
The voice cast includes Charlize Theron, Matthew McConaughey, Rooney Mara, Ralph Fiennes, Art Parkinson, George Takei, Cary-Hiroyuki Tagawa and Brenda Vaccaro.
"I've got to say it's pretty, pretty, pretty good," said Knight. "You guys are going to love it." Kubo And The Two Strings is scheduled to open via Focus Features on August 19.