Dir: Jon Turteltaub. US. 2013. 105mins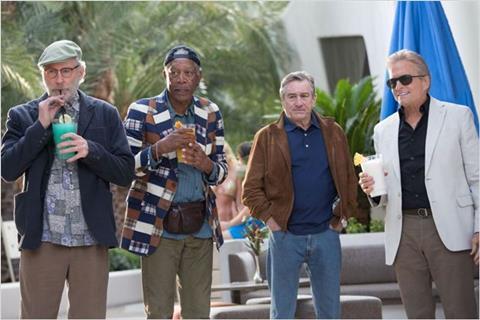 Robert De Niro, Michael Douglas, Morgan Freeman and Kevin Kline star as four lifelong friends who convene in Sin City to relive their glory days in advance of the nuptials of one of them in Last Vegas, a funny, sweet and poignant crowd-pleaser that doesn't insult its audience's intelligence. Far more than just the unmoored, geriatric version of The Hangover that its premise suggests, this seriocomedy roots down into its characters in a manner that throws a spotlight not merely on jocular fraternity, but also the duties of friendship and the hard truths that sometimes only the best and closest of pals can offer up.
As one might expect, Last Vegas' performances go hand-in-glove with the strength of the material, and the rapport of all the actors is fantastic.
Opening wide against animated family film Free Birds and sci-fi action drama Ender's Game, Last Vegas seems to skew old on the surface. But the cast's star power and generally positive audience word-of-mouth could draw in younger audiences, and in the most optimistic scenario turn this into a sleeper hit along the lines of 2007 Christmas release The Bucket List, a $175 million worldwide grosser which split its earnings nearly 50-50 between Stateside and foreign screens. Either way, a solid recoupment for distributor CBS Films seems certain, with robust ancillary value.
After Billy (Douglas) somewhat impulsively proposes to his much younger girlfriend, he wants his three childhood pals, scattered across the country, with him at a well-appointed destination wedding in Las Vegas. Sam (Kline) and Archie (Freeman) each eagerly accept, and convince Billy to append a two-day bachelor party on the front end of the festivities. The wrinkle is that they're left to corral Paddy (De Niro), who in addition to still coping with depression from having lost his wife a year ago is also angry with Billy and not speaking to him.
Sam says goodbye to his wife, Archie sneaks away from his son, and together they trick Paddy into joining them. Once in Vegas, the reunited quartet meets Diana (Mary Steenburgen), an ex-accountant who in retirement has given her dream of being a nightclub singer a whirl. Over the weekend, carousing ensues, as well as the litigation of old unaired grievances.
Director Jon Turteltaub provides a steady hand on the tiller, but much credit belongs to screenwriter Dan Fogelman, for fleshing out his original treatment in a manner that allows for the inclusion of substantive discord. Fogelman has penned a lot of animated films (including Cars, Bolt and Tangled), but Last Vegas conjures up the same sort of bittersweet mix of first loves, lost loves and the swollen hope of new romantic possibility that also marked his Crazy Stupid Love. The banter is well-pitched and amusing (the guys express astonishment that Billy's fiancé is old enough to have her own cell phone), but also threaded with genuine emotion ("My brain cannot conceive of how old this body is," says Sam wistfully at one point).
The story has legs underneath it, too, because amidst the requisite gambling and hitting on (much) younger women, there are well-sketched characters. The few bits that do either give off an odor of stale set piece shenanigans or induce a nervous sense of yawning overfamiliarity — a strange sequence involving electronic dance duo LMFAO and the guys being mistaken for aging mob bosses, respectively — thankfully don't last too long, or overwhelm the main plot, which is centered around parallel flirtations with Diana and in particular the explanation of and resolution of tensions between Billy and Paddy.
As one might expect, Last Vegas' performances go hand-in-glove with the strength of the material, and the rapport of all the actors is fantastic. De Niro gives Paddy an honest streak of fuming indignation, breathing dimensionality into his initial obstinacy at taking part in any activities with the rest of the guys. Owing to their characters, Kline and Freeman (who gets to deliver a great drunk scene) have the most loose-limbed fun, but the former also locates an affecting centeredness when the movie bows to convention in regards to his horndoggery. And as the new romantic focal point between the guys, meanwhile, Steenburgen holds her own, with charming aplomb and smartly delivered repartee.
Though shot mostly in Atlanta, Georgia, two weeks of location filming in Las Vegas help root the film solidly in place, without falling back on overused landmarks. Making use of unique sites like the Neon Sign Museum, Stratosphere and more, cinematographer David Hennings and production designer David J. Bomba serve up a pleasing juxtaposition of new and old — entirely fitting for Last Vegas.
Production companies: Good Universe, Laurence Mark Productions
Domestic distribution: CBS Films
Producers: Amy Baer, Laurence Mark
Executive producers: Nathan Kahane, Jeremiah Samuels, Lawrence Grey
Co-producers: Matt Leonetti, Nicole Brown
Screenplay: Dan Fogelman
Cinematography: David Hennings
Production designer: David J. Bomba
Editor: David Rennie, with additional editing by Keith Brachmann
Music: Mark Mothersbaugh
Website: www.LastVegasMovie.com
Main cast: Robert De Niro, Michael Douglas, Morgan Freeman, Kevin Kline, Mary Steenburgen, Romany Malco, Jerry Ferrara, Roger Bart, Joanna Gleason, Michael Ealy, Bre Blair, April Billingsley, Andrea Moore