Dir: Julie Gavras. Fr-UK-Belg. 2010. 95mins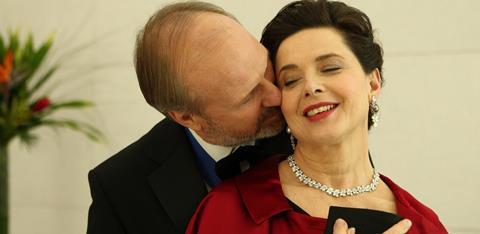 Late Bloomers stars Isabella Rossellini and William Hurt as a married couple pulled apart by the threat of old age. Each reacts in a different way: Hurt's distinguished architect chases after his glory days, while Rossellini's housewife installs handrails about the house.
A jaunty soundtrack and credits set the scene for what should have been a picaresque comedy about ageing, but the London setting is a red herring.
Director Julie Gavras' follow-up to the well-received Blame It On Fidel is a peculiar disappointment, a picture which feels disconnected from its millieu (London) and its actors, who seem lost, at odds with the script and each other. While the dialogue in Late Bloomers admittedly isn't particularly distinguished, all are capable of better work.
Gavras's obdurate repetition of her theme - I'm old, you're old, we're all growing old, old, old - and refusal to admit a note which doesn't reflect or reinforce it, works to numb and eventually alienate the viewer from the valid points she makes.
Cable beckons, and other ancillary interest in territories where Hurt and Rossellini hold sway. Some decent swipes at society's attitude to ageing, mostly made by the delectably acerbic Joanna Lumley as Mary's "grey panther" activist friend, could give this a resonance for silver screeners.
In a dark and dingy, most un-London-like apartment, the Italian-born Mary (Rossellini) is coming to terms with her approaching 60th birthday. Mother Nora (Mantle) lives next door. Husband Adam (Hurt) has just received a career award from architectural body RIBA and this, coupled with an incident of memory loss, prompts Maria to re-assess their lives.
She takes up water aerobics and gets shirty with Adam because he doesn't like the telephone she has bought with a large-type dialling pad for the aged. This leads him to eventually leave the marital home and move to his office; a radical move, perhaps, but also understandable, given how aggressively irritating Mary is.
In his working life, Adam's glory days as a builder of transport hubs are behind him and, despite the warnings of practice owner Simon Callow (larger than life, performing in another film entirely), he starts on a project to tender for a museum in the Battersea Power Station, a project "bigger than the Louvre". He starts wearing hoodies and flirts with a junior associate. Mary flirts with the gym owner (Hugo Speer). Their three children, all wooden (British actress Kate Ashfield coming off the best) look on aghast.
Isabella Rossellini gives a committed, quivering, performance, but it's hard to appreciate her Maria; Gavras flails across the board with her actors, and Rossellini struggles in the space left where the direction should have been. Hurt is typically nuanced in his own section of the film, but even Lumley struggles to chew out some of the dialogue.
A jaunty soundtrack and credits set the scene for what should have been a picaresque comedy about ageing, but the London setting is a red herring, as Late Bloomers' scanty exterior shots contribute little to a sense of grounding.
Production company: Les Films du Worso
International sales: Gaumont, www.gaumont.fr
Producers: Sylvie Pialat, Bertrand Faivre
Screenplay: Julie Gavras, Olivier Dazat
Cinematography: Nathalie Durand
Production designer: Eve Stewart
Editor: Pierre Haberer
Main cast: William Hurt, Isabella Rossellini, Doreen Mantle Kate Ashfield, Aidan McArdle, Hugo Speer, Joanna Lumley, Simon Callow