Dir: Luke Greenfield. US. 2014. 104mins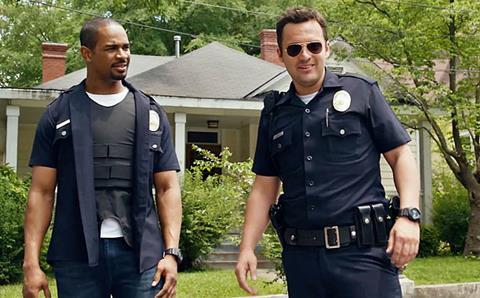 Impersonating a police officer gives rise to some amiable if not hugely funny hijinks in Let's Be Cops, a summer action comedy built around New Girl TV co-star Jake Johnson and Wayans family scion Damon Wayans, Jr.
The film doesn't provide the stars with the sort of over-the-top set pieces that usually produce the biggest laughs in this genre.
Opening wide in the US this weekend through worldwide distributor Fox, the R-rated (though only mildly raunchy) comedy may work as a late summer alternative even if it doesn't match the grosses of recent R-rated hits like Neighbors and 22 Jump Street. Lack of star power could be a drawback during an international roll out between now and the end of the year.
Wayans' Justin and Johnson's Ryan are Los Angeles roommates who are pushing thirty and still struggling for success. After dressing up as cops for a party and enjoying the results, the friends start playing police on a regular basis. The fun turns serious when the fake officers clash with a band of European mobsters.
The script, by director Luke Greenfield (2011 romcom Something Borrowed) and Nicholas Thomas, gives the leads credible characters and decent dramatic arcs. Justin's potential romance with Josie (Nina Dobrev, from TV's The Vampire Diaries) is pretty thin stuff, though, as is the main plot thread involving a real cop (22 Jump Street's Rob Riggle), a sinister detective (Andy Garcia in a brief role) and a nasty mob boss (UK-born James D'Arcy, from Cloud Atlas).
Wayans (who also has a role in New Girl and has appeared in features including The Other Guys) and Johnson (most recently seen on the big screen in Neighbors) show themselves to be likeable and capable comedians who can find funny moments in fairly ordinary scenes. But the film doesn't provide them with the sort of over-the-top set pieces that usually produce the biggest laughs in this genre. And it almost gives up on comedy altogether in a last act that feels like an unconvincing crime thriller.
Production companies: Genre Films, WideAwake, 20th Century Fox
US distribution: 20th Century Fox
Producers: Simon Kinberg, Luke Greenfield
Executive producers: Nicholas Thomas, Aditya Sood, Jeremiah Samuels
Screenplay: Luke Greenfield, Nicholas Thomas
Cinematography: Daryn Okada
Production designer: William Arnold
Editors: Jonathan Schwartz, Bill Pankow
Music: Christophe Beck, Jake Monaco
Website: www.letsbecops.com
Main cast: Jake Johnson, Damon Wayans, Jr, Rob Riggle, Nina Dobrev, James D'Arcy, Keegan-Michael Key