Dir: Greg Berlanti. US. 2010. 115mins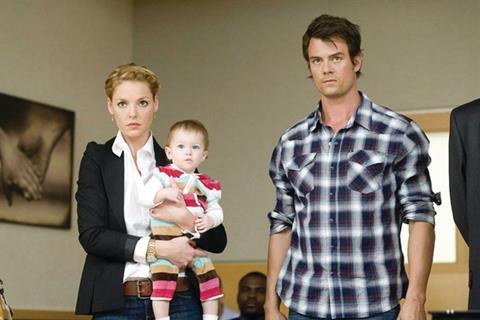 Despite a warm chemistry between stars Katherine Heigl and Josh Duhamel, Life As We Know It is an involving but ultimately mediocre mixture of domestic melodrama and opposites-attract romantic comedy. This tale of two very different single people who must care for their best friends' baby daughter will work for audiences looking for uncomplicated tear-jerking, but the more discriminating may become frustrated by the film's penchant for turning a tonally unpredictable story into a fairly conventional feel-good flick.
There's a genuine emotional undercurrent to the film that gives it great poignancy.
Opening in the US and UK on October 8, Life As We Know It will cater to supporters of Heigl's recent star turns in 27 Dresses and The Ugly Truth. This Warner Bros. release mixes laughs and tears, and its peppy advertising, which plays up the film's Three Men And A Baby premise, should hook viewers uninterested in the horror movies and highbrow awards fare elsewhere in the marketplace.
Hyper-organised bakery owner Holly (Heigl) and playboy TV sports director Messer (Duhamel) can't stand one another, but they adore Sophie, the one-year-old daughter of their best friends. But when the friends are killed in an automobile accident, Holly and Messer discover that their will stipulates that they become Sophie's joint legal guardians.
Directed by television producer Greg Berlanti, Life As We Know It is an odd cross-pollination of genres. Its high-concept premise of two mismatched individuals who must work together and ultimately fall in love will be familiar to anyone who watches a steady diet of Hollywood romantic comedies. But the film is, in actuality, largely a melodrama as Holly and Messer find themselves caring for a baby while grieving over their friends' tragic death.
In the film's best stretches, Berlanti dramatises the enormity of this new responsibility, illustrating that beyond the pressure of raising a child Holly and Messer must contend with their own sense of inadequacy in comparison to the memory of Sophie's wonderful, loving parents. Unlike many mainstream offerings, there's a genuine emotional undercurrent to the film that gives it great poignancy.
Unfortunately, Life As We Know It plays out in all the predictable ways, complete with red-herring love interests and dramatic third-act speeches. Heigl, for once, goes beyond the ice-queen shtick of her usual onscreen persona to elicit real empathy, and Duhamel plays a likeable clod who comes to love parenting. But the film never quite dodges the sneaking suspicion that much of its drama comes from a deeply manipulative plot device: a very adorable orphan child who teaches these bickering grownups a thing or two about maturity.
Production companies: Village Roadshow Pictures, Gold Circle Films, Josephson Entertainment
Worldwide distribution: Warner Bros. Pictures, www.warnerbros.com
Producers: Barry Josephson, Paul Brooks
Executive producers: Denise Di Novi, Scott Niemeyer, Norm Waitt, Katherine Heigl, Nancy Heigl, Bruce Berman
Screenplay: Ian Deitchman, Kristin Rusk Robinson
Cinematography: Andrew Dunn
Production designer: Maher Ahmad
Editor: Jim Page
Music: Blake Neely
Website: www.lifeasweknowitmovie.warnerbros.com
Main cast: Katherine Heigl, Josh Duhamel, Josh Lucas, Christina Hendricks, Hayes MacArthur