Dir: Jake Goldberger. US. 2013. 101mins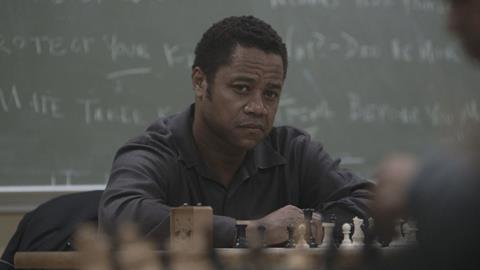 Life Of A King may be based on the experiences of a real person, but there's sadly little life in this generically "inspiring" drama. Unquestionably well-meaning and sporting a few memorable performances, including one from a restrained Cuba Gooding Jr., this tale of an ex-con who teaches some inner-city teens about discipline through chess treads incredibly familiar emotional terrain, pushing its drab characters around the board like helpless pawns.
Gooding does what he can to portray Brown as a flawed, ordinary man who chose to make the world around him a little better — and, in the process, find redemption — and the actor largely avoids grandstanding theatrics.
Premiering at the Los Angeles Film Festival, Life Of A King will benefit commercially from Gooding's involvement, and audiences may respond to the movie's dependably feel-good genres. (Life Of A King combines a sports movie with an inspirational-teacher narrative.) But tepid reviews may limit the film's theatrical prospects, although the movie could fit snugly on cable.
Directed and co-written by Jake Goldberger (Don McKay), Life Of A King tells the story of Eugene Brown, who in the 1990s rebuilt his life by starting a chess club for at-risk youths. The film introduces us to Brown (Gooding) just as he's released following a 17-year sentence for a bank robbery. Because of his criminal record, Brown has difficulty finding a job, especially since he wants to leave behind his old ways, resisting overtures from a former associate (Richard T. Jones) who offers him a lucrative gig as part of his drug operation.
Instead, Brown works as a janitor at an impoverished high school, although he soon becomes a fill-in detention monitor for the school's worst delinquents. With his street-smart demeanour, he's able to talk to these kids in a way that their intimidated teachers can't, and he encourages them to take up chess, a game he learned while in prison. Quickly, it becomes clear that one of his pupils, the stoic Tahime (Malcolm Mays), has real talent, but the teen is torn between pursuing chess and following his buddy Clifton (Carlton Byrd) into crime.
Brown sees chess as a metaphor for life: Each move should be carefully considered and an endgame must always be in mind. It's a useful analogy, particularly for the poor African-American youth enrolled in Brown's chess club who don't have the educational or economic opportunities that others enjoy. But Life Of A King's crippling liability is that Goldberger bludgeons the audience with this metaphor, giving Gooding multiple opportunities to deliver teachable moments that hammer the chess-as-life point home in numbingly repetitious ways.
Unfortunately, this is also the filmmakers' strategy elsewhere, simplistically chronicling Brown's journey from ex-con to influential teacher. (He also must reconnect with his adult children, who initially refuse to believe that he's changed since leaving prison.) Consequently, Life Of A King plays out like a starter kit for this particular sort of heart-tugging drama, each dramatic, emotional and thematic beat happening precisely on cue but without much inventiveness.
Since winning an Oscar for his role in Jerry Maguire, Gooding has starred in his fair share of true-life dramas such as Red Tails, Radio and Men Of Honor. Gooding does what he can to portray Brown as a flawed, ordinary man who chose to make the world around him a little better — and, in the process, find redemption — and the actor largely avoids grandstanding theatrics. But because Goldberger mostly sees Brown as an uncomplicated inspirational figure, there aren't any dimensions to the character, thereby limiting Brown's potential to really engage the audience in his struggle. (Other characters keep telling Brown how proud they are of him, but — on screen, anyway — he hasn't done the hard work to deserve the accolades.)
The movie's portrayals of Brown's wayward pupils are even less developed, with most of the kids either one-note thugs or sweethearts. The exception is Mays's turn as Tahime, who has a difficult family life that he learns to escape through his skill at chess. As Life Of A King's storyline shifts from Brown to Tahime's quest for a city championship, the proceedings remain stiflingly predictable, but Mays infuses his scenes with feeling, which is even more impressive because the character is so withdrawn and terse. The film may be disposable, but this newcomer's natural charisma at least makes it somewhat noteworthy.
Production companies: Animus Films, Serena Films
Domestic sales: CAA, www.caa.com
Producers: Tatiana Kelly, Jim Young
Screenplay: Jake Goldberger, David Scott, Dan Wetzel, based on the life of Eugene Brown
Cinematography: Mark Schwartzbard
Production design: Michael Fitzgerald
Editor: Julie Garces
Music: Eric V. Hachikian
Website: www.lifeofakingmovie.com
Main Cast: Cuba Gooding Jr., Malcolm Mays, Richard T. Jones, Paula Jai Parker, Carlton Byrd, Lisa Gay Hamilton, Dennis Haysbert