The sons of screenwriter Brian Clemens will be showing a taster of their intended first feature, a multi genre exploration of fate called The Lighter, at the BFI on July 11.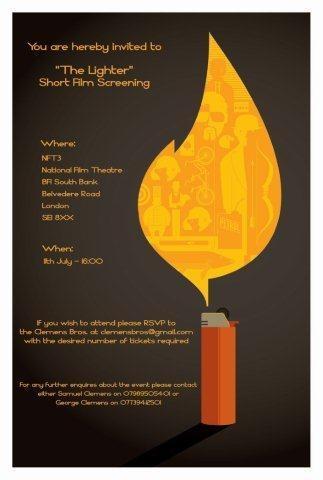 Film-making is in the blood for brothers Sam and George Clemens, whose dad happens to be the legendary screenwriter Brian Clemens, the creator of iconic UK drama series such as The Avengers and The Professionals.
So it is no surprise to learn that the dynamic duo have decided to follow in their father's footsteps and write their own feature film, a multi genre film called The Lighter which they hope to produce and direct (check out the poster above, designed by Tom Whalen).
Exploring the notion of fate, the film centres around a lighter that is dropped in and out of the lives of a variety of characters, including a homeless man, a French Chef, an arsonist and a hit man suffering from toothache.
Intriguingly, each time the lighter changes hands, the genre of film style changes. There are seven stories exploring seven genres, ranging from a romantic comedy to a film noir.
With a little help from their dad, who is exec producing the project, the brothers have managed to convince Sir Roger Moore to star in the film, whilst Joanna Lumley will provide a voice over. Stephen Wight, who is soon to be seen in Karl Golden's Weekender, is also attached.
The Clemens brothers are now looking to attract financing for the project.
'We are very excited to be screening a taster of The Lighter. It is an idea we've never seen before, telling seven stories through seven genres in one film," said actor turned film-maker Sam Clemens, who once completed a stint with the Royal Shakespeare Company.
The screening takes place at the BFI on July 11 at 4pm.