Director Linas Phillips and producer Thomas Woodrow talk to Jeremy Kay about Bass Ackwards, which plays in Sundance's inaugural Next programme.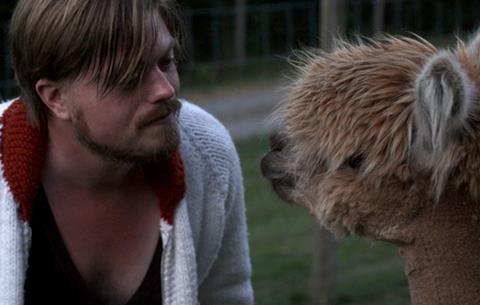 Bass Ackwards follows free-spirited Linas as he embarks on a road trip back East to his parents in a 1976 Volkswagen van. Woodrow produced the 2009 comedy True Adolescents, which starred Phillips and Bass Ackwards executive producer Mark Duplass.. Phillips has made documentaries before and this is his fictional feature debut.
What does the title mean?
Woodrow; It's an inversion of 'Ass Backwards'. It describes the arc of the character, the way the film was made, and the absurd distribution strategy.
How did you craft the story?
Phillips: We had the back story before we made up the road movie. My friend emailed me a Cragislist ad for a van and said we should go on a road trip. It was in Seattle and I was test driving it and ended up buying it. We were going to do this buddy road movie and I was writing about an affair the character has and his character was a screenwriter and it was going to be about two people getting back in touch with life. I guess it ended up being like that but I didn't realise the tone was going to a little more serious.
What was the budget and does Next stipulate a budget cap?
Woodrow: The movie cost around $100,000 and Next caps it at $500,000. I put some money in a checking account and set up an LLC and told them not to spend it all at once and to go with God. I didn't go with them because it would have cost more. It's the first shoot I have never been on a shoot; the footprint was really small.
What do you think about the Next initiative?
Woodrow: It's great because it's brought so much publicity for these movies. Sundance has always programmed these types of movies and it became a bit of a machine and market, but [festival director John] Cooper has brought it back to its roots.
Phillips: At first I thought it would be better if we got into the regular festival but if it helps us get into Sundance it doesn't matter. The philosophy behind it is really great. Redford told us it's about us guys.
What is the distribution plan?
Woodrow: We engaged [Zipline Entertainment's] Marian Koltai-Levine and signed a distribution deal, so we are using Sundance as a theatrical platform [before the release on February 1]. Marian has been trying to treat this as a theatrical platform and to make sure the film is available and monetisable at the best time. We have taken advantage of the YouTube VOD opportunity and now we are available on iTunes, Amazon VOD, and you can pre-order a burned DVD that will be available on February 1. We will also be at EFM looking for foreign sales.