Ahead of the Gdynia Film Festival, Lithuanian and Polish industry took part in a co-production meeting with a difference.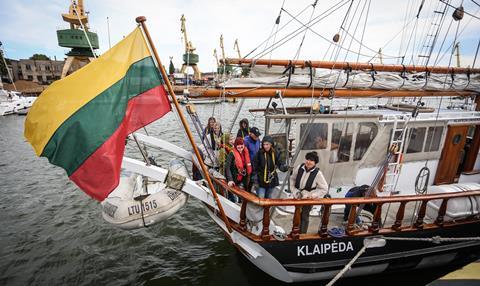 Twelve Lithuanian and Polish film producers have taken part in a co-production gathering with a difference, sailing across the Baltic Sea from the Lithuanian port of Klaipeda to reach Poland in time for the opening of the 40th Gdynia Film Festival tonight.
The 2015 Screen Future Leader Dagne Vildziunaite (Just A Moment), 2015 Producer on the Move Zivile Gallego (Fralita Films), Kestutis Drazdauskas (Artbox), Marta Lewandowska (No Sugar Film) and Izabela Igel (Alter Ego Pictures) were among the producers who boarded the sailing boat 'Brabander' on Saturday (Sept 12) for an intense programme of discussions moderated by Torino Film Lab's Matthieu Darras on potential collaborations between the two countries.
According to the project's initiator, Liana Ruokytė-Jonsson, head of film promotion, information and heritage department of the Lithuanian Film Centre (LFC), the producers also served in shifts as the crew for the sailing vessel over the weekend in addition to looking for co-production partners and sharing ideas for future films.
¨The sailing co-production forum from the Lithuanian shore to the Polish shore in the Baltic Sea symbolises the long and complex process of the birth of a film, as a film evolves from one shore, a desire to tell a story, to another shore, the birth of a film,¨ Ruokytė-Jonsson told ScreenDaily.
¨And between these two shores there are multiple complications, challenges and efforts: a multi-layered development of the project, the building of a creative team that is able to pursue a shared goal, able to create a film, while spending a long time together, perhaps becoming a family, a crew, sailing their ship (a film project) through storms, winds, and unexpected challenges,¨ she added.
¨The team has to jointly manage the sails so that their ship doesn't drift for too long and the journey to the goal does not take too long. When two countries co-produce one movie, there is no space for drift.¨
The LFC's initiative was supported by the Polish Film Institute, Film Commission Poland, and the Gdynia Film Festival which runs until September 19.