Dir/scr: Elgin James. US. 2011. 94mins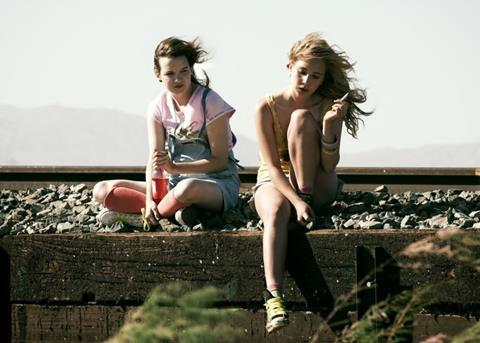 Little Birds is about teenaged girls in a one-time resort that's now a dead-end California town. The town isn't just a jobless backwater, it's an environmental graveyard and the girls' flight into the fright of LA is the core of this well-cast film.
Juno Temple is particularly appealing as a 15 year old who's fragile, but bored enough to do almost anything bad.
It is the feature debut of former gang-member Elgin James who knows something about life on the streets, as his background suggests, and he also shows promise as a director of stories about troubled youth in ruined landscapes.
Little Birds's teenaged 'Thelma-and-Louise' exodus is still a modest film, and its theatrical prospects are relatively limited. Foreign potential depends on the savvy marketing of its hip young duo, Juno Temple and Kay Panabaker as well as better-known stars Kate Bosworth and Leslie Mann, as does its later life on home video.
The story begins on the shores of Salton Sea, the lake in the California desert created from river runoff that was once crystal-pure but is now so evaporated that its water is polluted. In the town where the hotels are now closed, blonde Lily (Temple) and brunette Alison (Panabaker) hang out. Both have attractive semi-employed mothers who drink too much. Neither girl has much to do but watch.
When Lily decides to leave town for a boy she's met, a reluctant Alison finds a pickup truck to "borrow", and the journey begins. It leads to three idle guys, one of whose families was just foreclosed. They squat in an abandoned LA motel, where a gambit using Lily for bait to shake down men seeking sex with underage girls turns ugly.
Elgin James's script recycles teenage stories of aimlessness, neglect, drunken parents and wanderlust. Yet it does show what kids who go feral can do. It also shows what predatory people are willing to do to them.
Temple and Panabaker play to type as girls who have outlived anything interesting in their town. Temple is particularly appealing as a 15 year old who's fragile, but bored enough to do almost anything bad.
As their mothers, Kate Bosworth and Leslie Mann play the thirty-something lushes that the younger kids seem fated to become.
Little Birds doesn't reinvent the entropic teen escape story, but its cinematography by Reed Morano captures the lithe bodies and empty faces of aimless youth. Even more vividly, it follows the kids through ruins, first in a desiccated natural and human beach of abandonment, and then in a skanky improvised urban cave in Los Angeles where you would expect nothing legal to happen.
Production companies: Burger Collection, Hunting Lane Films, Polsky Films, Sundial Pictures
International Sales: West End Films, www.westendfilms.com
Producers: Jamie Patricof, Alan Polsky, Gabe Polsky
Cinematography: Reed Morano
Editor: Susan Spangler
Production Designer: Todd Fjelsted
Main Cast: Juno Temple, Kay Panabaker, Leslie Mann, Kate Bosworth, Kyle Gallner, Chris Coy