Dirs: Julien Maury & Alexandre Bustillo, France, 2011. 88mins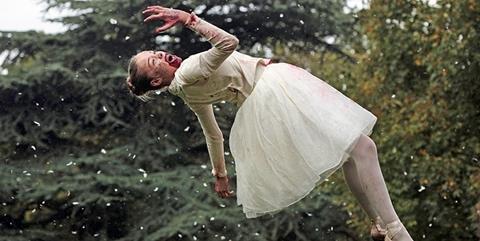 Livid brings us vampires in a Brittany backwater. The blood-fest directed by Julien Maury and Alexandre Bustillo is a sign that the French are catching up in a genre that's never been too Gallic, drawing richly on the work of others.
Coulloud, always at the center of the action, has advanced beyond her years of cute teen roles.
Livid will get a boost from the cult following for the directors' previous film, Inside (2007), starring Beatrice Dalle, who also plays a recently dead mother in Livid. Critics could latch on to the film's quasi-feminist twist – women playing noble and sinister characters, with men on the margins. Simple and minimal dialogue won't complicate the subtitles in a film that gives the international 18-45 audience tension, blood and Chloe Coulloud, who, in the right close-up, looks as captivating as any French actress.
Lividtakes us to a harsh off-season seaside landscape where young visiting nurse Lucie (Chloe Coulloud) is brought by an older cynical colleague (Catherine Jacob) to elderly patients for whom she'll be caring. Among them is a wealthy Madame Jessel (Marie-Claude Pietragalla), a former ballet mistress on oxygen, who's rumored to be holding a treasure in a house that's filled with odd objects, especially stuffed animal trophies of the hunt. Boyfriend William (Felix Moati) who's sick of fishing for a living, persuades Lucie and his brother Ben (Jeremy Kapone), a local waiter, to visit on a search for sellable souvenirs. The once-comatose Mme. Jessel greets them, with some bloodthirsty ballerinas.
Much of the atmosphere of Livid will bring Guillermo Del Toro to mind (films that he's produced and directed) – creaky repository/house, grey/brown rusticated palette, accursed child vampires, and a butterfly that flies from one girl to another.
Livid's extreme violence out-bleeds Del Toro, however, at times almost turning the Breton heath into Hostel territory, with female characters doing virtually all the damage. If there's a market for this sub-section of gender equality, Livid can exploit it.
Also drawing from Dario Argento, Maury and Bustillo avoid technological flourishes for an aesthetic that mixes blood and bone with a refinement of interior design.
For a story so drenched in blood, cinematographer Laurent Bares and set designer Marc Thiebault bring a delicate quality to the film, examining the house's taxidermy in quick meditations, then cutting to Mme. Jessel and her ballet troupe, all made up and wardrobed as museum figures. Production values are superb, whether Bares is observing a dancer's skirt or watching rusted shears enter an eye-socket.
Livid's elegiac ending lifts the film away its hard-hitting violence and into a mystical realm. Perhaps Maury and Bustillo were making a gesture to the women who could be intended as part of the audience for a film with a mostly female cast.
The acting ensemble is strong – with Moati and Kapone relegated to simple-minded male types – but Coulloud, always at the center of the action, has advanced beyond her years of cute teen roles. In an early scene, we see her as a composed young woman, with a job to do, who knows how to give an injection, a sign that she might have a feel for other instruments that break the skin.
Production Companies, Backers: La Fabrique 2, SND Groupe M6, La Ferme Productions, Plug FX
International Sales: SND Groupe M6, www.snd-films.com
US Distribution: Dimension Films/The Weinstein Company
Producers: Verane Frediani, Franck Ribiere
Screenwriters: Julien Maury, Alexandre Bustillo
Cinematography: Laurent Bares
Editor: Baxter
Costumes: Martine Rapin
Set Design: Marc Thiebault
Original Music: Raphael Gesqua
Main Cast: Catherine Jacob, Marie-Claude Pietragalla, Chloe Coulloud, Chloe Marcq, Felix Moati, Jeremy Kapone, Beatrice Dalle