In her first year as head of Locarno Film Festival's co-production lab Open Doors, Ananda Scepka brings the focus back to Sub-Saharan Africa. Martin Blaney discovers why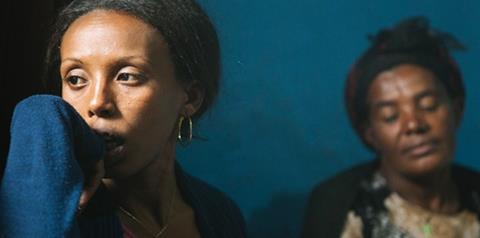 Locarno's co-production laboratory Open Doors returns to the African continent this year — focusing on 25 Sub-Saharan countries from Angola to Zimbabwe — having last shone the spotlight on French-speaking Sub-Saharan Africa in 2012.
"There is a real dynamism in the region and the film-making is very diverse," says Ananda Scepka, who took over from Martina Malacrida this year as head of Open Doors, now in its 12th year, which supports film-makers from southern and eastern countries where cinema is still developing.
"It's a big region to focus on, with a diversity of historical contexts and different models of production and distribution within each of these countries. But we felt it was time to concentrate on this other side of African cinema," says Scepka, who has worked at Locarno Film Festival from 2009 in various functions, becoming the Open Doors co-ordinator in 2012. She will be collaborating on this edition with Alex Moussa Sawadogo, founder of Berlin-based film festival Afrikamera, who also advised in 2012.
With more than 190 submissions for this year's event, the 12 selected projects hail from Angola, South Africa, Ethiopia, Mozambique, Uganda, Zambia and Ghana. These projects will compete for the main $56,000 (chf50,000) award, with two further awards offered by France's CNC and ARTE.
The line-up includes projects from more established film-makers such as Angola's Zézé Gamboa and Mozambique's Sol de Carvalho and Licinio de Azevedo as well as young talents such as Zambia-born Rungano Nyoni, who co-directed short Listen, which screened at this year's Directors' Fortnight in Cannes.
The directors and producers attached to the projects will attend the four-day event, which is backed by the Swiss Agency for Development and Co-operation (SDC) of the Federal Department of Foreign Affairs, and consists of training sessions, round tables, meetings with European producers and workshops.
Sub-Saharan challenges
Since its launch, Open Doors has showcased the work of film-makers from regions where cinema is considered vulnerable, including Southeast Asia, India, Cuba, Greater China and, most recently in 2013, South Caucasus.
"As with every year, some of the projects' themes are universal while others are connected with this specific region, such as the issues of migration, war and ways of addressing and confronting colonialism," says Scepka, who also points to gender and women's roles in African society, history and the topical issue of homosexuality as being popular themes.
The key challenges facing Sub-Saharan film-makers are, according to Scepka, often the same as those confronting many independent film-makers elsewhere. "In most countries there isn't any structured access to public funding, and distribution in these countries is very difficult as, in most cases, the cinemas are closing down."
Another challenge, says Scepka, is the "lack of any commitment from public authorities to support the audiovisual sector in many countries, although there are exceptions such as South Africa, which has had quite a clear policy in supporting this sector since 1999, and Kenya since 2006. Similarly, there is a lack of any engagement by television."
Still, European initiatives such as Tom Tykwer and Marie Steinmann's One Fine Day Films workshops in Nairobi; German director Volker Schlöndorff's support for Kwetu Film Institute in Kigali, Rwanda; and the workshops organised across the continent by the Goethe Institut and EAVE, are going some way towards the development of training schemes and improving technical standards across the region.
"The digital revolution gives a different access to film-making and you now see many film schools being started by African film-makers," adds Scepka. Film schools to have sprung up include Blue Nile School in the Ethiopian capital Addis Ababa, Kibera Film School in Kenya and Kilimanjaro Film Institute in Tanzania.
She also points to the region's other key steps, such as the establishment of Durban FilmMart as well as Indian director Mira Nair's decision to set up Maisha Film Lab for East African and South Asian film-makers.
Europe calling
Thanks to its partnerships with Ateliers du Cinema Européen (ACE), European Audiovisual Entrepreneurs (EAVE) and Cannes' Producers Network, the 2014 edition of Open Doors is expected to attract around 50 international producers including regulars such as Guillaume de Seille of France's Arizona Films, who describes Open Doors as "one of the most friendly industry places to discover directors from emerging regions of the world, because both the invited projects and the industry attendees are carefully selected under Locarno's legendary rules".
EAVE graduates set to attend include France's Marie Dubas (Les Films d'Antoine), Tunisia's Mohamed Ali Ben Hamra (Polimovie International Pictures), Romania's Dan Burlac (Elefant Films), Germany's Hans Eddy Schreiber (Karibufilm) and France's Karim Aitouna (hautlesmains productions).
"We had a very positive reaction to this year's country focus of Open Doors and our producers are keen to discover new projects from Sub-Saharan Africa," says Kristina Trapp, CEO of Luxembourg-based producer training scheme EAVE, which has collaborated with Open Doors since its 2003 launch.
Five of this year's 12 Open Doors projects already have EAVE graduates onboard, including Israeli producer Saar Yogev of Black Sheep Productions, who has become a partner of Alamork Marsha's Ethiopian project Fig Tree, and Juliette Grandmont of France's Clandestine Films, who is co-producing Rungano Nyoni's Zambian film I Am Not A Witch.
Recent Open Doors success stories include Emir Baigazin's Silver Bear-winning Harmony Lessons, which was presented at Open Doors' Central Asia focus in 2011 and Celina Murga's The Third Side Of The River, which came out of Open Doors in 2008 and premiered in Berlin's Official Competition earlier this year.
Bearing fruit
In terms of securing co-production and financing deals, Scepka cites the 2012 focus on Sub-Saharan Francophone Africa as "a particularly fruitful one". Michel K Zongo, for example, recently wrapped principal photography in Burkina Faso on his doc The Siren Of Faso Fani, which was co-produced by Michael Bogar's Perfect Shot Films of Germany and French producer Christian Lelong of Cinédoc Films.
Mali director Daouda Coulibaly is now working with French producer Eric Névé, a co-writer of Moussa Touré's 2012 film La Pirogue, on the development of political thriller Ladji Nye to shoot this year.
Meanwhile, the European Union's Programme for supporting cultural industries in the African, Caribbean and Pacific group of states gave backing to Ladji Nye, Burkinabe director Adama Sallé's Qui Parle De Vaincre? (previously Pakitalaki, Portrait d'Une Famille) and Mauritian feature Shadows Of The Sugarcane from David Constantin, while Norway's Sor Fund backed Akosua Adoma Owusu's Ghana-Mexico film Black Sunshine.
Of last year's projects from the South Caucasus region, producer-director Rusudan Pirveli's Sleeping Lessons was shot in the spring, Nino Gogua's feature documentary Madona is almost complete, as is Alexander Kvatashidze's documentary debut See You In Chechnya.
Another Georgian project — producer Rusudan Glurjidze's directorial debut House Of Others — began shooting in May, while film-maker Asif Rustamov, from Azerbaijan, attended the sixth Moscow Business Square's co-production forum at the end of June to pitch Pipeline, which already has German co-producer Ayhan Salar of Salarfilm attached.
In addition, Thierry Lenouvel of Cinésud Promotion brought Armenian writer-director Nora Martirosyan's fiction feature debut Territoria to Amiens International Film Festival, where it won a $14,000 (€10,000) script development grant. "A lot of things will now start for her in France after winning in Amiens," Lenouvel says.
Building on success
"It's important for me to strengthen and consolidate everything that's been achieved up until now," Scepka says about the development of the Open Doors platform. "We adapt the programme each year because each region has its own characteristics, but there are other innovations this year."
For example, Scepka is building on last year's introduction of two half-day workshops for participants by entering into a collaboration with Torino FilmLab.
"Until now, we had concentrated on the production, distribution and exhibition side, but working with the experts of Torino FilmLab will allow us to address the creative aspects such as the script," she explains, adding that four projects had been selected for extra script mentoring ahead of Open Doors.
Three producers of this year's Open Doors projects will also have the opportunity to participate in Cannes' Producers Network in 2015, while two African film-makers not selected for Open Doors have the chance to join Locarno's parallel Filmmakers Academy
Scepka sees the potential for "a very important synergy" between the festival's Carte Blanche section, which this year focuses on Brazil, and Portuguese-speaking film-makers from Angola and Mozambique.
"We want to build bridges with other parts of the festival's industry section and the Summer Academy. The main aim of Open Doors is to be a business exchange to put co-productions into place, but it's also somewhere for an exchange of knowledge and experiences."
Looking to the future of Open Doors, Scepka says they "haven't run out of regions, but it isn't a case of covering the whole world at all costs".
"It's likely that we could repeat a past regional focus if there is a particular dynamism in a region's film industry and an interesting new generation that could benefit from such a co-production platform."