For its fourth edition, Locarno's Carte Blanche showcases the country of the moment - Brazil.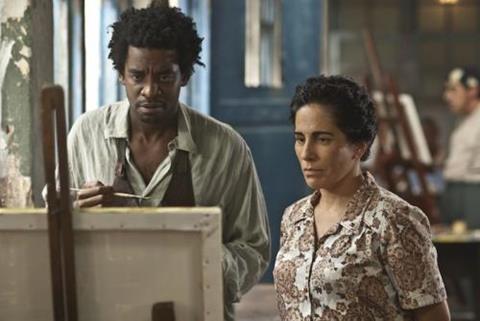 In the year of the football World Cup and as momentum builds towards the Olympic Games in 2016, it is fitting that Brazil should be the subject of the fourth edition of Locarno's Carte Blanche, the festival's competitive sidebar that focuses on films in post-production from a specific region.
After Colombia, Mexico and Chile, this is the fourth and final Latin American country to be showcased at the festival; next year the focus will move to Asia.
As Locarno industry head Nadia Dresti acknowledges, Brazil has a thriving film and TV sector that receives strong state support. In July 2014 the country's president, Dilma Rousseff, announced a comprehensive $450m state-aid package for the film industry, called Brazil Of All Screens.
But while foreign partners are eager to co-produce with Brazil, the majority of the territory's films are not distributed abroad, which explains the rush among Brazilian producers to apply to Carte Blanche, whose main aim is to showcase projects to international distributors, sales agents and festival programmers.
Promotional body Cinema do Brasil received 45 applications from projects in post-production when it held a call for entries to Carte Blanche. Out of that 45, seven Brazilian features and documentaries from five different states are headed to Locarno.
"Locarno has a special audience and the part of the industry that we believe might be interested in Brazilian cinema these days," says Cinema do Brasil's chairman Andre Sturm, who describes Carte Blanche as an "excellent entrance into the international world".
Each of this year's seven projects will be introduced by either the producer or the director, with several key figures from the Brazilian film industry, including Sara Silveira from Dezenove, Fabiano Gullane from Gullane Filmes and writer/director Camilo Cavalcante also set to attend. Adding to the mix, Brazilian actress Alice Braga is sitting on the international competition jury of the festival.
Carte Blanche offers a prize of $11,000 (chf10,000) to the producer of the winning project, which will be selected by a jury made up of Christian Jeune (head of Cannes' film office and deputy general delegate), Eva Morsch Kihn (industry department director and selection board, Cine en Construccion - Cinelatino, Rencontres de Toulouse) and Vincenzo Bugno (manager of Berlinale's World Cinema Fund). The initiative is supported by the Swiss Agency for Development and Co-operation (SDC) of the Federal Department of Foreign Affairs.
The distribution conundrum
While there have already been several festival hits to come out of Carte Blanche's three editions to date - Jhonny Hendrix Hinestroza's Choco, for example, went on to screen in Berlinale's Panorama, while Enrique Rivero's Mexican feature Mai Morire screened at Rome among others - relatively few have been picked up for international sales.
Those that have include Chilean director Alejandro Fernandez's To Kill A Man, winner of last year's Carte Blanche prize, which was acquired by leading Spanish sales outfit Film Factory, while Choco was picked up for sales by Memento's sister company Artscope.
"When you buy a European film, you get support from MEDIA but when you buy a Brazilian film, you don't get money from any place," says Dresti,
adding: "It means the financial risk is not covered at all for distributors to get these kinds of film. If they don't see the commercial potential, they don't take the risk." Dresti points to the paradox that there is "more support" from Europe for producing films in Latin America (through L'aide aux cinémas du monde, the Hubert Bals Fund and other such initiatives) than there is for ensuring these films are actually seen.
Hence, the festival is also holding a focus on the Brazilian market alongside Carte Blanche, at which industry delegates will be able to learn more about the challenges facing the Brazilian industry.
It is a sign of the event's success that Chile (the subject of Carte Blanche last year) is continuing its relationship with Locarno, with promotional body Cinema Chile set to bring three producers with new projects to the festival. During Industry Days, selected sales companies and buyers will be invited to a lunchtime meeting with these producers.
Meanwhile, relations are also being maintained with Colombia. The three winners of Bogota Audiovisual Market will be invited to Locarno.
Next year, the Brazilians will also be back. Dresti says: "It means that, if everything works out well, we're going to have a delegation of 12 Latin American producers."
Titles selected for Carte Blanche
Aspirantes Dir: Ives Rosenfeld
Beco Dir: Camilo Cavalcante
Nise Da Silveira Dir: Roberto Berliner
Ponto Zero Dir: Jose Pedro Goulart
Que Horas Ela Volta? Dir: Anna Muylaert
O Touro Dir: Larissa Figueiredo
Xucro - Oracao Do Amor Selvagem Dir: Chico Faganello