The 12 projects selected for this year's Open Doors range from an Algerian mythological horror to a Libya-set feature documentary. Louise Tutt profiles the film-makers and their projects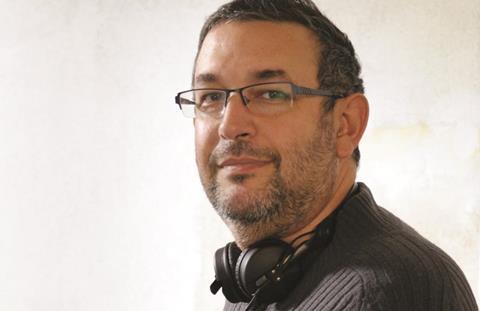 L'Amour Des Hommes (Tun- Fr)
Dir/scr Mehdi Ben Attia
Prod co 4A4 Productions
L'Amour Des Hommes is the story of young photographer Amel, happily married to Nabil, with whom she lives in a lovely apartment in a working-class district of Tunis. Successful in her profession, Amel often puts herself in her pictures in a series of fictional poses. When Nabil is killed in an accident, Amel claws her way out of her grief by turning the lens away from herself and on to street children. When she becomes increasingly attracted to one, as well as her colleague Sami, Amel finds she is at odds with her conservative middle-class Muslim family. Director Mehdi Ben Attia asks whether the loss of someone so beloved can sometimes be a liberation of sorts.
"The project is extremely personal. I feel very close to Amel," says Ben Attia, who co-wrote the script with Martin Drouot. "I want to talk about the concept of freedom. I feel free and emancipated, and at the same time I feel that I must keep freeing myself and emancipating. The context is that of a Muslim society, but even in other contexts, we always need to free ourselves.
"And that is difficult, there is always a price to pay."
Ben Attia is a renowned scriptwriter, whose credits include Far and Unforgivable, both directed by André Téchiné. He has also directed two features, The String starring Claudia Cardinale, Antonin Stahly and Salim Kechiouche, and Je Ne Suis Pas Mort with Mehdi Dehbi, Maria de Medeiros and Emmanuel Salinger. Now in pre-production, L'Amour Des Hommes is produced by David Mathieu-Mahias of Paris-based 4A4 Productions, with Belgium's Neon Rouge Productions co-producing.
Contact 4A4 Productions david.mathieu-mahias@4a4productions.fr
Aller Simple (Tun)
Dir/scr Nadia Rais
Prod co Propaganda Productions
This animated project will be Nadia Rais' debut feature following a trio of award-winning shorts including L'Mrayet, which screened at Annecy International Animated Film Festival. Aller Simple is a loose adaptation of The Epistle Of Forgiveness by the 10th century blind Syrian poet and philosopher Abul 'Ala Al-Ma'arri. A graduate of Tunis's Institute of Fine Arts, Rais draws parallels between the chaotic time in which the poet lived when the 'crime' of free thought was punishable by death and the challenge faced today by many living in Arab-Muslim societies.
Aller Simple is the story of three very different people, each on a journey to a new world and either an earthly or heavenly paradise: Zied, a young artist who is in flight from his country and the stultifying dogma of his elders; the Sheikh, who believes he will enter Paradise and guzzle its carnal delights, and Mouldi, the contemporary, earthly embodiment of the Sheikh, who uses his religion as a social accessory.
Rais believes animation is the perfect way to illuminate the blind poet's vision: "He had a great capacity for imagination when describing the garden of Eden, carnal delights, immortal virgins, birds, geese and also wild beasts," she explains.
Now in development, Aller Simple is being produced by Imed Marzouk and Badi Chouka of Tunis-based Propaganda Productions. Their credits include Nejib Belkadhi's VHS Kahloucha and Bastardo, and Leyla Bouzid's Oiseaux De Nuit. Production is expected to begin in October 2017.
Contact Propaganda Productions propaganda@gnet.tn i.marzouk@gnet.tn
The Colonel's Stray Dogs (Lib)
Dir Khalid Shamis
Prod co Tuba Films
Khalid Shamis' father was one of Muammar Gaddafi's 'stray dogs', hunted and vilified for 30 years as an opposition figure in exile, a member of the National Front for the Salvation of Libya. They plotted from an office in leafy south London, where the director grew up.
The Colonel's Stray Dogs is a feature documentary about these exiles and the country they dreamed of creating. When Gaddafi fell in 2011, the Front members rushed to take up major positions in the government, intent on being there to build the new Libya. But as the country descended into chaos, it was clear Libya was traumatised by 40 years of dictatorship and was untrusting of the new government and the newly returned Front.
"Today's Libya is not the one of which my father dreamt," says Cape Town-based Shamis. "And out of the nightmare emerges unprecedented access to a political thriller and a personal story of secrets and sacrifice."
The film is being produced by Shamis' Tuba Films and Steven Markovitz's Cape Town-based Big World Cinema, whose credits include Berlinale Teddy jury award winner Stories Of Our Lives.
The Colonel's Stray Dogs will be Shamis' second feature following 2011's Imam And I, a feature documentary about his grandfather, the 1960s South African imam Abdullah Haron, who was an outspoken critic of Apartheid.
Contact Tuba Films tubafilms@gmail.com
Dieu Reconnaitra Les Siens (Mor)
Dir/scr Hassan Legzouli
Prod co Zilis Films
Morocco-born, France-based Hassan Legzouli is a renowned scriptwriter and script doctor who has previously directed two features, Testament in 2004 and The Golden Calf in 2012. The latter won the Cinema in Motion award at San Sebastian International Film Festival the same year. Dieu Reconnaitra Les Siens — which translates as 'God Will Know His Own' — is about a young man who has served 10 years in a fictional Islamist 'army' away from his family who believe he was killed in Bosnia. But although he longs to see his younger brother and to reunite with his family, including his childhood sweetheart, his tentative return home to northern France is more about murder than nostalgia.
Inspired by a trip to New York and the site of the Twin Towers memorial, Legzouli says the project is an attempt to understand how the events of September 11, 2001 could have happened and what motivated the perpetrators. "I cannot imagine these characters believe in paradise and virgins. They were too 'in life', they had everything to enjoy life," says Legzouli. "My aim is to explore the modern terrorist killer and the final act of their terrorist mission. For me the subject of the film is the question, 'What brought him here?'"
Dieu Reconnaitra Les Siens is produced by Mohamed Ulad's Zilis Films (formerly Les Films de Brooklyn), which is based in Asilah, northern Morocco. It previously produced Legzouli's Quand Le Soleil Fait Tomber Les Moineaux in 1999. The film-makers are hoping to find an international co-producer at Open Doors.
Contact Zilis Films aderj@aol.com
En Attendant Les Hirondelles (Alg)
Dir/scr Karim Moussaoui
Prod co Taj Intaj
Karim Moussaoui is a former film programmer and assistant to directors Tariq Teguia and Nadir Mokneche. He is developing his debut feature, En Attendant Les Hirondelles, which translates as 'Waiting For The Swallows', with producer Jaber Debzi of Algiers-based production and distribution company Taj Intaj. It is the story of three people at turning points in their lives. All are living with the legacy of Algeria's civil war in the 1990s that left some 200,000 dead and thousands more displaced.
The story's protagonists are Mourad, a businessman who puts work before his wife and son; Aicha, who is travelling across the country with her father and a neighbour to begin her marriage to a man she has never met; and Dahman, a doctor who is waiting for promotion before he proposes to the woman he loves.
"The new decade brought with it hopes of change," says Moussaoui of Algeria in the 2000s. "Could we get over this national tragedy? We decided to believe we could, having seen death close up, we were going to cling to life. But another kind of distress persists, the kind that lingers, never learning from the mistakes of the past.
"The intention is to portray the relations between men and women," he continues. "Their places within society, and to single out their responsibilities in building a modern Algerian society and working towards changing it for the future."
En Attendant Les Hirondelles is set up as a co-production with France's Les Films Pelléas and is looking to shoot in June 2016.
Contact Taj Intaj djaberdebzi@gmail.com
Le Fort Des Fous (Alg)
Dir Narimane Mari
Prod co Allers Retours Films
Narimane Mari is an Algeria-born, France-based film-maker who has forged a career working in the sphere of visual arts and multimedia. She founded Allers Retours Films in 2010 through which she made her debut feature, Loubia Hamra in 2013.
Le Fort Des Fous is her follow-up and is a co-production with Corinne Castel of Centrale Electrique. It is a rich meditation on the metaphorical idea of utopia. Beginning in 1860 but unfixed in time, the Algerian Sahara is a pristine wilderness coveted by colonial powers of the day that are unable to conquer it. Instead, it is inhabited by an eclectic group of people who believe in its mystical powers. These include Africans, Europeans, nomads from Asia and abandoned slaves. But in one night the human capacity to destroy is fully revealed.
"I deal with power and domination as fatal powers," says Mari. "I provide them [humanity] with an extensive and pristine geographical space, the Sahara desert. I do so to allow them to move and unfold in all of their dimensions and express both their rational and irrational violence and ferociousness. The story carries history and the present without distinction."
Mari says she has been partly inspired by France's colonial presence in Algeria. "So-called scientific expeditions were launched to conquer the Sahara in order to conduct 'taming campaigns'," Mari explains. "But it is also about continuing my exploration of cinema."
Le Fort Des Fous is set to shoot in Algeria later this year.
Contact Allers Retours Films narimanemari@gmail.com
Pagan Magic (Mor)
Dir/scr Fyzal Boulifa
Prod co In Vivo Films
Pagan Magic is the feature debut of UK-Moroccan film-maker Fyzal Boulifa, following two well-received shorts. The Curse screened in Directors' Fortnight at Cannes in 2012 where it won the Illy prize for best short film as well as playing at Sundance and picking up a Bafta nomination. Short Rate Me screened in Directors' Fortnight in May.
To be shot in black and white, Pagan Magic is the story of 70-year-old Hayat and 14-year-old Soussen, who travel to the city. Hayat has a strong belief in pagan rituals, but when the girl falls in love with the son of her new European employer, a blossoming Soussen believes Hayat is using magic to keep them apart so attempts a spell of her own.
Pagan Magic is based on stories told by Boulifa's mother, recounting her childhood in Morocco working as a maid from the age of 10. "She told me stories about witchcraft, which is still hugely popular in Morocco," says Boulifa. "Pagan Magic began as a fable-like retelling of her childhood.
But when researching the realities of child labour in Morocco, with girls as young as five working as maids, that distance seemed wrong. So it has become a contemporary film, but still exploring witchcraft as a subversive and particularly female power."
The project is in the early stages of development and is being produced by Louise Bellicaud's Paris-based In Vivo Films. Open Doors is the project's first co-production event. The film-makers are looking to receive feedback on the work-in-progress script and are keen to secure further development funds to research child labour and witchcraft in Morocco.
Contact In Vivo Films Louise@invivofilms.com
Inhebek Hedi (Fr-Tun)
Dir Mohamed Ben Attia
Prod co Nomadis Images
"This story is an assessment of Tunisian youth today," says film-maker Mohamed Ben Attia. "There are no weapons, no demonstrations, no heroes climbing over barricades offering their chests to bullets. My intention is to lift the veil on this [generation] that is groping, moving forward and back."
Inhebek Hedi is the story of an aimless young man called Hedi. His mother arranges his marriage, his boss sends him on a work trip, and his older brother lectures him on how to behave. But when Hedi meets a woman called Rim while away on business, he falls in love as the wedding preparations continue apace back home.
"Like many others, Hedi attempts to free himself from tradition and finally chooses to change things from the inside," says the director. "By telling a story of characters trying to do what they can with what they have, I wanted to paint the portrait of Tunisia today, a country in the throes of deep social, religious and economic changes."
The project is the directorial debut of Ben Attia following five short films, most recently Selma, which was selected to play in competition at the International Short Film Festival in Clermont Ferrand in 2014. Dora Bouchoucha and Lina Chaabane of Tunis-based Nomadis Images are producing the film, which is in pre-production with shooting due to start in September.
Contact Nomadis Images nomadis.images@gmail.com
Le Sacrifié (Alg)
Dir Amin Sidi-Boumediene
Prod co Thala Films Production
After graduating from Paris's CLCF film school in 2005, Amin Sidi-Boumediene worked as an assistant director and made award-winning short Demain, Alger? in 2011. Le Sacrifié, which translates as 'The Sacrifice', is his feature directorial debut and is set in 1994 during the Algerian civil war.
Two childhood friends head into the Sahara desert, apparently to search for a dangerous terrorist called Alou Leila. For one, Lofti, the goal is to take his traumatised friend, Samir, away from the violence. But when they reach a village where several people have been murdered, Samir is convinced Alou Leila is to blame. The villagers, however, cannot believe such horrors were caused by a man so claim it to be the work of a wild beast.
Sidi-Boumediene was 10 years old in 1992 when Islamist terrorism erupted in Algeria. "After a decade of violence, it left behind hundreds of thousands of victims. That period is essential to my generation because it provided the inevitable backdrop to our youth," says the director.
"Le Sacrifié tells first and foremost of the traumas undergone by the whole Algerian people. Understanding the psychological basis for thatperiod leads one past the specifics of individual debates to embrace the deep underlying causes of an absurd level of violence, which we experienced at close quarters."
Le Sacrifié is produced by Faycal Hammoum of Algiers-based Thala Films, with plans to shoot in October 2017.
Contact Thala Films faycalhammoum@gmail.com
Retina (Tun)
Dir/scr Nejib Belkadhi
Prod co Propaganda Productions
Lofti is a Tunisian immigrant happily living in Marseilles, working in an electrical-goods store and enjoying life with his French girlfriend. Butwhen his wife back home in Tunisia is taken seriously ill, he must return to collect his autistic nine-year-old son whom he hardly knows. A bonding journey begins but it is a difficult one as the child refuses to acknowledge the existence of his father.
"The idea came from a series of photographs done by American photographer Timothy Archibald, in which he took amazing pictures of his autistic son," writer-director Nejib Belkadhi explains. "I began by imagining the storyline and I started reading about autism. I contacted a children's association and followed 15 autistic kids and filmed them in their everyday life at the centre. It was a very enriching experience and I linked emotionally with those fascinating children. It was a very valuable approach."
As he explores the father-son relationship, Belkadhi is keen to craft a film that is both engaging and thought provoking. "I want people to connect with the characters and understand how difficult it is for a parent to deal with autism," he explains. "The film is also about denial and repentance. The father faces a strong dilemma that will reveal the true nature of the character to himself and to the audience."
Belkadhi is developing Retina through Propaganda Productions, the company he runs with producer Imed Marzouk. They hope to shoot in May 2016. It will be Belkadhi's third feature following the award-winning Bastardo and the feature documentary 7.
Contact Propaganda Productions i.marzouk@gnet.tn
Ruqya (Alg)
Dir Yanis Koussim
Prod co Mille et Une Productions
It was a mosaic at a hotel in Hammamet in Tunisia, representing Imam Ali, nephew of the Prophet Muhammad, fighting a demon or a monster, that was the genesis of Ruqya, a horror project based on mythology and Muslim demonology. "We suffered 10 years of Islamic terrorism [during the Algerian civil war]," says Algerian film-maker Yanis Koussim. "The nightmare is reality, terrorism, fear. Ruqya is for me a way to exorcise the nightmare."
This is Koussim's second feature following Alger By Night, which he is currently editing. His award-winning short film Khouya screened at festivals including Locarno.
Ruqya is set during the 1990s Algerian civil war. Slimane is one of the five survivors of the Sidi-Salem massacre, at a farming village on the dry high plains of eastern Algeria. But all the survivors are amnesiac and Slimane does not know if he is a persecutor or a victim. He is taken into an old man's house and taught the secrets of the Ruqya. Many years later he roams the country as a Raqi, an Islamic exorcist. But then the old man dies and a woman convinces Slimane her son is possessed and begs for his help. But he cannot rid the teenager of the devil, his powers have gone and he needs to find out who he is.
Ruqya is being produced by Fares Ladjimi at France's Mille et Une Productions, whose credits include Joana Hadjithomas and Khalil Joreige's I Want To See, starring Catherine Deneuve, which screened in Cannes' Un Certain Regard in 2008; Paula Markovitch's El Premio in 2011, which won the Silver Bear at Berlin in 2011; and David Perrault's Our Heroes Died Tonight in 2013.
Contact Mille et Une Productions f.ladjimi@1001productions.net milleetune@free.fr
Saint Inconnu (Mor)
Dir Alaa Eddine Aljem
Prod co Le Moindre Geste
A young man pulls off a burglary and takes to the hills to hide the loot. But realising he is being pursued, he quickly buries the money and marks it with a circle of white stones, as if it were a grave. Several years later, having served his time in prison, he returns to where he stashed the bounty only to find it has been turned into a site of pilgrimage for the villagers and is now known as the Marabout of the Unknown Saint. An entire industry has grown up around it.
"I have always wanted to work with the idea of rumour and the way it spreads," says Alaa Eddine Aljem, who studied at film school in Brussels. His most recent
short Les Poissons Du Désert, took the critics, screenwriting and grand prizes at the National Film Festival in Tangier, and has been invited to the Short Film Corner at Cannes.
"I find it fascinating how, in societies like mine, word of mouth can feed rumours and create legends out of nothing. There is something highly filmic in these little white solitary tombs that rise up on the tops of hills or just outside villages. My starting point is an absurd but realistic situation, out of which I develop a story with both dramatic and comic elements."
Saint Inconnu, which translates as 'Saint Unknown', is in development and is being produced by Francesca Duca through her Casablanca-based outfit Le Moindre Geste.
Contact Le Moindre Geste fra.duca@gmail.com