Lionsgate teamed up with charity Films Without Borders to offer internships on the Gerard Butler-starring sequel.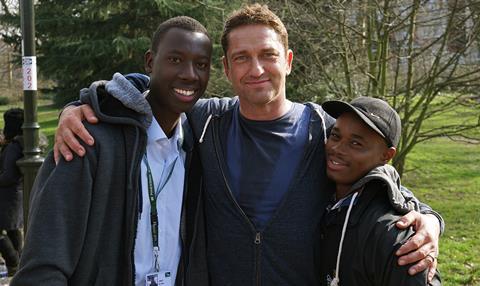 There are hundreds of names in the closing credits of action-thriller London Has Fallen, but at least two of those names have had the experience of a lifetime.
They are Mbuelo Mvimbi, 20, from the Khayelitsha township in Cape Town, South Africa, and Jean de Dieu Ngirabaganwa, 20, an orphan from the Rwandan genocide, who were afforded sponsored internships to work on the production.
Lionsgate UK fully paid for the two internships via a partnership with UK charity Films Without Borders (FWB), which specialises in designing filmmaking workshops for international youth living in challenging circumstances. Both boys had previously made short films.
The distributor also worked with FWB to sponsor a third intern, Batel Israel, who worked with Elaine Grainger at London casting agency Syson Grainger.
Jill Samuels, the energetic founder of Films Without Borders, says: "What Lionsgate has done is outstanding. By doing this they are nurturing and creating opportunities. It's a life-changing experience for these young people."
Mvimbi got involved in Films Without Borders by making short films in South Africa. However, his township isn't always a place where filmmaking is encouraged. In fact, he was stabbed when word got out that he was coming to the UK to work on a feature.
"My friends were jealous that I was coming here. But my mum wanted me to come, they are very proud of what I'm doing," says Mvimbi, who worked with the art department, locations department and camera department on London Has Fallen.
Ngirabaganwa participated in a FWB workshop at his Rwandan orphanage in 2013, making a short film about cricket and quickly catching the directing bug.
He spent his London Has Fallen internship working mostly in the camera department, and watching director Babak Najafi as much as he could. "I'm always looking at how he's doing things," says Ngirabaganwa, who plans to enrol in a Masters programme before directing.
"I have to make films in Rwanda, too," he says. "We need films at an international level. I can go back to share my knowledge."
The London experience
The two boys first met when they arrived at Heathrow and soon became friends sharing not only the internship experience but also a London flat.
After acclimatising a little to London life, they met the director, producer and stars on the film set, alongside FWB supporter Prince Edward.
They worked mostly at Pinewood Studios but also ventured out to locations such as Charing Cross tube station and Somerset House.
Casting intern Batel Israel hails from the Israeli village of Ashkelon, near Gaza, and started working at agency Syson Grainger Casting, where she helped on casting sessions for London Has Fallen and other films.
Israel says: "I felt very lucky to get this chance. I could not afford to work without being paid so this internship was like dream come true. Films Without Borders, Lionsgate and Syson Grainger enabled me to learn about casting and opened a door for me that would not have been accessible to me before."
She now does paid freelance work for the agency.
Israel has also studied acting and is currently appearing in Ward 6 at Barons Court Theatre in London, with Grainger advising her on her acting career. "It's amazing how many opportunities I was lucky to have," she says. She also visited the set of Johnny Depp's Mortdecai and had a mentoring meeting with Lionsgate UK executives.
All three interns see opportunities that weren't there before. "This has already changed my life. Everything is different. I just want to get more knowledge about directing," Ngirabaganwa says.
The Lionsgate connection
Lionsgate UK CEO Zygi Kamasa says the production team on London Has Fallen were very open to the internship idea. "They totally embraced the idea… everyone gave them an opportunity to see lots of parts of the production," Kamasa says. "We're incredibly proud."
The CEO explains that Lionsgate also offers a summer internship programme for young people from the UK from disadvantaged or working-class backgrounds who might not otherwise think the film industry is open to them.
"In distribution and production, you don't always need a formal education, you can learn the business from the ground up," he says. "It's nothing against further education, but I want a 16 year old to know it's not a pipe dream to be in the film business."
The Films Without Borders ethos
Since its launch by Samuels in 2010 FWB has worked with around 300 teenagers from South Africa, Israel, Rwanda, Palestine and Kenya, helping them tell their own stories in the places they live.
FWB also has friends with influence, including Prince Edward and patron Nadja Swarovski. Other key partners include Swiss International Airlines, which sponsors flights, Twickenham Studios which houses the FWB office (and offers grading and editing facilities), Deluxe and Editpool.
According to Samuels, the programme doesn't end one the interns return to their homelands: "We don't leave it there, we keep on mentoring," she says.
"Jean has worked on two more international films and is hopeful to do a Masters degree before opening a film school in Rwanda. We have gotten Mbuelo out of the township to work on another internship at prominent South African production company Okuhle Media."