The Witch wins best debut; Sherpa wins best documentary.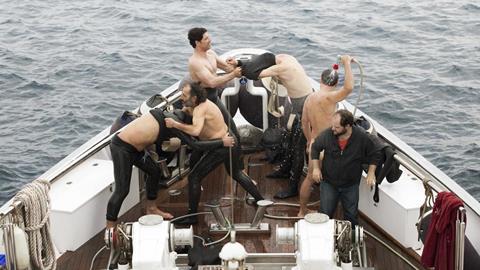 Greek film-maker Athina Rachel Tsangari's Chevalier took the Best Film Award in the BFI London Film Festival's official competition at the award ceremony at Banqueting House on Saturday night.
The Sutherland Award for most original and innovative directorial debut went to Robert Eggers' The Witch, while the Grierson Award for Best Documentary was presented to Jennifer Peedom's gripping and tragic Sherpa.
Chevalier, which debuted at Locarno, screened at Toronto and won prizes at Sarajevo, is a Greek comedy about a contest of machismo among six men on board a yacht.
It took the LFF's top prize over much fancied competition, including Lenny Abrahamson's Room, Son Of Saul, Tangerine and Beasts Of No Nation.
Tangerine and Son Of Saul were given special mentions by jury president Pawel Pawlikowski when he presented the award to Chevalier, which he described as "both a hilarious comedy and a deeply disturbing statement on the condition of Western humanity".
The Ida director's fellow jurors were Chiwitel Ejiofor, Kristin Scott Thomas, Carol producer Christine Vachon and director Mabel Cheung.
Desiree Akhavan, who presided over a first feature competition jury made up of Clio Barnard, James Kent, Allen Leech and The Times chief film critic Kate Muir, praised The Witch as "the announcement of a new voice in contemporary cinema" and "a fresh, feminist take on a timeless tale".
The Witch, which won Eggers the directing award at Sundance in January, centres on a family in 1630s New England that is torn apart by black magic.
The first feature competition jury also commended Martin Butler and Bentley Dean's Tanna.
The documentary jury, which included Mark Cousins and 20,000 Days On Earth directors Iain Forsyth and Jane Pollard, cited Sherpa, which Screen first championed when it debuted at the Sydney Film Festival, for "giving voice to a previously voiceless community" in telling a tale focused on the unsung mountaineers who keep Nepal's climbing trade running, with an unexpected tragedy at its heart.
Cate Blanchett was presented the BFI Fellowship by Sir Ian McKellen, following a beautifully assembled tribute to her career that featured many film-makers and co-stars paying tribute, among them Todd Haynes, Sally Hawkins, Saoirse Ronan, Shekar Kapur and Peter Jackson.
As well as jokingly thanking the BFI "for reminding me how long in the tooth I am", Blanchett delivered a funny, well-received speech that paid tribute to Working Title duo Eric Fellner and Tim Bevan, BFI LFF artistic director Clare Stewart, producer Kathleen Kennedy, costume designer Sandy Powell, McKellen and her husband Andrew Upton "for his constructive criticism - when I first made a film, he said, 'Darling, you're extremely talented. But you're a woman and you may only have a five-year window in the industry.' Fucking hell - and I'm still here!"
The inaugural short film award went to Indian film-makers Shai Heredia and Shumona Goel's An Old Dog's Diary.
Screen Star of Tomorrow Jorn Threlfall was also nominated for his short Over.
Jarvis Cocker was the ceremony's host. As well as jury members, film-makers, Stewart and BFI CEO Amanda Nevill, industry guests included Kathleen Kennedy, Warner Bros' Josh Berger, StudioCanal's Danny Perkins and producers Elizabeth Karlsen and Stephen Woolley.