eOne's sci-fi records impressive $3.9m (£2.4m) debut to end ParaNorman's reign at the top after just one week.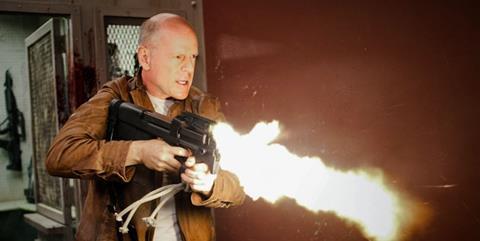 Following in The Sweeney's footsteps two weeks ago, Looper has achieved eOne's eighth number one in the UK.
Rian Johnson's critically acclaimed sci-fi recorded an excellent $3.9m (£2.4m) opening bow from its 449 sites, taking over double its nearest competitor in the form of last week's champion, Universal's ParaNorman. Given the limited releases of Johnson's previous two films (Brick and The Brothers Bloom), Looper is already his best-ever performance in the UK.
Its UK success adds to a fine worldwide opening weekend for the sci-fi, which opened Toronto last month, including a strong $21.2m debut in the US.
Despite dropping a place to second, Universal's ParaNorman notched a third straight £1m-plus weekend to hold off the rest of the week's new challengers.
The second animation for Laika studios took $1.8m (£1.1m) for $7m (£4.3m) after three weeks in play, still behind Coraline at the respective stage in its run ($8m/£5m) but ParaNorman is recording sturdier holds than Coraline so could still catch up.
Lacking bite despite being the week's second highest new entry, Resident Evil: Retribution is on course to be the series' lowest-ever opening in the UK.
The fifth instalment in the Milla Jovovich vs. zombies franchise stands at $1.27m (£792,000), with final figures to be confirmed, from its 351 sites. That's currently lower than the $1.29m (£801,000) taken by the first two instalments, both of which opened on less sites - 264 for Resident Evil and 283 for Resident Evil: Apocalypse - and is less than half of the debut of Resident Evil: Afterlife (the only other 3D film in the series) which topped the charts in September 2010 with $2.7m (£1.7m) fro 361 sites.
Warner Bros.' The Campaign charted fourth thanks to a $1.2m (£771,614) opening bow from its 390 sites. That result is director Jay Roach's lowest ever UK opening, falling behind previous low Dinner For Schmucks which took $1.5m (£940,586) from 428 sites in 2010.
Dropping only 31% in its second week, Momentum's House At The End Of The Street scared up a further $881,479 (£545,780) for a decent $3.0m (£1.9m) to date, the year's sixth strongest horror performance.
Also for Momentum, Hope Springs broke the £3m barrier in its third week and has amassed $4.9m (£3.0m) after a $683,088 (£422,954) weekend, while Lawless crossed the £4m mark and has grossed $6.5m (£4.0m) so far.
Nick Love's reboot of The Sweeney added $663,097 (£410,482) in its third weekend through eOne and has accumulated $6.3m (£3.9m) to date.
Having expanded to 154 sites, Entertainment's Untouchable grossed $515,348 (£317,979) in its second weekend. The worldwide box office smash has now taken $800,259 (£493,308) in the UK.
Figures for Entertainment's Killing Them Softly were unavailable at the time of writing.
Universal's Anna Karenina crossed £4m last week and added an estimated $510,000 (£314,000) in its fourth weekend to stand at $7.6m (£4.7m), while Savages has taken $1.2m (£743,000) after ten days in play.
Artificial Eye's Cannes competition title Holy Motors revved up a $106,780 (£66,087) debut, including previews, from its 23 screens for a solid average of $4,643 (£2,873).
This week sees saturation releases for eOne's The Perks Of Being A Wallflower (opens Oct 3), Momentum's Sinister and Fox's Taken 2 (opens Oct 4). Element's What Richard Did receives a regional release in Ireland, while The Works' The Knot and Picturehouse/Revolver's Liberal Arts both receive wide releases.
For more of Screen's box office news, analysis and charts, visit our Box Office section by clicking the icon below.