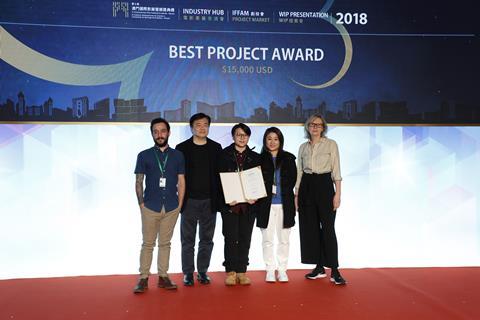 Macao filmmaker Tracy Choi's Lost Paradise was presented with the Best Project Award at the close of the IFFAM Project Market at the International Film Festival & Awards (IFFAM) Macao.
The award, which comes with a cash prize of $15,000, is presented to a project with "the most profound qualities across all aspects of the production".
Set to be Choi's second feature following her critically-acclaimed Sisterhood (2017), Lost Paradise is the story of two high school girls whose friendship is affected when one of them starts an affair with her much older tutor.
Special mention for the best project award went to Spanish filmmaker Sadrac Gonzalez-Perellon's Amazing Elisa.
The $10,000 Best Co-production Award, presented by China's Bona Film Group, went to Ajooma, to be directed by Singapore's He Shuming and produced by Tan Si En and Anthony Chen of Giraffe Pictures. The project tells the story of middle-aged, Korean-drama obsessed widow from Singapore who travels to Seoul and promptly gets lost. It has also won awards at Singapore's Southeast Asian Film Lab and the SEAFIC award in Bangkok.
The $10,000 Creative Excellence Award was presented to Dogman, directed by Argentina's Tamae Garateguy and produced by Silvia Rodriguez. The story revolves around a boy raised by his indigenous mother and Japanese father who becomes a superhero to avenge his family's disappearance.
The Macao Spirit Award went to Wonderland, to be directed by Macao filmmaker Chao Koi Wang and produced by mainland China's Gao Yitian. The project tells the story of a middle-aged betting agent who has to deal with a complicated customer who suddenly dies.
The award, which comes with a cash prize of $5,000, recognises the project that "best integrates disparate cultures for the purpose of celebrating the inclusive and glamorous nature of Macao as an intersection of European and Asian culture."
The awards were presented at the conclusion of IFFAM's Industry Hub (December 9-11), which included the Macao Forum, IFFAM Project Market and a new works-in-progress showcase.