Dir: Alexandra McGuinness. UK. 2011. 76mins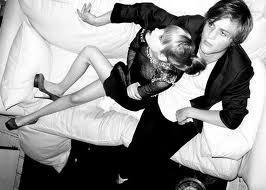 Shot in seductive black and white, Alexandra McGuinness's Lotus Eaters tracks a posse of pointless rich kids around London, but the result can come across as even more aimless than the antics on screen. Boosted by two noteworthy performances, from Antonia Campbell Hughes and Johnny Flynn, Lotus Eaters should meander around the festival circuit (it bowed in Tribeca, then aired in Taormina and London) before grinding to a halt, prospects for commercial exposure seemingly as slight as the film itself.
Locations feel generic and there is little in the way of exteriors to reinforce the locale.
McGuinness makes a rich-enough looking debut (she is the daughter of U2's longtime manager); there's a stylish eau de French new wave here, courtesy of photographer turned cinematographer Garth Minden. And, as might be expected, Lotus Eaters boasts a strong soundtrack. But as co-writer - with Brendan Grant – McGuinness has neglected to populate the screen with characters to care about, or events that even matter to anyone on screen.
Campbell-Hughes, as Alice, a waif-y ex-model looking to break into acting, does her best, and folk-singer/actor Flynn, as her junkie ex-boyfriend Charlie has a standout musical sequence, but his disappearance casts the film even further adrift.
Alice and Charlie are part of a set of gilded West London youth, who flit around between parties, drinking, drugging, and engaging in bored sex. Shoplifting is also flagged as part of this hedonistic lifestyle, and they certainly all have great clothes.
Most of the characters – apart from Alice's girlfriend Saskia, played by Daisy Lewis - have no real presence and move from being part of the scenery to delivering an awkward line before resuming their positions.
It's also never really clear why Alice, who appears to be smarter than the rest of the set, chooses to be part of this gang; she's the only one who's not too overcome by ennui to actively pursue a job, although her future as an actress is thrown into some doubt after an amusing audition sequence. An older woman named Orla (played by Cynthia Fortune Ryan, looking uncannily like Daphne Guinness), appears to take great satisfaction out of manipulating events, while Alice helplessly drifts into the orbit of the titled Felix (Benn Northover).
Though specifically set in West London, locations feel generic and there is little in the way of exteriors to reinforce the locale.
Production companies: McGuinnessLee, Fastnet Films
International sales: Fastnet Films, www.fastnetfilms.com
Producer: Mark Lee
Co-producers: Morgan Bushe, Kyle Blanshard, Macdara Kelleher
Screenplay: Alexandra McGuinness, Brendan Grant
Cinematography: Garth Munden
Editor: Mali Evans
Production designer: Richard Hudson
Editor: Bert Hunger, Emer Reynolds
Main cast: Antonia Campbell-Hughes, Johnny Flynn, Benn Northover, Liam Browne, Amber Anderson, Jay Choi, Gina Bramhill, Daisy Leis, Alex Wyndham, Cynthia Fortune Ryan