Dir: Ira Sachs. US. 2014. 98mins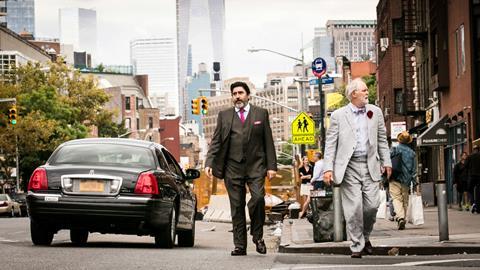 With Love Is Strange, American filmmaker Ira Sachs (40 Shades of Blue, Married Life, Keep The Lights On) has crafted a beautifully observed portrait of love, family and the vagaries of New York real estate. It's a mature and subtle piece of storytelling, and as delicate and lovely as the classical compositions by Frėdėric Chopin that play on the film's soundtrack.
Lithgow, playing the sensitive older man, and Molina, another big-hearted soul, are superb, totally at ease and credible as the story's central soul mates.
After Sundance and Berlin slots, the film should find a warm embrace in art-house theaters and on VOD platforms where sensitive movies are appreciated, thanks to stellar performances by recognisable actors John Lithgow, Alfred Molina and Marisa Tomei and strong critical word-of-mouth.
The film begins as longtime gay partners Ben (Lithgow) and George (Molina) get married in New York City. But their marital bliss is short-lived. George, who teaches music at a Catholic School, loses his job after word gets out that he's in a same-sex marriage. Forced to downsize, the couple sells their apartment, and while they wait to find a new place to live, they decide to temporarily live apart: Ben moves in with his busy professional nephew Eliot (Burrows), his novelist wife Kate (Tomei) and their teenage son Joey (Tahan), while George shacks up with two gay cops who live in their building.
The set-up is as simple as a family sit-com—i.e. "My Two Old Gay Roommates" anyone? But while Sachs milks the situation for some finely calibrated humor—George finds himself in the middle of a raging gay party when he just wants to sleep; old Ben is out of place sleeping in Joey's bunk-bed—Love Is Strange goes much, much deeper, examining the nature of Ben and George's very tender relationship, the pain of their separation, and the disruptions they cause, mostly in the lives of Kate and Joey.
Lithgow, playing the sensitive older man, and Molina, another big-hearted soul, are superb, totally at ease and credible as the story's central soul mates. The film establishes their characters' profound love for each other through several genuinely intimate scenes, whether a rain-soaked sorrowful embrace or cuddling together on Ian's bottom bunk. The rest of the cast also delivers top-notch performances: Tomei's Kate is patient at first as her uncle-in-law invades her private spaces, but then slowly frays to a powerful breaking point; while newcomer Charlie Tahan goes beyond the role of dark moody teen to quieter places of sadness and self-reflection.
The movie is called Love Is Strange, which suggests it's not just about Ben and George's longstanding connection, but also other types of love, from the strained middle-aged marriage between Eliot and Kate to the bonds formed between "Uncle Ben" and his family, to Joey's fresh ventures out into the world of romantic relationships. Indeed, the film culminates in a gorgeous magic-hour final sequence, which evokes life's inevitable cycles of love, death and rebirth, bringing the film to a subtly transcendent conclusion.
Love Is Strange is also a love letter to New York City. Whether shooting atop a Lower Manhattan rooftop or outside a West Village corner at night, Sachs and his cinematographer Christos Voudouris (Before Midnight) depict the urban landscapes with the same kind of care and adoration that they photograph the characters. This airy and luminous visual style contributes to the film's overall mood—a stirring combination of uplift, melancholy and warmth.
Production company: Parts & Labor
International sales: Fortissimo Films, www.fortissimo.nl
Producers: Lucas Joaquin, Lars Knudsen, Jay Van Hoy, Ira Sachs, Jayne Baron Sherman
Screenplay: Ira Sachs, Mauricio Zacharias
Cinematography: Christos Voudouris
Editors: Michael Taylor, Affonso Gonçalves
Production Designer: Amy Williams
Main cast: John Lithgow, Alfred Molina, Marisa Tomei, Darren Burrows, Charlie Tahan, Cheyenne Jackson