Dir/scr: James Hacking. UK. 2011. 93mins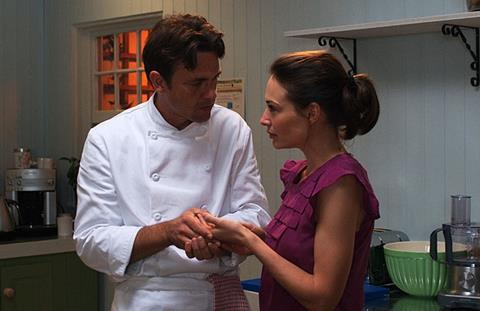 The resolutely unambitious British rom-rom Love's Kitchen may well be a pretty by-the-numbers affair, but it is not without a certain innocent charm and is nicely headed by Dougray Scott and Claire Forlani. It should appeal, though, to mainstream distributors who can appreciate the strong cast, standard rom-com format and genial sense of fun, though main life will likely be on DVD and via broadcasters.
There is a certain honest and even naive charm to the proceedings.
In the UK the film has garnered more attention due to a gurning cameo from celebrity TV chef Gordon Ramsay - as an old chum of the character played by Scott, who pops up to offer some sage-like advice – than for the modest rom-com story. But while the rest of the film is fairly predictable it is blessed by a gentle rural charm that is not totally unappealing.
Rob Haley (Scott) is a talented chef hitting the big time in London, but his career comes to a halt when his wife dies in a car crash. He starts to not care about his cooking and gets terrible reviews for his London restaurant. Encouraged by his daughter, he decides to start again in a quiet country pub, bringing with him his old team.
Coincidentally, one of the wealthy local landowners (Peter Bowles, lacking real energy) has his American food critic daughter Kate (Forlani) living with him after the break-up of her marriage. After a little light bickering the pair start to fall in love, and the restaurant starts attracting great press and an enthusiastic clientele. There is some mild drama, but the romantic outcome is never in doubt.
Some of the dialogue is more than a little clunky and some of the performances lower down the cast are overly mannered, but there is a certain honest and even naive charm to the proceedings, with director/writer James Hacking sensibly keeping the film accessible and unpretentious, though in truth close to a television movie than a big-screen endeavour.
Dougray Scott has the right gruff charm to convince as the broken-hearted chef, but while the elegant Claire Forlani looks the part their relationship lacks the needed frisson. Simon Callow gives a striking cameo performance as a boozy television restaurant critic and finally rolls up at Rob's restaurant to offer his views. On the other hand, Gordon Ramsay's cameo is a little obvious and frustratingly unbalances rather than helps the film.
Production companies: Just Nuts Films, Trifle Films
International sales: Vision Films, www.visionfilms.net
Producers: J Alan Davis, James Hacking, Simone Ling, Duncan Napier-Bell, Nicholas Napier-Bell
Executive producers: Crispin Manson, Gabriella Stollenwerck
Cinematography: Jordan Cushing
Editors: Rupert Hall, Kant Pan
Production designer: Will Randall
Music: Tom Howe
Website: www.loveskitchenthemovie.com
Main cast: Dougray Scott, Claire Forlani, Michelle Ryan, Lee Boardman, Simon Callow, Peter Bowles, Joshua Bowman, Cheri Lunghi, Gordon Ramsay