Dir: Megan Griffiths. US. 2013. 97mins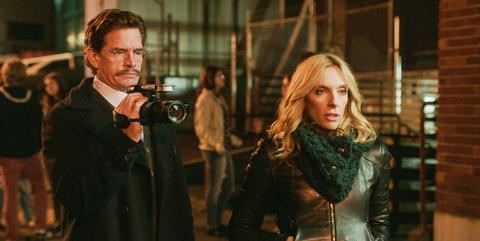 Toni Collette's sass and grownup sex appeal go a long way to selling Lucky Them, a loveable but somewhat disposable comedy. A portrait of an aging music critic who really needs to find some direction, the movie populates its world with plenty of enjoyably off-kilter characters that make the film's 97 inconsequential minutes breeze by.
The film's appeal may only be modest, but like a good song Lucky Them sticks in the head long after it's over.
Screening at the Toronto Film Festival, Lucky Them should be able to snag buyers thanks to Collette's presence — to say nothing of the movie's easily engaging premise. Indie-minded audiences (including date-night crowds) should form the core audience, making the film an attractive DVD and cable proposition after limited theatrical returns.
Directed by Megan Griffiths, Lucky Them examines the personal crises of Ellie (Collette), a Seattle music critic whose life has never been quite the same since her one true love — Matthew Smith, a local music legend — walked out on her 10 years ago, saying goodbye to his art in the process and disappearing from the public eye.
Her existence now a string of meaningless hook-ups and her job at a Seattle publication suddenly no longer secure, Ellie is coaxed into doing a 10th-anniversary cover story on Smith's disappearance. If anything, his legend has only grown in the interim: Some believe that he's dead, while others wonder if he decided to go into hiding to escape the limelight generated by his burgeoning career.
Unsure about dredging up the past but desperate for a story, Ellie agrees to write the piece and track Smith down, reluctantly teaming up with a rich eccentric named Charlie (Thomas Haden Church) who went on two unsuccessful dates with Ellie years ago but has decided that he wants to make a documentary about her quest.
As becomes obvious early on, Lucky Them is less about Ellie's search for Smith and more about her own personal reckoning. That internal journey is assisted by the blunt, oblivious Charlie and a hunky young songwriter named Lucas (Ryan Eggold) who catches her eye. At heart, the film is a familiar belated-coming-of-age tale, but Collette delivers such a sharp, lived-in turn as the funny, sultry, messed-up Ellie that the narrative conventionality feels less egregious.
Huck Botko and Emily Wachtel's screenplay and Griffiths' direction allow the actors to give loose-limbed performances that radiate casual charm and abundant chuckles. These people may be oddballs and dreamers, but their quirkiness has an authenticity to it that's consistently disarming.
Playing the socially awkward Charlie, Church has one of his best roles since his Oscar-nominated performance in Sideways. Utilizing his deep, booming voice and deadpan delivery as comedic blunt instruments, Church turns Charlie into a deeply enjoyable buffoon who has lots of profound observations (to his mind, anyway) about love and life but can't seem to keep from annoying Ellie on a consistent basis as they hunt down clues to Smith's whereabouts. By comparison, Eggold is all boyish allure, portraying Lucas as a sweet, sincere kid who beds Ellie not to get his songs publicized but to connect with a fellow music lover and perpetual adolescent.
Though Lucky Them is largely a goofy comedy, Griffiths gives the film a melancholy centre that's poignant without being overdone. If Ellie allowed herself a moment, she'd probably acknowledge how lost and lonely she is, but in fact all the story's central characters are struggling to find happiness — not to mention a likeminded soul to share their lives with them.
And while it's somewhat predictable that Lucky Them is driving toward an inevitable conclusion where we learn what happened with Smith, Griffiths finds a delicate, touching way to subvert expectations. The film's appeal may only be modest, but like a good song Lucky Them sticks in the head long after it's over.
Production companies: MyMy Productions, Tangerine Entertainment
International sales: Cinetic Media, www.cineticmedia.com
Producers: Adam Gibbs, Amy Hobby, Emily Wachtel
Executive producers: Joanne Woodward, Peer Pedersen, Megan Foley, Linda Henry, Tucker Wilson
Screenplay: Huck Botko and Emily Wachtel
Cinematography: Ben Kutchins
Editor: Meg Reticker
Production designer: John Lavin
Music: Craig Wedren
Main cast: Toni Collette, Thomas Haden Church, Oliver Platt, Nina Arianda, Ryan Eggold, Ahna O'Reilly