Dir/scr: Hari Sama. Mexico. 2011. 106mins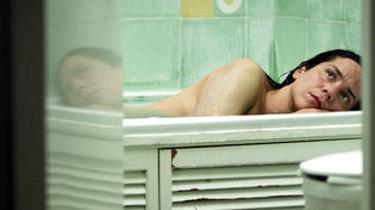 In one scene in Lu's Dream (El Sueno de Lu), a member of a support group for mothers and fathers who have lost children notes that no language has a word for people like them: The pain is too overwhelming to describe or label. Given its technical and aesthetic complexity and high degree of mediation, cinema might seem incapable of capturing the unbearable, isolating, and shifting states of mind of a parent whose life is forever altered by this most unimaginable of losses.
Extremely moving and perfectly executed.
With meticulous observation and attention to detail, and an exceptional central performance, director Sama proves otherwise in this beautiful, heart-wrenching story of the up-and-down grieving process of a single mom in Mexico City whose five-year-old son had died suddenly one year before.
This extremely moving and perfectly executed production should cross over from its home turf to other Spanish-language markets, with a strong possibility of edging into non-Spanish-speaking territories, especially in Europe and North America. The topic is universal; the pacing strikes the right balance between unhurried phases in her transformation and variety of shots and set-ups to keep things moving. Festival engagements are a given. The film earned a special mention at the recent Morelia Film Festival, where it had its world premiere.
Lu (Pruneda) is a classical guitarist and singer who lives alone in Mexico City. When the movie opens, she is checking out of an institution following a suicide attempt. All the medication in the world can not pull her out of an autistic-like state of inertia. She has essentially ceased living: She sits around, sleeps constantly, stares out large windows at giant palms, and watches footage of her son (much of it imaginary), Sebastian, on the computer. At all times she clutches his teddy bear; she just can not let go.
Forget about practicing her art. Her not-quite-comprehending mother, Laura (Farias), worried about another try at self-harm, insists on staying with her, but Lu just wants to be left alone. The therapy sessions are a first step toward healing. The other participants (most from a real support group), all with sad but engaging stories, understand the ache she suffers. She begins to get outside herself, going outdoors, socializing with family (a few subplots enrich the narrative), and, ultimately, picking up her guitar.
Music is at the core of the film, which is divided into three "moments," each announced by melancholy guitar chords. It turns out that a friend has composed for her a piece called "Three Moments," which he hopes she will perform at its premiere a few months hence. (There is a tragic truth underlying the film: Sama and Pruneda, whose understated performance helps keep it from becoming overly melodramatic, lost a young daughter four years ago.)
Sama links motifs neatly, poignantly. Lu finally tells a surprised close friend, the married Malik (Trejoluna), that he is the child's father, the result of a drunken one-night encounter. Malik is an oceanographer who has done research on whales, animals that had fascinated Sebastian. After the revelation, he takes her to a lagoon called Bahia, a breeding ground for whales, off the coast of Baja California. She could obviously not keep her promise to her son to go there for his next birthday, but the trip proves cathartic for both parents. They touch the whales, and Lu places her son's ashes in the sea.
That evening, after a lobster dinner and mariachi music in the warm environs of a working-class home of some of Malik's Baja friends, she spontaneously borrows a guitar and sings an old song from Veracruz about a witch who has taken her son from her to die. Through her medium, she owns up to her demons. She opens up, and so does what had been an intimate, intentionally claustrophobic drama, one in which the dramatic conflict is not of a conventional good versus bad nature, but interior, inside her head.
Her coping mechanisms strengthened, we can surmise that Lu will play the concert, and that her life, markedly changed as it is and always will be, will move forward. If that means she has to project on a computer screen dream-like fantasies of her and her son playing spiritedly with baby whales, so be it.
Production companies: Catatonia Cine, Te Films, Al Fondo del Callejon
International sales: Catatonia Cine, www.catatoniacine.com
Producers: Sachiko Uzeta, Hari Sama, Ramiro Ruiz
Cinematography: Emiliano Villanueva
Production designer: Maria Paz Gonzalez
Editor: Hari Sama, Mario Sandoval
Music: Dario Gonalez Valderrama
Main cast: Ursula Pruneda, Gerardo Trejoluna, Maria del Carmen Farias, Emilio Echevarria