Dir: Duncan Bridgeman. Mexico. 2012. 100mins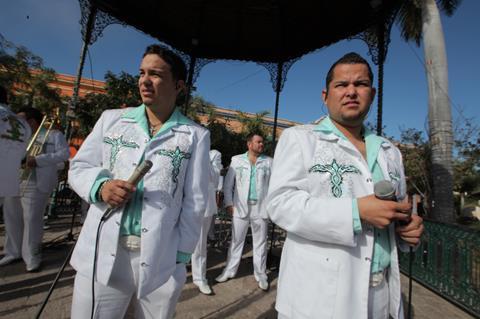 A bright, breezy and provocative delve into the nature of contemporary Mexico, Duncan Bridgeman's at times exhilarating and illuminating documentary Made in Mexico (Hecho en Mexico) is a fascinating glimpse into how Mexicans view themselves.
Shot with energy and verve by Duncan Bridgeman.
Driven by music – whether it rock, rap, folk, classical, DJs, drums and trumpets – the film, which had its world premiere as the opener of London's inaugural film festival Mexfest, makes for an enthralling portrait of a country often at odds with itself. But as one interviewee comments: "Mexico is strong…but it is asleep"
Luckily for the filmmakers, at the start of the film they are told by an elderly fortune reader that the project will turn out well. And it does…that scene segues into a beautiful song and images of happy parents and children which itself leads into debate about tough times in Mexico and the violence that is becoming more prevalent through drug wars.
A series of subtitles – such as 'Borders', Idologies' and 'Resistance ' – act chapter breaks to dwell on the key issues facing the country – from border control and violence to religion and sex. And while these are at times extremely serious ones, the film still relishes the beauty of the country, the pride of the people and the power of the music that is used to focus on the issues.
Like so many countries, there is an innate concern about the state of culture – as one commentator says: "If not on TV you don't exist" – but there is something refreshingly optimistic about the film as the songs (most of them subtitled to get a full sense of the often political impact of the lyrics) celebrate what it is to be Mexican while never shirking the issues at the heart of the country.
Shot with energy and verve by Duncan Bridgeman (who made What About Me? and 1 Giant Leap), Made In Mexico will likely crop up at plenty of other festivals, and could also feature theatrically in Spanish-speaking territories. Arts orientated broadcasters could also appreciate the film's musical vibrancy and smart accessibility.
Production company: The Mates Contents
Contact: Rosa Bosch, rmbosch@gmail.com
Producers: Duncan Bridgeman, Lynn Fainchtein
Executive producers: Bernardo Gomez, Emilio Azcarraga
Cinematography: Gregory W. Allen, Lorenzo Hagerman, Alexis Zabé
Editors: Miguel Musálem, Gregory W. Allen, Adrian "El Cachi" Parisi
Music: Lupe Esparza, Rubén Albarrán, Adanowsky, Ali Gua Gua, Amandititita, Banda Agua Caliente, Sergio Arau, Mu?, de la banda Bastön, Juan Cirerol, Los Cojolites, Rojo Córdova, Cuarteto Latinoamericano, Don Cheto, Lila Downs, La Original Banda El Limón, Alejandro Fernández, Daniel Giménez Cacho, Gull/ Nathaniel Rappole, Kinky, Natalia Lafourcade, Camilo Lara (IMS), León Larregui, Pato Machete, Los Macuanos, Mare, Las Maya Internacional, Meme del Real, El Haragán, Los Tucanes de Tijuana, María Moctezuma, Carla Morrison, Mono Blanco, Tito Fuentes, Randy Ebright, Francisco Ayala, Palichi, Yajvalel Vinajel, Residente Calle 13, Luis Rey Moreno Gil, Roco, Moyenei, Gloria Trevi, Slajem K'op, Los Tres Yucatecos, Chavela Vargas, El Venado Azul, Julieta Venegas, Alejandro Aguilar Zéleny, Eduardo Farrés, Alejandro Flores Betancourt, Los Hermanitos Domínguez, Los Hermanos Morales, Johnivan, Marimba Corazón del Cielo, MultiKulti, Los Trotamundos, Yajvalel Vinajel, Delfines de Xalapa
With: Diego Luna, Daniel Gimenez Cacho, Chavela Vargas, Julieta Venegas, Gloria Trevi, Laura Esquivel, Molotov, Blue Demon