Dir/scr: Sebastián Silva. US-Chile. 2013. 98mins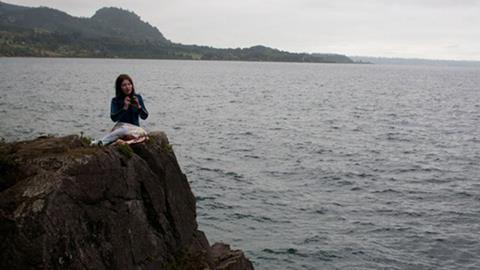 A young woman seems to be losing her mind in Magic Magic, but the movie itself is even crazier than its protagonist. This psychological horror offering from writer-director Sebastián Silva (The Maid) aspires to do little more than unnerve you as strenuously as possible, and in this regard it succeeds. To be sure, the movie isn't much more than its atmosphere of clammy discomfort and a gonzo performance from Juno Temple, but those open to the experience will enjoy its gleeful strangeness.
Magic Magic turns out to be little more than a one-woman show. Thankfully, Temple is up to the task: She's crazy good.
Part of Sundance's Midnight section, Magic Magic is one of two films from Silva at the festival. (The other is the lovely, lyrical road movie Crystal Fairy.) Magic Magic doesn't boast much in the way of marquee names outside of Temple and co-star Michael Cera, and the film's subdued approach is a far cry from anything approaching a conventional horror movie. In other words, this one has "cult item" written all over it.
The movie concerns the unhappy plight of Alicia (Temple), who has just flown from California to Chile to hang out with her cousin Sarah (Emily Browning) and Sarah's boyfriend Agustín (Agustín Silva). With some friends, they venture off to a lush forested island for a relaxing vacation, but pretty soon the skittish Alicia feels alienated from the group, particularly by the bullying Brink (Cera) who enjoys picking on her. Once she develops problems sleeping over several nights, she begins to exhibit bizarre behaviour that alarms the others in her group.
Silva manages to build a mood of general unease with an irreverent tone, suggesting that the filmmaker is enjoying the vague anxiety he's creating in his audience. That playful spirit can also be felt in the lack of explanation concerning Alicia's mysterious condition, which is why Temple's portrayal gives the movie the anchor it desperately needs. At first, this young woman seems merely high-strung, but as the sleepless nights drag on, Alicia starts to crumble mentally, and the movie consciously starts matching her unhinged disposition. Ultimately, we don't need answers to the riddle of Alicia's behaviour because Temple plays her in such an hyperactively offbeat manner that Alicia becomes a growing force of nature that's as foreboding and omnipresent as the grey skies encircling the island.
Those ominous skies, like everything else in Magic Magic, are captured beautifully by cinematographers Christopher Doyle and Glenn Kaplan, who never overdo the horror-movie theatrics. Indeed, one of the film's most unnerving elements is how few visual tricks there are to be found, Silva preferring to ground this waking nightmare in the real world, which makes the story's twists and turns all the more perplexing. The stunning Chilean locales give the impression of a world cut off from the comforts of civilization, a familiar setting for a horror movie that in Magic Magic becomes a playground for Silva's odd moods.
Focusing so much on its heroine, Magic Magic doesn't do much to develop the characters around her, a problem that lowers the emotional stakes. (If Alicia's traveling companions are contributing to her madness, they aren't sketched out well enough to see how they could have provoked such extreme behaviour.) Cera especially hurts in this regard. As usual, he provides a deadpan comic tone, which serves as a fine counterpoint to the growing dread, but as the situation becomes direr, he doesn't display the dramatic chops necessary for the material. (However, they are clearly evident in Silva's Crystal Fairy, in which he has a far more intricate character to play.) As a result, Magic Magic turns out to be little more than a one-woman show. Thankfully, Temple is up to the task: She's crazy good.
Production companies: Braven Films, Rip Cord, Killer Films, Cine Sur, Chile Films
International sales: United Talent Agency, www.unitedtalent.com
Producers: Frida Torresblanco, Christine Vachon, Mike White, David Bernad
Executive producers: Giovanna Randall, Eric Laufer, Joe Healey, William Winget, Michael Cera, Todd Remis, Pamela Koffler
Cinematography: Christopher Doyle & Glenn Kaplan
Production designer: Amparo Baeza
Editors: Alex Rodriguez, Jacob Craycroft
Music: Saunder Jurriaans & Danny Bensi
Main cast: Juno Temple, Emily Browning, Catalina Sandino Moreno, Michael Cera