Dirs: Percy Adlon & Felix Adlon. Austria-Germany. 2010. 102mins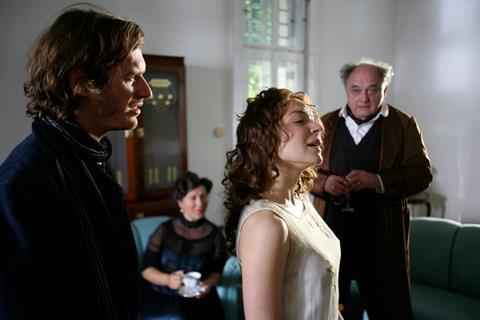 Florid but not particularly revelatory, Mahler On The Couch presents a fictional re-imagining of a real-life meeting between acclaimed composer Gustav Mahler and renowned psychiatrist Sigmund Freud, but some clever flourishes can't distract from the fact that this period drama is at heart an overheated biopic love story.
The visual and structural boldness only underlines the story's predictable trajectory and muddy characterisations.
Making its premiere at the Los Angeles Film Festival before opening in Germany next month, Mahler On The Couch should appeal to upscale art-house audiences who have recently embraced other biographical dramas like The Last Station and Coco Chanel & Igor Stravinsky. However, a lack of recognisable names in the cast may mean that positive reviews will be crucial to boost interest.
In 1910, a distraught Mahler (Johannes Silberschneider) seeks out the counsel of Freud (Karl Markovics) after learning of his much-younger wife Alma's (Barbara Romaner) rabid infidelity. With Freud's psychiatric guidance, Mahler goes back through the history of his marriage to determine the cause of Alma's unfaithfulness.
Co-directed by Percy Adlon (Bagdad Cafe) and his son Felix, Mahler On The Couch boasts a somewhat ambitious structure, balancing between Mahler's scenes with Freud and extended flashbacks that trace his love affair with Alma, which are then interspersed with testimonials from other characters who address the camera directly to comment on the events depicted. Taking their cue from Mahler's dramatic compositions, which are featured heavily on the soundtrack, the filmmakers also incorporate a grandiose shooting style that utilises severe canted angles and sweeping camera moves.
Unfortunately, the visual and structural boldness only underlines the story's predictable trajectory and muddy characterisations. Hoping to make Mahler and his wife tragic, complex figures, Mahler On The Couch merely renders them unsympathetic, failing to illustrate the alluring fire of their self-destructive May-December romance. And in the underwritten role of Freud, Markovics badly overcompensates by giving a performance that's far too cutesy, allowing his beard and ever-present cigar to do most of the acting for him. Romaner, however, is all one could ask for in a temptress, convincingly articulating Alma's carnal, stormy spirit.
Production companies: Pelemele Film & Stage, Cultfilm, ARD Degeto BR, ORF
Worldwide Sales: StudioCanal, www.studiocanal.com
Producers: Eleonore Adlon, Burkhard Ernst, Konstantin Seitz
Screenplay: Percy Adlon, Felix Adlon
Cinematography: Benedict Neuenfels
Production designers: Bernt Amadeus Capra, Veronika Merlin
Editor: Jochen Kunstler
Main cast: Johannes Silberschneider, Barbara Romaner, Karl Markovics, Friedrich Mucke, Eva Mattes, Lena Stolze. Nina Berten