MAY 2 UPDATE: Disney's live action hit held on to top berth for its third and almost certainly final weekend following a 29% decline that saw it add a confirmed $43.7m.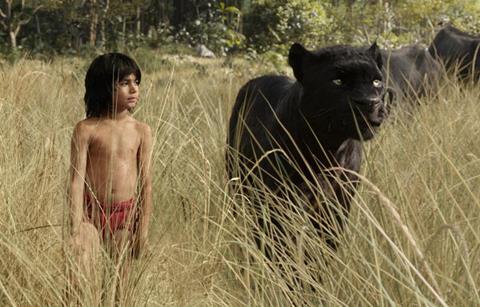 The Jungle Book has swung to $253.4m and $688.2m worldwide but its days at the top of the North American charts are numbered as Disney prepares to unleash Marvel Studios stablemate Captain America: Civil War this week.
Universal's The Huntsman: Winter's War continued its dismal start and fell 51% in its second weekend on $9.6m for a running total of $34.2m.
The fantasy adventure is tracking around 65% behind Snow White And The Huntsman by the same stage, which had reached $98.5m by the end of its second session in June 2012 en route to $155.3m. The drop rises a fraction when $98.5m is adjusted for inflation to $102.2m.
Keanu, the comedy from Warner Bros starring Keegan-Michael Key and Jordan Peele, opened at number three on $9.5m from 2,658 theatres, while Open Road debuted the ensemble comedy Mother's Day with Julia Roberts, Kate Hudson, Jennifer Aniston and Jason Sudeikis at number four on $8.4m from 3,035 venues.
Focus Features released Rainmaker Entertainment's animation Ratchet & Clank at number seven on $4.9m in 2,891 theatres. Cinema Management Group handled international sales on the family adventures, which features the voice talent of Rosario Dawson, Paul Giamatti, Sylvester Stallone, John Goodman and Bella Thorne.
The story centres on two unlikely heroes who struggle to stop the evil alien Chairman Drek from destroying every planet in the star system.
In limited release, Papa: Hemingway In Cuba arrived at number 18 via Yari Film Group on $475,224 from 325 sites, while IFC Films release The Man Who Knew Infinity starring Dev Patel and Jeremy Irons on $80,325 from six for a $13,388 average.
Starz Media opened Jason Bateman's drama The Family Fang starring Bateman, Nicole Kidman and Christopher Walken in a single venue on $14,506, and Oscilloscope Pictures debuted Juliette Binoche drama L'Attesa, which premiered in Venice last year, on $5,686 from two venues.
The top 12 films combined for $98.9m, marking a 17.4% decline on last weekend and a 56.3% drop against the comparable session in 2015 when Avengers: Age Of Ultron scored what now ranks as the fourth biggest North American opening weekend on $191.3m
This week's wide release is Marvel Studios' Captain America: Civil War through Disney starring Robert Downey Junior, Chris Evans, Scarlett Johansson, Paul Bettany, Chadwick Boseman and most of the regular cast from the Avengers films.
Confirmed top 10 North America April 29-May 1, 2016
Film (Dist) / Conf wkd gross / Conf total to date
1 (1) The Jungle Book (Buena Vista) Walt Disney Studios Motion Pictures International $43.7m $253.4m
2 (2) The Huntsman: Winter's War (Universal) Universal Pictures International $9.6m $34.2m
3 (-) Keanu (Warner Bros) Warner Bros Pictures International $9.5m –
4 (-) Mother's Day (Open Road Films) $8.4m –
5 (3) Barbershop: The Next Cut (Warner Bros-MGM) Warner Bros Pictures International $6.1m $44.7m
6 (4) Zootopia (Buena Vista) Walt Disney Studios Motion Pictures International $5.3m $323.8m
7 (-) Ratchet & Clank (Focus Features) Cinema Management Group $4.9m –
8 (5) The Boss (Universal) Universal Pictures International $4.3m $56.1m
9 (6) Batman vs Superman: Dawn Of Justice (Warner Bros) Warner Bros Pictures International $3.9m $325.2m
10 (7) Criminal (Lionsgate-Summit) Lionsgate International $1.3m $13.5m