Malala Yousafzai recently spoke in London about the experience of seeing her life brought to the big screen in He Named Me Malala, which premiered in Telluride and plays at Toronto before heading to the BFI London Film Festival.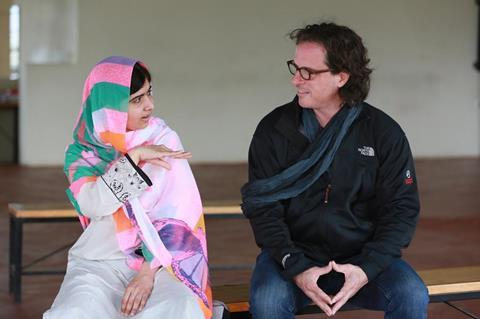 Yousafzai appeared at a preview screening with her father, Ziauddin, and director Davis Guggenheim (An Inconvenient Truth, Waiting For Superman).
The film's partners are Fox Searchlight, Image Nation, Participant Media and National Geographic.
Guggenheim shot the film over 18 months, at home with the family in Birmingham and on trips with Malala to Kenya and the border between Jordan and Syria.
The moments at the family home are especially intimate.
"It was a very loud, loving, funny, truly wonderful home," the filmmaker recalled. "I was becoming enamored by this story of a father and a daughter. I have two daughters and I wanted to understand that magic."
Malala appreciated the director's soft approach. "What Davis decided was to have an interview with us without a camera, just talking," she said.
"We became friends. Making this film was a great point of my life, even though it was hard to have a camera following everything in your home, except toilets," she said with a laugh.
Her father was also impressed by the approach. "I must praise [Guggenheim] for taking care of our family privacy," he said.
"We're a Muslim family…it was challenging for us to allow a guy from Los Angeles into our home.
"His power, his strength, is that he brings stories down from your subconscious and excavates these memories."
Guggenheim felt "pressure to get it right… their story needed to be understood in a nuanced way."
"What's fascinating about this family is they had to leave a country they love in a dramatic way," he added.
"But when I'm in their home I feel gratitude and joy. Being with this family taught me a great deal."
Malala, who recently achieved six A*s and four As at her GCSEs in England, used the opportunity to talk about girls' education.
"It's very important that girls understand they have potential, they have skills, they have talent, but education is the key to success," she urged.
"To get that education they have to stand up for their rights and speak up. It's important for girls to raise their voices.
"It's important that girls get encouraged to question your society, to question your parents. If there is injustice in your society you should speak.
"School and education helps girls to find themselves and learn they can contribute equally for society."
She says more world leaders need to stand up for investment in education.
The 18-year-old wants to now continue her studies, as well as working with the Malala Fund. (malalafund.org).
After that she's not sure what path she will take, but she notes, "I would be very interested in working in Pakistan, to help my country to achieve progress. People need more investment in health and education."
In the film, the camera also shines a spotlight on Malala as a normal teenager, fighting with her younger brothers for instance.
"My brothers had the chance to say lots of things against me."
She recounted a story from a pivotal day in her life, "After I won the Nobel Prize, I went back to the hotel and my little brother said, you have got the Nobel Peace Prize, but it doesn't mean you become a bossy sister."
After three years living in the UK, she's proud to say she has "lots of friends" at school now…and she showed a few words in the local accent, saying, "I am proper Brummie now".