Dir: Zack Snyder. US. 2013. 143mins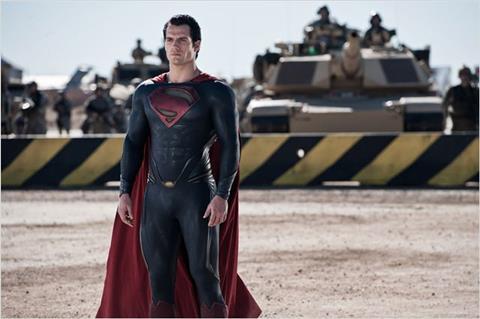 An unapologetically supersized reboot of the Superman franchise, Man Of Steel doesn't lack for spectacle, but after a while its emphasis on grand gestures and unwavering gravitas stops feeling heroic and begins to seem like overkill. Director Zack Snyder has fashioned a brawny, science-fiction-heavy action movie that's far removed from the charming, understated tone of the original Christopher Reeve films of 30 years ago, and the boldness of that vision — aided by a quietly compelling turn from Henry Cavill — has its merits. But despite being intermittently gloriously thrilling, Man Of Steelstruggles to juggle all its many ambitions and plot strands, resulting in a film that never quite soars like a bird or a plane.
Man Of Steel's desire to wow us again and again becomes exhausting and then numbing, but it must be said that a few of these gargantuan sequences are stunning.
Opening June 14 in several territories across the globe, this Warner Bros. release should enjoy robust grosses that will be boosted by 3D and IMAX surcharges. The landscape isn't entirely wide open — the following week's World War Z could tap into the same audience — but Man Of Steel has plenty of built-in interest beyond its superhero protagonist. Although Cavill may not be well-known, a supporting cast that includes Amy Adams, Kevin Costner, Russell Crowe and Michael Shannon should appeal to different demographics, not to mention the fact that Snyder directed the hits 300 and Watchmen.
Man Of Steel was produced by Christopher Nolan, and like his Batman films this movie offers a sober portrait of how a superhero came into being. Snyder's film opens on Krypton, establishing the planet's imminent destruction and the wise scientist Jor-El (Crowe)'s decision to send his infant son Kal-El in a spacecraft to Earth in order to save him. Bred to protect Krypton, the ferocious General Zod (Shannon) tries to stop Jor-El's plan but is unsuccessful, and in the process gets sentenced (alongside his minions) to a lengthy sentence in deep space as punishment for trying to overthrow the planet's leaders.
Now living on Earth, the 33-year-old Kal-El (Cavill), who goes by Clark Kent and is unaware of where he came from, tries to hide by taking odd jobs across Earth, not wanting to reveal his superhuman strength and other powers, lest he scare all those around him. But after intrepid investigative reporter Lois Lane (Adams) becomes curious about this intriguing stranger, Clark stumbles upon his real identity and accepts the responsibility of safeguarding Earth — just in time for Zod to arrive and seek him out, hoping that Kal-El has a special formula aboard his spacecraft that can allow Zod to wipe out humanity and repopulate the planet with Kryptonians.
At a few minutes shy of two-and-a-half hours, Man Of Steel has given itself much narrative terrain to cover. Not only is the film an origin story, it introduces one of Superman's greatest foes in Zod — who also appeared in 1980's Superman II — and gives the villain far more of a backstory and arc than the previous film did. In addition, the film takes its time to establish Lois's character, as well as those of Kal-El's birth parents (Ayelet Zurer plays his mother on Krypton) and the Kansas married couple, Jonathan and Martha Kent (Costner and Diane Lane), who raise him on Earth.
Screenwriter David S. Goyer, working from a story credited to him and Nolan, must weave all these different elements together, to say nothing of an overly complicated plot in which Zod wants to turn Earth into the new Krypton, which involves tracking down this mysterious secret formula and terraforming the planet while battling Superman at the same time. Snyder attacks all of this with gusto, and the movie is especially affecting when it effortlessly cuts back and forth between Clark's uncertain wandering across the world and flashbacks to his Kansas childhood as he's first coming to grips with his seemingly uncontrollable powers. But more often, Man Of Steel fails to achieve cohesiveness as it pinballs between Superman, the other characters and the overall storyline.
This is not to say that Cavill doesn't supply an emotional centre to the film. Unlike Brandon Routh, who played the lead role in director Bryan Singer's 2006 film Superman Returns, Cavill (probably most recognisable from 2011's Immortals) doesn't try to mimic Reeve's iconic performance but instead goes his own way, giving us a Superman who's apprehensive but also ruggedly handsome and occasionally brooding. In the vein of Nolan's Batman, this new Superman is meant to be a darker, more relatable character than in earlier iterations, and Cavill does a good job projecting an air of decency and bravery that we associate with the character, while simultaneously hinting at the man's sense of being an outsider — a literal alien — on this planet.
But despite Cavill's strong performance, Superman can get a bit lost in his own movie amidst all the other goings-on. No doubt this is intentional on the filmmakers' part. (It plays into the movie's theme of Superman needing to find his place but also inspire those around him.) But the strategy to make a superhero movie that's more of an ensemble piece is not entirely satisfying when the supporting actors aren't given great roles to play.
Adams shows less fiery spunk than Margot Kidder did as Lois Lane, instead portraying her as a confident, no-nonsense type. But, as written, it's not a character with much range, which is especially problematic considering that her and Superman's budding attraction becomes an important element of the third act. Though individually likeable, Adams and Cavill don't display a lot of chemistry in their scenes together.
Likewise, Crowe, Costner, Lane and Shannon deliver fine turns, but their easy authority in the roles can't hide the fact that these are bland, often one-dimensional characters. (Costner and Crowe play different versions of the Wise Paternal Figure, while Shannon does a more restrained take of his unhinged-man routine.)
Because Nolan oversaw Man Of Steel, it's inevitable (if also unfair) that this new film will be compared to his Dark Knight trilogy. (No doubt Warner Bros. wouldn't entirely mind the comparison, however: Those three movies made a combined $2.5bn worldwide.) And while Man Of Steel has a similarly introspective tone in places, this movie is far more of an action extravaganza, embracing sci-fi and fantasy elements that Nolan's films never did. Starting with a 20-minute sequence on Krypton, Man Of Steel delivers huge explosions and epic set pieces at a pretty regular clip. (The movie only really catches its breath when Clark is trying to find himself before discovering his identity.) Nolan's Batman movies also had action scenes, but they were nothing like the sustained sequences that dominate Man Of Steel's second half.
Encouraged by the fact that Superman, Zod, and his henchmen are all practically immune to pain while on Earth, Snyder has crafted fight scenes that include endless carnage and destruction, as these Kryptonians lay waste to everything around them. But the set pieces aren't just confined to these characters: Lois Lane and other humans also get involved. (This is probably the first Superman movie where Lois spends more time shooting guns, flying in military planes and running from disaster than doing reporting or anything else.)
To be sure, Man Of Steel's desire to wow us again and again becomes exhausting and then numbing, but it must be said that a few of these gargantuan sequences are stunning. Buoyed by a thunderous score from Hans Zimmer (a frequent Nolan collaborator), the film aspires to the level of an epic myth, and the grandeur of Snyder's staging can sometimes be quite arresting. (Working with cinematographer Amir Mokri, he does great work playing up the importance of the sun to Superman's powers, filming daylight scenes with an almost magical glow.)
But the film's lack of a sense of humour underlines the eventually oppressive solemnity of the proceedings. With its ravishing production design and special effects, Man Of Steel looks amazing, and it has flashes of the truly inspired reimagining of Superman that it longs to be. But by trying to do so much — and pounding us with spectacle — the movie loses focus. Superman is missing from the title of Man Of Steel, and likewise the spirit of the character's elemental, while rousing heroism is a little too absent from the film.
Production companies: Legendary Pictures, Syncopy
Worldwide distribution: Warner Bros. Pictures, www.warnerbros.com
Producers: Charles Roven, Christopher Nolan, Emma Thomas, Deborah Snyder
Executive producers: Thomas Tull, Lloyd Phillips, Jon Peters
Screenplay: David S. Goyer, story by David S. Goyer & Christopher Nolan, based upon characters appearing in comic books published by DC Entertainment, Superman created by Jerry Siegel and Joe Shuster
Cinematography: Amir Mokri
Production design: Alex McDowell
Editor: David Brenner
Music: Hans Zimmer
Website: www.manofsteel.com
Main Cast: Henry Cavill, Amy Adams, Michael Shannon, Kevin Costner, Diane Lane, Laurence Fishburne, Antje Traue, Ayelet Zurer, Christopher Meloni, Russell Crowe