Dir: Matthew Akers. US. 2011. 106 minutes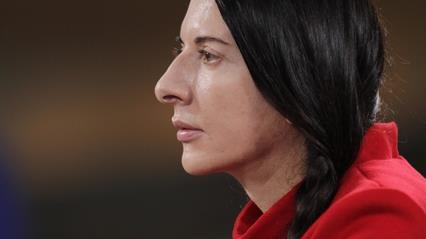 At the remarkably well-preserved age of 63 - despite the torments she has put her body through - performance artist Marina Abramovic doesn't want to be alternative any more. "I want it to be a real art before I die," says the Belgrade-born activist. HBO's Marina Abramovic: The Artist Is Present eloquently states her case, framing a perceptive, intelligent documentary around her already-infamous 2010 MoMA exibition.
The latter half of Marina Abramovic: The Artist Is Present documents the extraordinary MoMA show, with sensitive extreme-close-up and medium shots of her visitors.
This is an easy way in for viewers unaware of Abramovic's work, while easily illuminating enough to satisfy her enthusiastic fanbase. After a summer debut on HBO, Marina Abramovic: The Artist Is Present should be a natural performer in the cultural television spectrum, alongside guaranteed festival exposure and art-themed sidebars.
It uses the MoMA exhibition, in which she spends almost three months gazing into her visitors' faces individually, "engaging in mental dialogue for as long as they want", to look back on her life and relates her pioneering work and extraordinary mental and physical stamina to the celebrated and professional artist that she has become today.
"After 40 years of people thinking you've gone insane and you should be put in a mental hospital, you finally get all this acknowledgment," she says in the run-up to the MoMA show. "Takes such a long time to take you seriously." Early footage from the 1960s and '70s showing Marina wounding, whipping, stabbing and cutting herself, running into a door repeatedly; yet the "grandmother of performance art" misses the question from the early days: why is this art? "Maybe they get it now; or they pretend to get it," she says, acerbicly. She herself is an acerbic and good-humoured presence throughout.
Devised by MoMA's curator Klaus Biesenbach, Marina's show will recreate some of her historical pieces, many of them originally staged with her artistic and personal partner of 12 years, Ulay. "I've no comment," he says of her New York undertaking. "Just respect."
As the documentary counts down to the MoMA opening, director Akers (and co-editor/producer Dupre), who spent a year with Abramovic, listen to her talk about her background and parents, both Communist partisans in Tito's Yugoslavia, and document her intense artistic and personal collaboration with Ulay.
They also watch her recruit young performance artists who will re-stage her work at MoMA, listen in on a workshop she gives in her Hudson Valley studio, and observe what she describes as "the administration of being an artist".
A long way now from the bare-bones camper van in which she lived with Ulay for five years, Abramovic is the savvy head of a professional enterprise and fond of a designer outfit, but she's smart enough to listen to her gallerist Sean Kelly, who understands and eloquently defends her hard-fought-for reputation.
The latter half of Marina Abramovic: The Artist Is Present documents the extraordinary MoMA show, with sensitive extreme-close-up and medium shots of her visitors. Tears abound, both from Marina and her subjects, and this quiet internalised dialogue somehow underscores the physical human element she has always sought and which is more and more absent from today's world. Editing is sensitive here, although some - David Blaine, James Franco, Fox News - don't always emerge with their dignity fully intact which, although amusing, seems irrelevant to Abromovic's mission. Score by Nathan Halpern is affective, through perhaps overstated during the final repetitive scenes.
Production company: A Show of Force
International sales: Dogwoof, ana@dogwoof.com
Producers: Jeff Dupre, Maro Chermayeff
Executive producers: Sheila Nevins, Stanley Buchthal, Maja Hoffman, David Koh
Co-director: Jeff Dupre
Cinematography: Matthew Akers
Editor: E Donna Shepherd, Jim Hession
Music: Nathan Halpern