Dir: Tom Dey. US. 2010. 89mins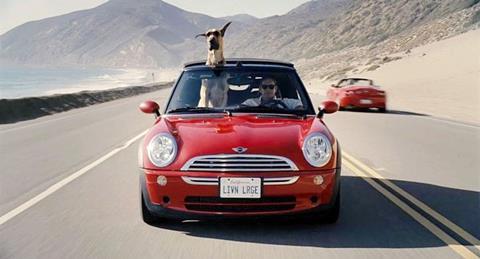 Geared to the undiscriminating tastes of young children, the talking-animal family comedy Marmaduke doles out simplistic messages about being true to oneself in between moments of broad slapstick and woeful dog-related puns. As the voice of the titular Great Dane, Owen Wilson lends some laidback charm to the proceedings, but this threadbare film mostly feels like a way to keep out-of-school kids occupied during summertime.
Marmaduke may have to wait for DVD to truly stretch its legs.
Marmaduke will face direct competition from the still-potent Shrek Forever After. Recently, Fox hit pay dirt utilising talking critters with the lucrative Alvin And The Chipmunks franchise, but between Shrek and the forthcoming Toy Story 3, Marmaduke may have to wait for DVD to truly stretch its legs.
Moving from Kansas to Southern California with his human owners, Marmaduke (voiced by Wilson) has a tough time adjusting to his strange new environment. But when the bullying Beauceron Bosco (Kiefer Sutherland) thinks that Marmaduke has feelings for his girlfriend Jezebel (Fergie), Marmaduke must stand up to this local alpha-dog.
Directed without much flair by Tom Dey (Failure To Launch), Marmaduke is loosely based on the one-panel comic strip created by Brad Anderson and Phil Leeming. Speaking directly to the audience through Wilson's warm, empathetic drawl, Marmaduke goes on a bland personal journey to learn that he should be proud of his mutt status and not be intimidated by the superficial California canines he encounters.
Unfortunately, the filmmakers exploit these lazily executed platitudes for a series of flatulence jokes, tired pop-cultural references, and pooch-centric twists on American catch phrases. And although the effects work used to make the animals' lips move is smoothly handled, this ultimately seems like a rather hollow achievement considering the inanities that emerge from their mouths.
Production companies: Regency Enterprises, Davis Entertainment Company
Worldwide distribution: Twentieth Century Fox
Executive producers: Arnon Milchan, Tariq Jalil, Jeffrey Stott, Derek Dauchy
Producer: John Davis
Screenplay: Tim Rasmussen and Vince Di Meglio, based upon the comic created by Brad Anderson and Phil Leeming
Cinematography: Greg Gardiner
Production designer: Sandy Cochrane
Editor: Don Zimmerman
Music: Christopher Lennertz
Main cast: Owen Wilson, George Lopez, Lee Pace, Judy Greer, William H. Macy, Steve Coogan, Sam Elliott, Fergie, Christopher Mintz-Plasse, Emma Stone, Kiefer Sutherland, Marlon Wayans. Damon Wayans, Jr.