Dir: Alberto Rodriguez. Spain. 2014. 105mins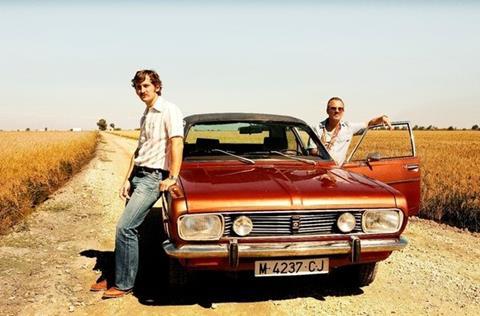 Marshland (La Isla Minima), a strikingly handsome period cop drama from Alberto Rodriguez (7 Virgins and hit Spanish period crime film Unit 7), places two mis-matched and troubled detectives in the atmospheric Andaluz swamplands, where they lead a hunt for a serial killer of teenage girls.
What lends Marshland heft is its political nuance and outstanding art direction, both of which seem unlikely to go unnoticed in the international marketplace.
Although their case is uniquely set against the backdrop of civil unrest in the wake of Franco's death and the slow, suspicious end of Spain's dictatorship and transition to democracy, Marshland still treads some very familiar ground, most recently worked over by TV's True Detective. The film premiered in Official Selection at the San Sebastian Film Festival.
However, while the story occasionally feels like an old friend, Marshland's terrain is most emphatically new. The swampy lowlands at the mouth of Spain's Guadalquivir River, as lensed by cinematographer Alex Catalan, help liberate the film from its genre moorings to produce a striking new form of Southern Gothic. The detectives may plod through the tropes but this vibrant milieu could connect with genre audiences.
Rodriguez lays out the routine bones of his plot against a unique backdrop: it is 1980, and an impoverished rural Spain is beginning to emerge from the repressive shadow of Franco. Young people are leaving their repressed lives in the town of Villa-Franco del Guadalquivir (Marshland was filmed around the Donana National Park, in Carmona) in the hope of a better future. Democracy beckons. Women, in particular, are attracted by the prospect of liberation and the chance to work in the nearby, permissive Costa Del Sol. They are becoming more sexually active.
But two teenage sisters have disappeared and detectives Pedro (Raul Arevalo) and Juan (Javier Gutierrez) are reluctantly sent in from Madrid to the marshland to find them. The local Guardia Civil would clearly be happy to let the matter rest, as the girls have a reputation for being "loose". Righteous Pedro is young and outspoken and this trip is a punishment for him – he wants to be sent back to Madrid where his wife is about to have a baby. The more experienced Juan is happy to cross the line whenever necessary.
After some very awkward if not outright hokey sequences involving a "psychic" fisherwoman and a visit to the girls' glowering, monosyllabic parents, the brutally violated bodies of the twins turn up in the swamp and the murder hunt is on. The rice harvest is late and trouble is stirring amongst the local workforce who take to the streets with their noisy protests. It soon transpires that other girls of a similar age have gone missing in the past but the authorities have turned a blind eye.
Now Pedro and Juan, with their differing methods and mutual distrust, must deal with a rising body count, their potentially corrupt boss, and locals who play their cards fatally close to their chest. In the best Gothic tradition, everyone is suspicious – of their husband, neighbour, child, employer, in what turns out to be a lawless environment which is as black as noir.
As a policier, Marshland is competent if predictable, although it slams its way home with a pleasingly inconclusive finale. The two male leads are dependable anchors and, despite some early tonal issues, Rodriguez pulls a solid narrative out of an obvious set-up. What lends Marshland heft is its political nuance and outstanding art direction, both of which seem unlikely to go unnoticed in the international marketplace. Alex Catalan, for one, must surely be recognised for a technical ambition which dwarves many more lavishly-funded films in the international marketplace.
Production companies: Atipica Films, Sacromonte Films, Atresmedia Cine
International sales: FilmFactory Entertainment, info@filmfactory.es
Producers: Jose Antonio Felez, Mikel Lejarza, Mercedes Gamero, Jose Sanchez Montes, Mercedes Cantero
Screenplay: Rafael Cobos, Alberto Rodriguez
Cinematography: Alex Catalan
Editor: Jose Moyano
Music: Julio de la Rosa
Main cast: Raul Arevao, Javier Gutierrez, Antonio de la Torre, Nerea Barros, Salva Reina, Jesus Castro, Manolo Solo