Dir: Alfonso Gomez-Rejon. US. 2015. 104mins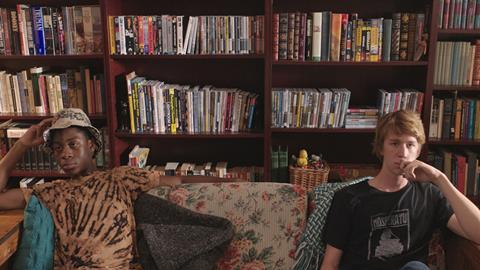 Overly precious but undeniably affecting, Me And Earl And The Dying Girl travels into familiar dramatic terrain — the offbeat coming-of-age story, as well as the terminal-cancer drama — to deliver something that feels handmade and also heartfelt. Based on the Jesse Andrews novel about an oddball teen and the dying classmate he befriends, director Alfonso Gomez-Rejon's comedic tearjerker turns the twee up to 11, but the precociousness of this not-quite love story doesn't fully overshadow the genuine feeling pulsing through every frame.
Incorporating chapter titles, occasional animation and profoundly quirky side characters, Me And Earl has the dollhouse quality of a Wes Anderson film mixed with the wistful tone of a Hal Ashby production.
Part of Sundance's US Dramatic Competition, Me And Earl was acquired by Fox Searchlight, a perfect home for this sensitive, emotionally potent indie. (In fact, the film to which Me And Earl will be most compared, The Fault In Our Stars, came out through Searchlight's sister company, 20th Century Fox.) Me And Earl's principal stars won't be recognisable to most audiences, but a supporting cast that includes Nick Offerman, Connie Britton and Molly Shannon will boost the film's profile. Another asset should be laudatory reviews, which in conjunction with possible prizes from the Sundance jury should convince viewers that this is a festival favourite worth seeking out.
Me And Earl stars Thomas Mann as Greg, a high school senior in Pittsburgh who's a bit of an outcast, staying friends with enough of his school's different cliques that he avoids being ostracized or targeted for bullying. Enjoying spending his free time making parodies of classic films with his best friend Earl (RJ Cyler), Greg is pressured by his mom (Britton) to visit Rachel (Olivia Cooke), a classmate who's just been diagnosed with leukaemia. Although they weren't friends before the diagnosis, Greg and Rachel start to spend time together and develop a bond, which is threatened by Rachel's worsening condition.
Not unlike The Fault In Our Stars, Me And Earl is a four-hankie affair that announces its intention to distance itself from the melodramatic clichés of the genre. (In both films, a narrator warns us not to think that the movie we're going to see will behave like a typical movie.) In the case of Me And Earl, sentimentality is offset by a mildly sarcastic, hipster attitude toward the material, specifically in the presentation of Greg and Earl's spot-on film parodies that we see glimpses of throughout the movie. (The French New Wave masterpiece Breathless is redone as Breathe Less. The climatic murder at the end of Don't Look Now is transformed in their version, Don't Look Now Because a Creepy Ass Dwarf Is About To Kill You!! Damn!!)
Occasionally imitating Werner Herzog's iconic, ridiculous speech patterns or re-watching the end of The 400 Blows — perhaps the quintessential coming-of-age story — Greg is a movie junkie who's not so interested in the outside world, and similarly Me And Earl is cloistered, its emotions safely tucked away beneath a protective coating of preciousness.
Although Rachel is the one who's dying, it's Greg who goes through the film's major transformation. Working from a screenplay by Andrews, who adapted his own book, Gomez-Rejon (The Town That Dreaded Sundown) dramatizes how Greg's highly developed sense of emotional self-preservation can't prepare him for the slow deterioration of Rachel. The movies he satirizes, the cinematic references he makes, the affected way he views his friendship with Earl (whom he calls his "co-worker" since they do the parodies together): These are all ironic distancing devices for a young man who, frankly, is scared about a future that includes the looming, terrifying unknown of college and adulthood.
Mann portrays Greg's dispassionate, deadpan surface while hinting at the vulnerability underneath. And he has a chummy, reserved rapport with Cooke, who struggles with the beautiful-dying-girl pitfalls that limit her character. Me And Earl keeps insisting that we're not watching a romance develop between Greg and Rachel, and the young actors work to suggest something deeper than meet-cute attraction: a meeting of the minds between two outcasts who just needed someone similar to themselves to feel normal and loved.
Incorporating chapter titles, occasional animation and profoundly quirky side characters, Me And Earl has the dollhouse quality of a Wes Anderson film mixed with the wistful tone of a Hal Ashby production. (Indeed, Greg's unconventional relationship with Rachel, who teaches him how to embrace life, could be an homage to a slightly similar dynamic in Ashby's Harold And Maude.) Consequently, Me And Earl can feel mannered, brittle, more than a touch too proud of its own cleverness. And yet, Gomez-Rejon's focus on his actors produces plenty of touching moments, particularly in one long, unbroken shot between Mann and Cooke that pushes their friendship into unexpectedly tender territory without warning. As for the ending, viewers will probably be able to anticipate what's coming, but the preciseness of Gomez-Rejon's execution makes it intensely moving nonetheless.
Production companies: Indian Paintbrush, Rhode Island Ave.
US distribution: Fox Searchlight, www.foxsearchlight.com
Producers: Jeremy Dawson, Steven Rales, Dan Fogelman
Executive producer: Nora Skinner
Screenplay: Jesse Andrews, based on his novel
Cinematography: Chung-hoon Chung
Editor: David Trachtenberg
Production designer: Gerald Sullivan
Music: Brian Eno
Main cast: Thomas Mann, Olivia Cooke, RJ Cyler, Nick Offerman, Molly Shannon, Jon Bernthal, Connie Britton