Dir/scr: Guillaume Gallienne. France. 2013. 95mins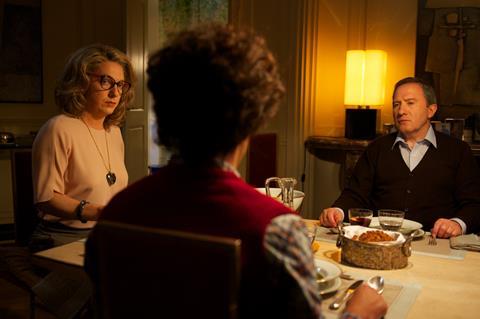 There's no point of accusing actor-director Guillaume Gallienne of making an exhibition of himself. That's the entire point of Me Myself And Mum (Les Garçons et Guillaume, à table!), a cheerful and inventive comic confessional about Gallienne's upbringing, his relations with his mother, and his eventual embracing of his inner heterosexual after growing up as a female-identified boy whom everyone assumes is gay. Based on Galienne's successful solo stage show, the film plays up its theatrical origins only to transcend them in sometimes dizzily flamboyant coups de cinéma, with Gallienne playing a genial master (and sometimes mistress) of ceremonies throughout.
The film stands from start to finish on the star's persona, which takes some adjusting to.
Something of a one-man La Cage aux Folles, this intelligent but unashamedly crowd-pleasing entertainment should clean up when it opens in France this November. As for export, adventurous distributors will no doubt overcome the director-star's lack of international reputation, and it'll go gangbusters at festivals, LGBT-specialised especially.
The film begins with Gallienne stepping on stage to do his show - which opens out, with various degrees of ingenious artifice, into a quasi-realistic comic recreation of his life. Born into an extremely well-heeled family, the child Guillaume (played by the adult Gallienne) is devoted to his aristocratic mother (Gallienne again, very funny in matronly drag à la Tootsie), a frostily sour grande dame. While Guillaume's macho dad (André Marcon) takes his two older sons on rugged sports holidays, Guillaume - who's seen in the family as a girl in a boy's skin - is sent off on more supposedly feminine pursuits. Visiting Spain, he's taught to dance the sevillana by landlady Paqui (Garcia), only to discover he's been taught all the female moves.
Unquestioningly accepting his female role in life, Guillaume identifies with his mother so much that he perfects an impeccable impersonation of her. Later, he extends his repertoire to other women, including his Russian grandma (veteran Françoise Fabian, somewhat wasted on a silly malapropisms routine), and particularly enjoys play-acting as historical Austrian aristocrats, to his father's outrage.
His schooling takes in a spell at a Christian Brothers school, and an English interlude, with his heart is broken by a handsome Rupert Everett lookalike. Attempts to come out as a gay man end badly, notably in the one scene that audiences might find highly questionable as treated here - a narrow escape from a gang-bang with some working-class Arabs.
What could have come across as a sort of dramatised self-help confessional is leavened by the odd musical sequence (notably a Spanish shindig), opulent production values, and above all, the energy and charisma of the protean Gallienne. His dual role as son and mother is elegantly carried off through CGI, although Gallienne's theatrical sensibility always highlights the stagecraft-like artifice of the whole.
The film stands from start to finish on the star's persona, which takes some adjusting to. Camp and child-like, resembling a cherubic cross between Harpo Marx and Pee-Wee Herman, Gallienne likes to project himself as a misunderstood lost soul, although he's clearly a formidably confident comic performer who's also good at projecting dignified poignancy (he only hits the schmaltz button towards the end, paying tribute to Maman).
But his mischief, inventiveness and sheer oddball charm make this a rare cross between hyper-commercial comedy and authentically person auteur cinema. Diane Kruger adds to the fun, as a Bavarian spa worker administering an enema to our hapless hero.
Production companies: Gaumont, Rectangle Productions, Don't Be Shy, LGM Films, France 3
International sales: Gaumont, www.gaumont.fr
Producers: Edouard Weil, Cyril Colbeau-Justin, Jean-Baptiste Dupont
Cinematography: Glynn Speeckaert
Editors: Valerie Deseine, Loïc Prian, Olivier Dô Hùu
Production designer: Sylvie Olivé
Music: Marie-Jeanne Serero
Main cast: Guillaume Gallienne, André Marcon, François Fabian, Nanou Garcia, Diane Kruger