Dir/scr: Apichatpong Weerasethakul. Thailand. 2012. 60mins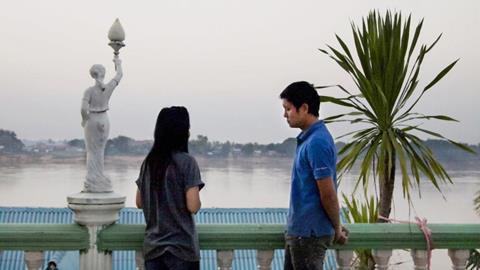 Apichatpong Weerasethakul returns to Cannes after the triumph of Uncle Boonmee Who Can Recall Past Lives with Mekong Hotel, a typically enigmatic and mysterious rumination. Lasting only 60 minutes (a good sixth of which is an entrancing long-shot of the engorged Mekong River at dusk), Mekong Hotel was commissioned for the ARTE France programming strand La Lucerne while Weerasethakul apparently prepares another, larger project in the same area.
Mekong Hotel seems ultimately destined for sidebars and retrospectives, installations and devotees.
Economically weaving around the terrace and bedroom of a hotel perched on the river looking over into Laos, Mekong Hotel starts with rehearsals for a project Weerasethakul wrote several years ago called Ecstasy Garden, but context quickly becomes irrelevant as the film ebbs and flows between reality, fiction, and the supernatural. Last year's floods in Thailand become part of the illusion as the mighty Mekong rises and falls as a backdrop and eventual principal player in the piece.
Some elements are reassuringly familiar for the director's fans: Weerasethakul continues his relationship with Syndromes And A Century and Uncle Boonmee actress Jenjaira Pongpas, who plays herself - and relates her own memories of armed conflict in the region as Communist Laos shut itself down in the 1960s and '70s. She is also the (self-loathing) vampire-like mother of young girl, who gorges on entrails and inhabits other bodies (a Pob ghost, we are told). Characters move with ease between the spiritual world and their "real" selves throughout.
Markedly different this time, however, is the lulling guitar music from Weerasethakul's old schoolfriend Chai Bhatana, who also appears onscreen. His strings mix and meld with the ambient sound of the motorbikes and tuk-tuks outside the hotel. The burnt ochres of the swollen river and the lush greens of the jungle, coupled with the increasingly insistent repetition of Bhatana's chords, produce a reverie, an almost meditative effect in the viewer. "Nobody questions the existence of the spirit," intones the narrator, and this is indeed a highly spiritual piece.
With Weerasethakul taking almost all credits (apart from sound and music) on this self-described "essay", Mekong Hotel seems ultimately destined for sidebars and retrospectives, installations and devotees. Its running time may make it more digestible than some of Weerasethakul's more ambitious pieces, although it straddles the line between full-feature and his short films and experimental work quite beautifully.
Production companies: Illuminations Films, Kick The Machine Films
International sales: The Match Factory, www.the-match-factory.com
Producer/cinematography: Apichatpong Weerasethakul
Executive producers: Simon Field, Keith Griffiths
Music: Chai Bhatana
Main cast: Jenjaira Pongpas, Maiyatan Techaparn, Salda Kaewbuadee, Apichatpong Weerasethakul, Chai Bhatana, Chatchai Suban