EXCLUSIVE: Celluloid Dreams strikes deal after Berlin screening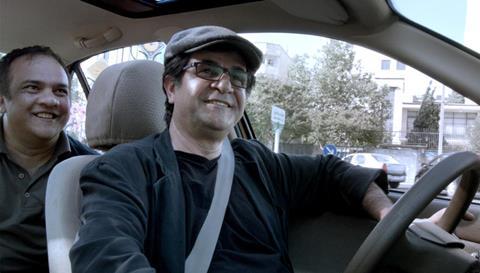 Paris-based distributor Memento has signed a deal with Celluloid Dreams for Jafar Panahi's Golden Bear contender Taxi, capturing life in contemporary Iran through passengers in a Tehran cab.
"The screening of Taxi went very well this morning and we've strong feed back from critics and distributors across the board," said Celluloid Dreams chief Hengameh Panahi following Friday's press screening.
Taxi is Panahi's third feature since the Iranian authorities banned him from making films at the end of 2010, followingThis is Not a Film and Closed Curtain, which was in competition in Berlin 2013.
Panahi, who was also banned from travelling and giving interviews in 2010 sentence, was not able to travel to Berlin for the premiere of his film.
This time around, Panahi has circumvented the ban by turning a yellow cab into a mobile film studio with a camera placed on the dashboard.
As the cab drives through the vibrant and colourful streets of Tehran, it picks up a diverse mix of passengers, who speak to the driver, played by Panahi.
"At once very clever, funny and moving, it is impressive how much this film can tell about the country and its people in only 80 minutes," said Memento Films Distribution chief Alexandre Mallet-Guy.
Prior to the Berlinale, Panahi issued a statement expressing his reasons for defying the ban in which he said: " I have to continue making films under any circumstances to pay my respect and feel alive".
Memento has a strong track record in distributing Iranian cinema in France having successfully released Asghar Farhadi's Golden Bear Winner A separation in 2011, as well as the director's French-language follow-up The Past.
"We are very happy and proud to work again with Iran and its amazing cinema," said Mallet-Guy. "I am convinced it is going to be a box-office hit in France. I received very good feedback from all the French journalists who saw it this morning.
"It's for sure a very good contender for the Golden Bear. It would be great to get it again one year after Black Coal Thin Ice, which we brought to French audience last June," he added.
Meanwhile, US buyers were tracking three high-profile festival selections led by Werner Herzog's Competition entry Queen Of The Desert, which premiered yesterday [Friday].
CAA and Cassian Elwes represent US rights and Sierra/Affinity handles international.
Terrence Malick's Knight Of Cups gets its first public outing tomorrow [February 8] and Berlinale Special entry Anton Corbijn's Life premieres on Monday [February 9].
CAA and WME Global split US duties on both while FilmNation is the international sales agent.