Sony's threequel debuts top, toppling The Dictator after just one week in power.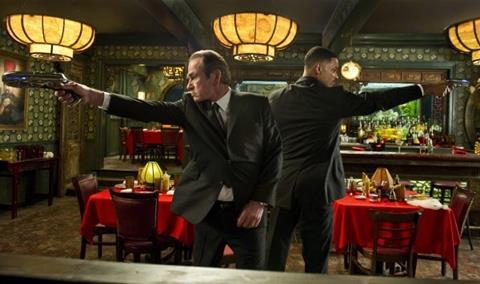 With all holdovers down around 65% as a result of the warm weather, Men In Black 3 commanded 42% of the market to open top with an estimated $4.96m (£3.2m) debut.
Sony's threequel arrives ten years after its sequel, and the weekend result is some way down on the previous two instalments. The original Men In Black acheived the strongest at $11.1m (£7.1m), with the sequel not far behind on $9.7m (£6.2m), neither of which benefitted from the 3D boost.
How much the weather played a part will become clearer in the coming weeks, but it's unlikely to challenge either of the previous instalments' final hauls of which Men In Black takes the glory at an excellent $56.2m (£35.8m).
Falling one place to second was Paramount's The Dictator which amassed $1.83m (£1.2m) from its 499 sites.
Sacha Baron Cohen's latest now stands at $12.1m (£7.7m) after two weeks in play, closing in on Ali G Indahouse's tally of $16.1m (£10.3m) although doubtful to overhaul either Brüno or Borat's overall grosses which stood at $24.8m (£15.9m) and $37.9m (£24.2m) respectively.
Continuing to attract the crowds after five weeks was Marvel/Disney's superhero team-up The Avengers - Avengers Assemble in the UK - which charted third in the week that it became the fourth biggest film internationally of all time at $781.6m overall.
Arriving in fourth was another new entry in the form of Lionsgate's What To Expect When You're Expecting after the all-star romantic comedy took a solid $1.0m (£661,000) from its 410 sites.
Rounding off this week's top five was Warner Bros' Dark Shadows which spooked its way to $670,000 ($430,000) for $10.1m (£6.4m).
Cannes opener Moonrise Kingdom debuted in seventh on an estimated $400,000 ($250,000) from its 163 sites through Universal.
This week sees saturation releases for Fox's much-anticipated Prometheus, Universal's Snow White And The Huntsman (opens May 30) and Vertigo's Top Cat. eOne's Cannes Competition entry The Angel's Share and Lionsgate's LOL both receive wide releases.