Dir/scr: PJ Hogan. Australia. 2012. 111mins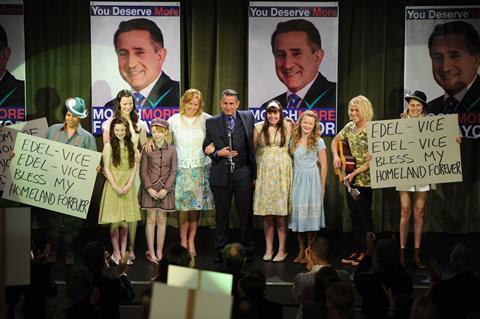 This re-teaming of actor Toni Collette and director/writer PJ Hogan on home ground is perhaps the year's most eagerly anticipated Australian-made release. Their double career-launching 1994 comedy Muriel's Wedding, still in the top dozen list of all-time gross box office takings from locally made features and regularly rerun on cable/satellite TV, remains a national cross-profile treasure.
Hogan packs each frame with a feast of colourful information.
Very much in the same crazy-comedy-with-serious-undertones genre as Muriel but with a much bigger budget, Mental strives hard for affection with a barrage of colour, songs, oddball characters and cinematic virtuosity. Though never less than technically impressive, its hyperactive energy, farcical narrative and racy dialogue (delivered with full-on Aussie accents) make this a young adults' movie. An older demographic may feel overwhelmed.
Collette's wide recognition via three seasons of United States of Tara will be crucial to international prospects, as will the canny addition of Liev Schreiber (Salt, X-Men Origins: Wolverine, etc) to the home cast as a shark-hunting Steve Irwin. It opens locally October 4.
The larger-than-life story is based on aspects of Hogan's own autobiography, so he says. Set in Dolphin Heads, a coastal suburban twin to Muriel's Porpoise Spit, we meet the oddball Moochmore family. Barry (Anthony LaPaglia) is a loudmouthed, womanising Mayor with no time for his sweetly nutty wife Shirley (Rebecca Gibney) who imagines herself as Maria in The Sound of Music, singing 'The Hills Are Alive' while hanging out the family washing.
And there's plenty of washing, because she and Barry have five daughters aged between 12 and 16, each quite certain that she has a self-diagnosed mental illness. When Shirley breaks down, Barry sends her for a 'holiday' at a distant mental hospital and, on the spur of an unlikely moment, hires a passing hippy as the girls' 'baby-sitter'. This is Chaz (Collette), who is travelling light with her dog Ripper and who has plenty of psychological problems of her own. In her backpack is a well-thumbed manual of classified mental disorders.
The striking Collette commands attention as this girl/woman, damaged yet capable of spreading hope and happiness. And she clearly revels in some of Hogan's fruitiest dialogue.
Schreiber is tough and convincingly Australian as the shark collector from Chaz's murky past, and there are enjoyable portraits of near-madness from Kerry Fox as a cleanliness-obsessed neighbour; from Caroline Goodall as a maker of life-sized dolls, and from Deborah Mailman as an out-of-control lesbian. Mailman, with The Sapphires, Mabo and now Mental, is having an outstanding 2012.
The five daughters are played by perky newcomers, each cast following a widely publicised online search, lead by the oldest, Lily Sullivan, who flings herself into plenty of the non-stop action, including a late-night naked water-slide at the fun fair where she works.
Hogan packs each frame with a feast of colourful information. There's notable camerawork by veteran Don McAlpine (Peter Pan, Moulin Rouge!) and editing by Jill Bilcock (Red Dog, Moulin Rouge!). Rogers and Hammerstein's Von Trapp Family songs here replace the ABBA numbers that inspired Muriel to break free: not the same uplift.
Production companies: Zucker Productions, Story Bridge Films
UK/Aust/NZ distribution: Universal
International sales: Arclight Films, www.arclightfilms.com
Producers: Janet Zucker, Jerry Zucker, Todd Fellman, Jocelyn Moorhouse
Executive Producers: Gary Hamilton, Bryce Menzies, Lee Soon Kie
Cinematography: Donald McAlpine
Editor: Jill Bilcock
Production designer: Graham Walker
Music: Michael Yezerski
Main cast: Toni Collette, Liev Schreiber, Anthony LaPaglia, Rebecca Gibney, Kerry Fox, Caroline Goodall, Deborah Mailman, Lily Sullivan, Sam Clark