Dir: Kenny Ortega. US. 2009. 112 mins.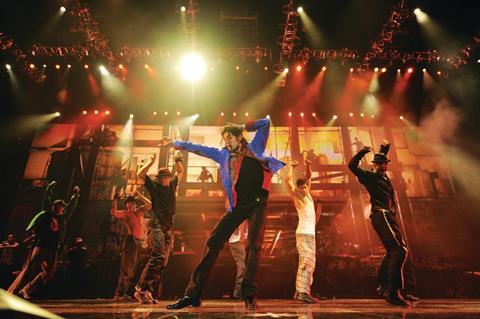 "For the fans" is the opening dedication of Michael Jackson's This Is It and that is exactly what this concert film is, an unapologetic paean to Jackson's talent which will delight devotees while others shake their heads at the cash-in commercialism of the venture.
"The rehearsals are just that – there is no audience - but Jackson is performing at the peak of his powers, his voice and dance moves gloriously intact"
Opening worldwide tomorrow (Oct 28) with a tie-in soundtrack already in shops, it is bound to deliver a handsome return on investment for Sony Pictures which paid over $50m for the 100 hours-plus of footage of the king of pop rehearsing for a concert series before his death in June. Aside from rich theatrical results in the next few weeks, its life as an ancillary item will be long and substantial.
The film's meaty running time of 112 minutes will please fans while boring others. Indeed it is an exercise full of contradictions: on the one hand, it is nothing more than a runthrough of songs that were going to be performed in the concerts, on the other, it offers fascinating glimpses into the process that goes into creating these megashows. And while it reveals little about Jackson from conversation or dialogue, it offers some valuable insight into his character as a performer and showman.
Tour director Kenny Ortega put the film together in a remarkably short window between Jackson's death and the Oct 28 release date which was set on completion of the deal in July. Ortega's affection for Jackson and all the members of the team – from lighting and costume designers to dancers, singers and musicians – is evident, and indeed he begins by showing interviews with the dancers selected for the tour gushing tearfully about the notion of working with their idol, now 50 years old.
He throws in some token shots of the London press conference announcing the 50-concert series before settling into Wanna Be Startin Something, matching extracts from different rehearsals shot with different cameras into a complete musical number. The rehearsals are just that – there is no audience - but Jackson is performing at the peak of his powers, his voice and dance moves gloriously intact.
Therein lies the power of the footage, commercially and artistically. It's been so long since Jackson had been seen in action that Ortega's distillation here is a spectacular reminder of his musical talents, his charisma and ferocious zeal to entertain. All the hits are here – from Beat It and Billie Jean to Human Nature, I Just Can't Stop Loving You, Earth Song, They Don't Care About Us and a smattering of Jackson 5 hits.
We also get glimpses of film clips created for the tour – new 3D scenes of a graveyard uprising for Thriller and, for Smooth Criminal, an amusing pastiche of gangster flicks in which Jackson is chased by Humphrey Bogart after flirting with Rita Hayworth's Gilda.
The film shows how the director and crew handle Jackson, mainly with kid gloves and often with sycophancy, and how the star's often inarticulate creative wishes are granted by those around him. But Jackson himself, as always, remains a mystery.
As the second hour nears its end, This Is It begins to wane in pace, especially with the inclusion of a syrupy poem called Planet Earth and a heavy-handed short film in which a forest is chopped down while a little girl sleeps in the grass. Fortunately a memorable rendition of Billie Jean complete with hip-thrusting, crotch-clutching dance moves perks up the final half hour while a rousing new Jackson song, called This Is It, plays over the end credits.
To sign up for Screen's weekly Reviews Newsletter with all the week's new releases, international openings and full festival reviews delivered free to your mailbox every Friday, please click HERE
Production companies
The Michael Jackson Company
AEG Live
Columbia Pictures
Worldwide distribution
Sony Pictures/SPRI
Executive producers
John Branca
John McClain
Producers
Randy Phillips
Kenny Ortega
Paul Gongaware
Editors
Production design
Michael Cotten