Leaving Las Vegas director talks to NFTS students about the peaks and troughs of filmmaking.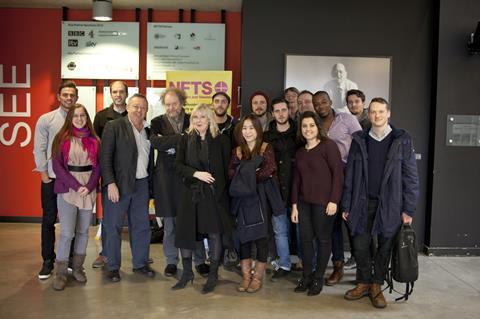 Oscar nominated director Mike Figgis entertained students at the National Film and Television School (NFTS) with a frank and humorous key note speech about the peaks and troughs of film-making.
Speaking in conversation with NFTS director Nik Powell, Figgis credited Channel 4 for commissioning him to make his first short film The House, that gained interest and opened doors.
Figgis then wrote a script for his debut feature – Stormy Monday - a gangster film noir set in Newcastle but struggled to find finance to make it. Following a frustrating year during which he worked as a teacher, his breakthrough came while standing in a skip in Soho.
"I came across a skip full of dumped reel to reel tapes and decided to salvage them for my students. I backed up my Ford Cortina and jumped in the skip when I saw my producer – Nigel Stafford-Clark who produced my first film.
"It was a bit of an awkward situation but I took the chance to tell him about the script I'd written. He read it and gave me some of the best advice. Instead of cramming four stories into one, par it back, simplify to just one. "
It took Figgis three years to find the finance, which he eventually secured following a surreal telephone call to Hollywood made from a farm in Devon, during which Figgis was drowned out by the sounds of cows and goats. A journey to Los Angeles followed where he nearly missed the deal clinching meeting due to having the wrong address and thinking he could walk the length of Hollywood Boulevard.
The film Stormy Monday (1988) was eventually shot by NFTS graduate cinematographer Roger Deakins and starred Hollywood actors Melanie Griffiths, Tommy Lee Jones and the musician/actor Sting. It was a success in America and earned Figgis attention as a director who could get interesting performances from established Hollywood actors.
His next film Internal Affairs - a gritty thriller starring Richard Gere - was also well received and Leaving Las Vegas starring Nicholas Cage earned Figgis an Academy Award nomination.
However, some of his other films that followed received mixed reviews.
"The Hollywood experience taught me a lot. I have had highs and lows but I think there are still more opportunities in America than there are here," he said.
Figgis was one of the pioneers of digital video technology in film leading him to conceive and direct the film Timecode, which was digitally shot simultaneously on four cameras and presented uncut on screen in four quarters so that the audience has multiple views.
Despite the advantages of access and cost, Figgis said he feared it had led to the tragic loss of celluloid film: "At the start of the digital revolution, directors like me just wanted the palate of film making to get bigger but it is now tragic that we are about to lose film.
"In Hollywood this is the last year they will print on film… What I don't love about digital is the disgusting realism of it – it's just too clear."
Having started his career in experimental theatre and music, Figgis was asked by a student why he had chosen to work in film?
"Film is a form of theatre. It is the drama that interests me. But why do we bother with drama? Because collectively as people we need a forum to discuss our fears of death, of loss, of losing someone we love through death; sex and desire and why this causes us to do such stupid things.
"Why is it so interesting to watch stories about people losing control? Why does this make a great film? Because it helps us to understand."