Dir: Alexandros Avranas. Greece. 2013. 99mins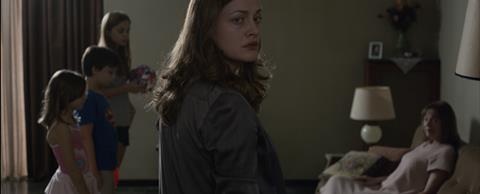 A story of horrific domestic abuse set in an impressively controlled narrative frame, Miss Violence is one of those films you wish you could erase from your mental hard disk after the screening, so disturbing is its tale of an abusive father's devious sexual, physical and psychological control over the rest of his family. But at the same time, it's impossible not to acknowledge second-time Greek director Avranas' directorial bravura in making his own firm, cold grasp of his material and story mirror the iron grip of his pater familias antagonist.
Miss Violence is at its best when it hints rather than shows.
Interest in the new 'weird' wave of Greek cinema is growing after the festival and arthouse success of films such as Dogtooth, Attenberg and Alps. Second-time director Avranas shares the interest of his compatriots Yorgos Lanthimos and Athina Rachel Tsangari in dysfunctional families or surrogate families that live by their own rules, as well as a slightly mannered approach to framing, costumes, production design, and even the way his characters move. But Miss Violence is a much less wantonly quirky film than those of Lanthimos and Tsangari: it derives its shock value from the fact that it stays (just) within the bounds of the believable.
Outside of the protected festival circuit, Miss Violence's theatrical career will depend largely on whether distributors feel that they can target audiences who will appreciate the film's impressive parable of power and control without being repelled by its subject matter.
Miss Violence opens with a birthday party, and a suicide. The birthday is that of solemn-faced 11 year-old Angeliki; so is the suicide. We realise something is not quite right even before she throws herself from the balcony of the family apartment; everything seems stilted in this airless series of rooms, from the mother's terrifyingly fixed smile to the way everyone wears their party hats as if they've been told to put them on at gunpoint.
Gradually, our sense of unease increases as we see the family's numbed reactions to the death. We assume at first that the never-named adult male in the household – the kind of mild-mannered balding guy you'd never notice on a bus – is the older husband of Angeliki's mother Eleni. He's not. We will spend most of the film working out the relationships within this family whose remaining members comprise a primary-school-aged boy and girl, the latters' apparent grandmother, and teenage girl Myrto, who seems to resent the man who calls herself his father. It's not long before we find out why.
Themis Panou is chillingly perfect as a man who can act the mild, concerned family patriarch when talking to headmistress or social services but who rules his family with a carefully dosed regime of treats and threats, privileges and punishments. Society at large is seen as largely complicit in this: Avranas paints a picture of a washed-up Greek city (actually Athens) where men and morals are both bankrupt, where young girls are pimped out for a few euros, and those charged with protecting the vulnerable are themselves blinkered by the rulebooks they follow.
Filmed largely in washed-out pastels, with neutral or retro clothes and bland petit-bourgeois interiors (as well as the absence of mobile phones) pushing the action into a past-present netherworld, Miss Violence is at its best when it hints rather than shows, though a shockingly graphic scene of sexual abuse near the end is justified, perhaps, by the fact that we're only watching what we had already figured out. The fact that its victims are themselves, at times, abusers, adds another depressing twist to the film's implacable portrayal of tyranny in action.
Production companies: Faliro House Productions, Plays2Place Productions
International sales: Elle Driver, www.elledriver.eu
Producers: Vasilis Chrysanthopoulos, Alexandros Avranas
Executive producer: Christos V. Konstantakopoulos
Screenplay: Alexandros Avranas, Kostas Peroulis
Cinematography: Olympia Mytilinaiou
Editor: Nikos Helidonides
Production designers: Eva Manidaki, Thanassis Demiris
Main cast: Themis Panou, Reni Pittaki, Eleni Roussinou, Sissy Toumasi, Kalliopi Zontanou, Konstantinos Athanasiades, Chloe Bolota