CHINA BOX OFFICE: Paramount's Mission: Impossible - Rogue Nation amassed $33.70m for a $120.29m cume.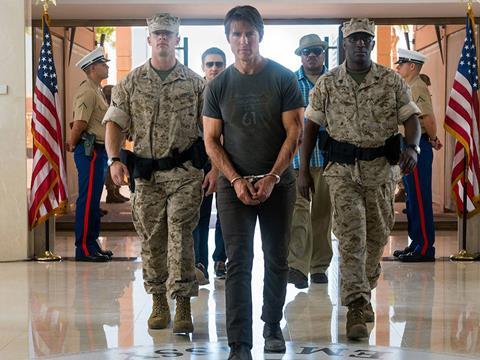 In a quiet week without strong contenders, Minions came close to edging out Mission; Impossible - Rogue Nation, but Tom Cruise's action franchise held on to the top berth with $33.70m and has now amassed $120.29m after 13 days. Minions finished a close second, taking $31.27m for a cume of $50.18m after eight days.
Opened on Sep 15, Sony's Pixels failed to make much of a splash but still debuted in third place with $12.14 after six days. The comedy about evil video games starring Adam Sandler was co-financed by the China Film Group.
Korean blockbuster Assassination opened in fourth place, raking in $3.90m after four days. The period action thriller was toplined by Gianna Jun and Lee Jeong-jae and partially filmed in Shanghai.
Ulterior Motive opened in fifth with $1.49m after four days. The Chinese crime thriller is directed by Hong Kong ace DoP Arthur Wong and stars Qin Lan, Lam Ka Tung and Simon Yam.
Saving Mr Wu came in sixth with $1.22m from 10,529 previews alone. The Chinese action thriller is based on a true kidnapping case of a Hong Kong film star played by Andy Lau. Directed by Ding Sheng whose Police Story 2013 was an $85 million hit in China, the film is due to open on Sep 30 for the National Day holiday week.
Rounding out the top 10 were The Hundred Regiments Offensive which grossed $0.91m for a $63.23m after 24 days; The Dead End which grossed $0.84m for a cume of $47.60m after 25 days; Evil Calls, a local drama about phone scams, which opened in ninth with $0.65m after five days; and Monster Hunt, already China's biggest hit of all time, which added $0.63m for a cume of $382.49m after 67 days.
Lost in Hong Kong, Chinese director Xu Zheng's follow up to his megahit Lost in Thailand, is expected to ignite the box office when it opens this Friday, Sep 25.