Dir: Brad Bird. US. 2011. 133mins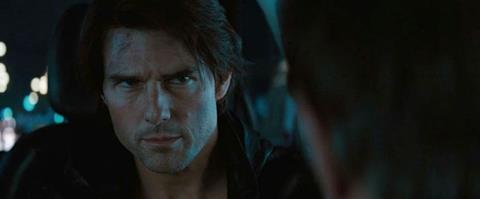 Tom Cruise may be turning 50 next year, but with Mission: Impossible – Ghost Protocol he demonstrates that he's hardly ready to stop considering himself a major action star. Fuelled by his propulsive, sometimes literally death-defying performance, this fourth instalment in the Mission: Impossible series is arguably the strongest of the bunch, piling on the impressive set pieces with a cheeky brio from first-time live-action director Brad Bird. Thinly-drawn characters continue to be the Achilles' heel of this franchise, so audiences are advised to focus instead on the high-octane heroics.
Cruise remains a commanding presence throughout Ghost Protocol.
Paramount will release the film in select IMAX theatres on December 16 before it lands everywhere domestically December 21. Despite Cruise's marquee value and audience familiarity with the Mission: Impossible franchise, Ghost Protocol will be entering a crowded action marketplace with Sherlock Holmes: A Game Of Shadows and The Adventures Of Tintin also arriving around the same time. 2006's Mission: Impossible III was the series' weakest commercial outing, bringing in "only" $398m worldwide, but the betting is that this energetic sequel will help reinvigorate Paramount's sagging franchise.
Ghost Protocol looks to shake up the series by investing the proceedings with an urgent underdog appeal. Still coping with a recent divorce, Ethan Hunt (Cruise) returns to IMF for a new mission that involves him infiltrating the Kremlin with field agents Jane Carter (Paula Patton) and Benji Dunn (Simon Pegg). But when the operation is compromised and the Kremlin mysteriously bombed, IMF is blamed, forcing the U.S. government to blacklist Hunt and his team and cut off all contact. With the help of government analyst William Brandt (Jeremy Renner), Hunt has to stop a dangerous madman (Michael Nyqvist) from launching nuclear weapons that will start World War III.
This sequel was directed by Brad Bird, who previously helmed the Pixar features Ratatouille and The Incredibles, and one could argue that Ghost Protocol is his live-action version of The Incredibles' giddy adventure storytelling. Unfortunately, he doesn't seem entirely comfortable directing flesh-and-blood actors – the movie's occasional heartfelt moments are noticeably flat – but his showmanship is superb, which proves far more important. Without being overly showy or self-conscious with his camera setups, Bird keeps this two-hour-plus film zipping along nicely with smart, efficient action filmmaking.
Like Mission: Impossible III, Ghost Protocol features a jokey, self-aware sense of humour that's meant to lightly undercut the super-serious, larger-than-life action sequences and desperate stakes. And while this approach can be frustratingly distracting – such as when characters make wisecracks during pressure-filled operations – on balance Bird wisely allows a fun, rollicking air to permeate the film. Consequently, this may be one of the least frightening films about the possible annihilation of humanity, but the fierce proficiency of the action sequences are entirely gripping.
Since it would be unfair to ruin the surprises in Ghost Protocol's elaborate set pieces, let it be said that the filmmakers have managed to concoct several new variations on familiar spy/action tropes, such as breaking into seemingly impenetrable strongholds and chasing after people through crowded public spaces. But the film's most bravura sequence involves Cruise scaling Dubai's Burj Khalifa, the world's tallest building. It's a feat of tense suspense filmmaking, not to mention an absolute nightmare for audience members with a fear of heights.
Beyond his dedication to risking his life in action sequences, Cruise remains a commanding presence throughout Ghost Protocol. Ethan Hunt has never been a particularly complex character, but Cruise infuses him with such intensity that Hunt's generic heroism is immediately amplified through force of will. Though Cruise' star power may have faded some over the years, there's no question he can still hold the screen with an effortlessness that shows no signs of diminishing.
Cruise's supporting cast isn't nearly as dynamic, with Renner and Patton able to offer little to shallowly-conceived characters. Returning from Mission: Impossible III, Pegg gets some laughs as the team's nerdy computer expert, but he's still mostly a comic relief device than can feel extraneous at times. As the film's villain, Nyqvist (best known from the original Girl With The Dragon Tattoo movies) is disappointingly dull, lacking much compelling to do beyond threatening the end of the world.
Paramount screened Ghost Protocol for reviewers in IMAX, and the movie's action scenes have extra pop thanks to the larger, enveloping screen. The Burj Khalifa sequence is the most obvious beneficiary, but elsewhere as well the confident, taut filmmaking lends itself nicely to the IMAX treatment. For those who argue that the future of blockbuster movies isn't 3D but rather IMAX, Ghost Protocol will help bolster their case.
Production companies: Skydance Productions, Tom Cruise/Bad Robot
Domestic distribution: Paramount Pictures, www.paramount.com
Producers: Tom Cruise, J.J. Abrams, Bryan Burk
Executive producers: Jeffrey Chernov, David Ellison, Paul Schwake, Dana Goldberg
Screenplay: Josh Appelbaum & André Nemec, based on the television series created by Bruce Geller
Cinematography: Robert Elswit
Production designer: Jim Bissell
Editor: Paul Hirsch
Music: Michael Giacchino
Website: www.missionimpossible.com
Main cast: Tom Cruise, Jeremy Renner, Simon Pegg, Paula Patton, Michael Nyqvist, Vladimir Mashkov, Josh Holloway, Anil Kapoor, Léa Seydoux