Mystery thriller from Park Jung-bum wins pitching prize.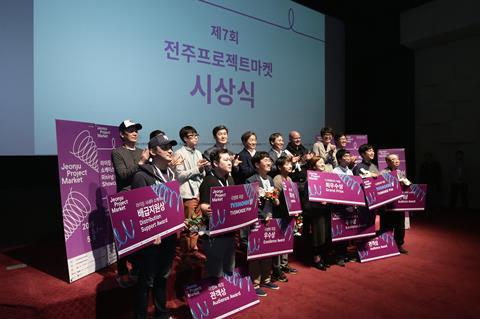 Scroll down for full list of winners
In South Korea, the 7th Jeonju Project Market (JPM) announced its winners with the Grand Prize for Feature Film Pitching going to Monk, a mystery thriller from Alive (2014) director Park Jung-bum. The ceremony took place May 3 and the market wrapped on Monday (May 4).
Compared to 56 business meetings last year, JPM's Jeonju Project Promotion (JPP) this year hosted over 80 meetings for its 11 feature and documentary pitching projects with companies including Lotte Entertainment, Showbox/Mediaplex, Korea Telecom, Cine Guru, Finecut and M-line Distribution.
Jury members Won Dong-yun, head of Realize Pictures, Lee Sangyong, managing director at WAW Pictures and film director Jeong Yoon-chul awarded Monk unanimously and said: "The project has constructed high-quality drama and vivid characters, and the shocking twist that is revealed through the tug-of-war between truth and falsehoods is very impressive."
The award comes with $10,000 (KW10m) from the Jeonju International Film Festival (JIFF) and 50% discounts on shooting equipment and studio use at the Jeonju Film Commission as well as digital color correction at Jeonju Cinema Complex. The film will also get English subtitling support from Furmo DT and an opportunity to premiere at JIFF.
Manchu war adventure
This year, France's TV5Monde expanded their support from Feature Film Pitching to also award a project in Documentary Pitching with a total of $10,000 (KW10m) in production grants. Half of the amount will go to each section's winner.
Kawha, written by Cho Hong-jun, took both the TV5Monde and audience awards for Feature Film Pitching. The audience award is voted on by accredited JPM participants who attend the pitching sessions. It comes with DCP production support.
Set in the turbulent times following the Manchu war of 1636, Kawha follows the adventures of a young man with a gift for using make-up to help people, including a young, scarred kisaeng (Korean for geisha) with whom he falls in love – as does the king.
Documentary winners
Similarly, in the Documentary Pitching section, a single project, Her Album, directed by Kim Jungin, also took both the TV5Monde and audience awards.
The documentary is about the director's mother, the eldest of ten brothers and sisters from Jeonju, who after a lifetime of taking care of her younger siblings and her own family, has found a passion in photography and uses it as they reunite.
Bubble Family, directed by Ma Minji, won the Grand Prize in the documentary section. The project focuses on the directors' parents' rise and fall and hopes to rise again with the real estate market in Korea.
The theatrical documentary pitches was judged by Bae Gihyung, KBS producer, Lee Dong-gi, president of the Korean Independent Producers & Directors Association and Jung Sang-jin, head of At Nine Film.
Rising Cinema Showcase
The Rising Cinema Showcase featured films from JIFF's Korea Cinemascape section which have no distributors attached. Ahn Seulki's Under the Sun picked up the Distribution Support Award of $10,000 (KW10m) sponsored by YU&IQ Entertainment and one month's screening at Jeonju Digital Independent Cinema.
Kim's Dilcusha-Life Goes On, directed by Kim Taeyeong and Lee Seayoung, won the audience award which comes with DCP support.
The showcase was judged by Kang Ki-myung, head of LOCA (Leader of Cinema Academy) and Stanley Kwak, head of Indiestory.
Full Award-winners List
1. Feature Film Pitching
- Grand Prize: Monk, director Park Jungbum
- TV5MONDE Award: Kawha, writer Cho Hong-jun
- Excellence Award: Curtain Call, producer Choi Seungho
- Audience Award: Kawha, writer Cho Hong-jun
2. Documentary Pitching
- Grand Prize: Bubble Family, director Ma Minji
- TV5MONDE Award: Her Album, director Kim Jungin
- Excellence Award: The Wolf In The Fence, director Jang Hyobong
- Audience Award: Her Album, director Kim Jungin
3. Rising Cinema Showcase
- Distribution Support Award: Under the Sun, director Ahn Seulki
- Audience Award: Kim's Dilcusha-Life Goes On (Director: KIM Taeyeong, LEE Seayoung)