Dir/scr. Rodrigo Garcia. US. 2009. 125 mins.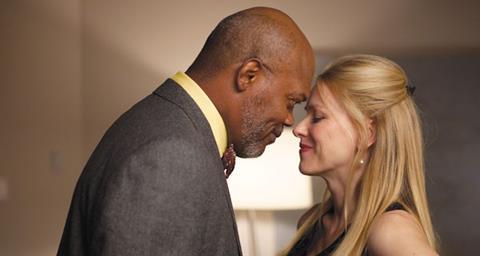 Delicate, thoughtful and quietly absorbing, Mother And Child is above all things a wonder of good acting and finely-calibrated small moments. As with Nine Lives, writer-director Rodrigo Garcia populates his new drama with unpredictable, three-dimensional women, focusing on three characters living separate lives who may be more connected than we (or they) first realise. Mostly avoiding melodramatic contrivances, Mother And Child touches on themes of family, motherhood and destiny, looking fairly effortless in the process.
Bening gives one of her very best performances
An impressive cast lead by Naomi Watts, Annette Bening and Samuel L. Jackson should draw in viewers, and although this will undoubtedly be labelled a "chick flick," strong reviews and word-of-mouth will help the film in upscale markets and ancillaries.
Mother And Child introduces us to three women who live in Los Angeles unbeknownst to each other. Karen (Bening) is an unhappy physical therapist coping with the death of her mother. Elizabeth (Watts) is an ambitious lawyer engaged in a sexual relationship with her boss (Jackson). And Lucy (Kerry Washington) is infertile, prompting her and her husband to look into adopting the unborn child of an unmarried young woman (Shareeka Epps).
Without offering any overt hints, Garcia suggests a possible connection between two of the women – Karen has been tormented for years about giving up her child after its birth when she was 14, and Elizabeth was adopted and has never met her real mother.
In his previous films, Garcia has exhibited a preference for unconventional, multi-pronged narratives that emphasise character and naturalistic dialogue. Mother And Child is his strongest yet in this regard, using parallel storylines to examine his richest set of characters.
Both Karen and Elizabeth are strong-willed women who can be abrasive and emotionally shut-off, and yet Garcia reveals enough of their vulnerabilities to explain their occasionally prickly surfaces.
Bening gives one of her very best performances as a potentially despicable woman who has carried her bitterness around for so long that it poisons her every interaction. Watts matches Bening's fire, making Elizabeth a manipulative, powerful woman whose motivations are left intriguingly vague.
As Karen's would-be boyfriend, Jimmy Smits does stellar work with an equally tricky role, playing an almost impossibly nice guy who refuses to let Karen's bristly personality deter him.
Because so much of Mother And Child is graceful and understated, it's disappointing that its third act unleashes a few too many plot twists, which is the only time the movie feels like it's labouring for its emotional effects. But even if the storytelling wobbles some near the conclusion, Garcia finds the right note to end the movie on – which means returning his attention to his great strength as a filmmaker, his characters.
To sign up for Screen's weekly Reviews Newsletter with all the week's new releases, internationalopenings and full festival reviews delivered free to your mailbox every Friday, please click HERE
Production companies
Mockingbird Pictures
Everest Entertainment
International Sales
WestEnd Films
+ 44 207 494 8300
Producers
Julie Lynn
Lisa Maria Falcone
Cinematography
Xavier Perez Grobet
Production designer
Christopher Tandon
Editor
Steven Weisberg
Music
Edward Shearmur
Main cast:
Naomi Watts
Annette Bening
Kerry Washington
Jimmy Smits
Samuel L. Jackson
Shareeka Epps
Cherry Jones
S. Epatha Merkerson