Dirs. Steven Brill, Peter Farrelly, Will Graham, Steve Carr, Griffin Dunne, James Duffy, Jonathan Van Tulleken, Elizabeth Banks, Patrik Forsberg, Brett Ratner, Rusty Cundieff, James Gunn. US. 2013. 95mins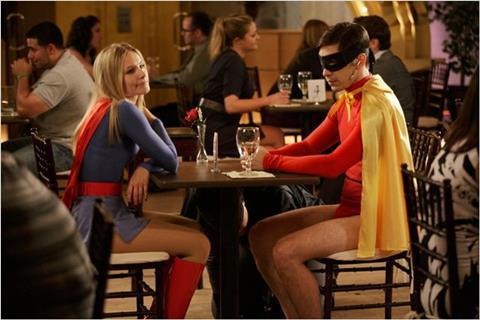 Though it shouldn't be confused with a good movie, the comedy omnibus Movie 43 is perversely watchable — not just because it consists of quick shorts but also because it offers the unique opportunity to see big stars embrace the sort of raunchy, juvenile inappropriate humour that usually keeps you from being a big star. A total mess but not without its genuinely funny moments, this Relativity release is one to store away in the how-did-this-ever-happen vault.
Obviously, such a film isn't going to appeal to the easily offended but too often Movie 43 settles for the mildly outrageous rather than pushing into inspired or hilarious terrain.
Opening in the US on January 25 without screening to the press, Movie 43 features a cast that includes Elizabeth Banks, Halle Berry, Gerard Butler, Richard Gere, Hugh Jackman, Dennis Quaid, Emma Stone, Naomi Watts, and Kate Winslet. That's a starry line-up, which might help turn out viewers, but this project (shepherded by filmmaker Peter Farrelly, one-half of the Farrelly brothers) will also turn off many with its wholly outrageous sexual humour. The betting is that theatrical grosses will be modest, leading the movie to eventually become a DVD curiosity.
The wildly vulgar or shocking shorts contained in Movie 43 are meant to be the bizarre ideas of a desperate screenwriter (Quaid) who's pitching stories to a beleaguered studio executive (Greg Kinnear). In one, a woman (Winslet) goes on a blind date with a handsome, successful businessman (Jackman) who seems flawless — until she discovers that he has a scrotum attached to his neck. In another, one roommate (Johnny Knoxville) gets the other roommate (Seann William Scott) a leprechaun (Butler) as a birthday present — which would be great if the foul-mouthed, violent leprechaun was willing to part with his gold.
Movie 43 has several different directors, but the film's overriding spirit seems to stem from Farrelly, who with his brother has cornered the market on gross-but-sweet broad comedies. Taking a cue from 1977's Kentucky Fried Movie — which was directed by John Landis and written by Airplane! filmmakers David Zucker, Jim Abrahams and Jerry Zucker — the film flaunts its quick-strike offensive humour, and what is appealing is how these major stars commit to the sophomoric gags and profane dialogue with clear relish. (For instance, part of what makes the short with Winslet and Jackman so funny is the fact that it stars Winslet and Jackman — and the large fake scrotum dangling from Jackman's throat, of course.)
Obviously, such a film isn't going to appeal to the easily offended — also, it probably will help to have been an adolescent boy at one point — but too often Movie 43 settles for the mildly outrageous rather than pushing into inspired or hilarious terrain. A promising sketch about parents (Liev Schreiber and Naomi Watts) who home-school their son — even going so far as to recreate the typical rites of passage, like a first kiss and being bullied — never gets beyond its initial idea. Others, like a couple (Chris Pratt and Anna Faris) who experience some difficulties when the woman wants her man to start defecating on her in bed, are just disgusting without being particularly funny.
Still, there are two nicely executed shorts. One is the Farrelly-directed Winslet/Jackman sketch — its key is that Winslet's character seems to be the only person unnerved by Jackman's neck — while the other is a smart parody of inspirational sports movies. In a sendup of '60s true-life stories like Glory Road, "Victory's Glory" stars Terrence Howard as a basketball coach who's trying to inspire his underdog African-American team against their arrogant white opponents. It's best not to reveal the twist, but suffice it to say that director Rusty Cundieff skewers one era's racist assumptions by juxtaposing it with the modern era's different racist assumptions.
Sadly, that's as close as Movie 43 gets to clever satire, although Banks' directorial effort — about a seventh-grader (Chloë Grace Moretz) who gets her first period, much to the horror and confusion of every male around her — at least takes a stab at mocking the general ineptness of the gender that's probably going to be most interested in seeing this mediocre film. The commentary will probably go over their heads, though: They'll just be giggling at the menstruation jokes.
Production companies: Rogue, Greenestreet Films, Virgin Produced
Domestic distribution: Relativity, www.relativitymediallc.com
Producers: Charles B. Wessler, John Penotti, Peter Farrelly, Ryan Kavanaugh
Executive producers: Tim Williams, Tucker Tooley, Ron Burkle, Jason Beckman, Jason Colodne, Jason Felts
Screenplay: Will Carlough, Tobias Carlson, Jacob Fleisher, Patrik Forsberg, Will Graham, James Gunn, Claes Kjellström, Jack Kukoda, Bill O'Malley, Matthew Portenoy, Greg Pritikin, Rocky Russo, Olle Sarri, Elizabeth Shapiro, Jeremy Sosenko, Jonathan Van Tulleken, Jonas Wittenmark
Cinematography: Matthew F. Leonetti, Tim Suhrstedt, William Rexer, Daryn Okada, Frank G. DeMarco, Eric Scherbarth, Mattias Andersson Rudh, Newton Thomas Sigel, Steve Gainer
Production design: Jay Vetter, Happy Massee, Inbal Weinberg, Dina Lipton, Jade Healy, Toby Corbett, Nolan Hooper, Robb Wilson King
Editors: Patrick J. Don Vito, San Seig, Paul Zucker, Craig Herring, Suzy Elmiger, Myron Kerstein, Joe Randall Cutler, Jonathan Van Tulleken, Debra Chiate, Mark Helfrich, Håkan Wärn, Sandy Solowitz, Cara Silverman
Music: William Goodrum, David J. Hodge, Christophe Beck, Leo Birenberg, Tyler Bates
Website: www.facebook.com/WhatIsMovie43
Main Cast: Elizabeth Banks, Kristen Bell, Halle Berry, Leslie Bibb, Kate Bosworth, Gerard Butler, Bobby Cannavale, Common, Kieran Culkin, Josh Duhamel, Anna Faris, Richard Gere, John Hodgman, Terrence Howard, Hugh Jackman, Greg Kinnear, Johnny Knoxville, Justin Long, Seth MacFarlane, Stephen Merchant, Christopher Mintz-Plasse, Chloë Grace Moretz, Chris Pratt, Dennis Quaid, Liev Schreiber, Seann William Scott, Emma Stone, Jason Sudeikis, Uma Thurman, Naomi Watts, Kate Winslet