Paul Rudd stars alongside Elizabeth Banks and Zooey Deschanel in this recently wrapped ensemble comedy written and directed by Jesse Peretz.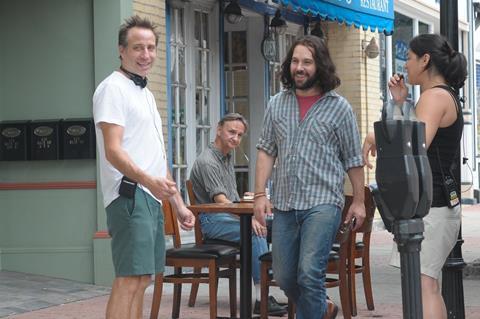 Synopsis: Writer-director Jesse Peretz reunites with Paul Rudd, the star of his 2001 comedy The Chateau, on this recently wrapped ensemble comedy about an idealist who brings merry chaos into the lives of his three sisters in New York after he is released from prison for selling dope to an undercover police officer.
Director: Jesse Peretz
Writer: Evgenia Peretz and David Schisgall
Producers: Anthony Bregman for Likely Story, Peter Saraf and Marc Turtletaub for Big Beach
Executive producers: Caroline Jaczko, Stefanie Azpiazu and Aleen Keshishian
Cast: Paul Rudd, Elizabeth Banks, Zooey Deschanel, Emily Mortimer
Financing: Big Beach
Budget: Sub-$10m
International Sales: Hyde Park International
Distribution: Big Beach represents worldwide rights
Language: English
Locations: In and round New York City
Shoot dates: From July for 30 days
Status: Post-production
Release date: 2011
Everybody had been eager to work with each other on the sub-$10m comedy My Idiot Brother, which recently wrapped principal photography after a 30-day shoot in and around New York. "I made a movie with Jesse before [The Ex, 2006] and I was always looking for something to do with him and he came to me with this script," Likely Story's Anthony Bregman, one of three renowned independent producers on the project, says. "It was fantastic. We worked on the script a little and it was funny and emotional. It feels like it could be commercial and yet at the same time it has integrity and it's a smart comedy with a great lead role and great supporting parts. It's not that often I get a script that feels it's so in place already. We worked on it for a few months and then it came together really quickly for the world of independent film. Paul [Rudd] came on board early and we got Peter [Saraf] involved. We will have a cut of the film less than a year after we saw this script."
"I have known Jesse and Anthony for many, many years through the New York film community and we had tried to work together in the past," Saraf, who runs Big Beach with Marc Turtletaub, says. "Anthony [brought the script] to me and I loved it and was eager to work with both of them. This movie will set a record for how quickly it came together: from the time I first read the script to the time we wrapped the shoot was four months. There's a lot about this project that's really fresh and I don't think we've seen many stories about the relationship between adult siblings. We can relate to it. It's a hilariously funny script but it's also got great heart. There are many scenes that are out-and-out funny. It's a real ensemble piece and every character is fully fleshed out with real motivations."
Peretz and his sister and Vanity Fair writer Evgenia developed the story specifically with Rudd in mind. "This is our second script together [the first hasn't been produced yet] and we wanted to write something more commercial," the director says. "We're two of four children, but for the most part we were inspired by [Woody Allen's] Hannah And Her Sisters, with more of a David O Russell feel to it. When we came up with the big, broad idea we were thinking of Paul for the main character and Emily and Zooey were originally conceived as two of the three sisters and they were all people we'd been friends with for years. Then my sister's husband David [Schisgall] got involved on the script.
"We finished our draft in December," Peretz says, "and hooked up with Anthony and did a couple of passes for him. He sent the script to Peter in April and here we are now having finished the shoot. It was a joy to make because of the calibre of the actors involved."
"The first piece of casting was Paul Rudd and he had a very brief window before he had to go somewhere else, so we had to start the film by mid-July. Paul plays this character who has dropped out of the world and moved upstate to work on an organic farm. He's chosen to live a life with less cynicism than he feels there is in the world he came from, so he tries to be more trusting, and that's what gets him into trouble. In the first scene he sells pot to a uniformed cop at a farmer's market and he eventually goes back to the city and tries to figure out what to do with his life. He wreaks havoc in his sisters' lives but ultimately helps each of them with an issue in their lives. The sisters represent three distinct type of New York women but even so, they have a really codependent relationship and talk to each other every day.
"Some of the dynamics in the family are fairly universal and hopefully people will recognise themselves in one of the characters," Peretz says. "It's always hard for me to articulate the tone I'm going for but I'm not so much of a fan of the 'comedy comedy', where you set up the joke; I [prefer] the comedy that comes out of real personal dynamics where the story is constructed more like a drama and comedic experiences arise from that. For me the perfect movie is Withnail And I. Tonally that's the goal."
With the script and cast in place, Big Beach provided financing through its equity fund. The company holds North American rights and post-production is taking place at its New York offices. The story is set in and around New York and the film-makers shot within 'The Zone', a 30-mile radius from Columbus Circle that encompasses locales in the film such as Manhattan, Brooklyn, Queens, Westchester County, and Rockland County. Staying within the radius conformed to union rules and meant time travelling to work was not deducted from the shoot. "On a shoot like this you want to maximise your time every day," Bregman says. Saraf adds that New York's recently renewed 30% tax credit on costs incurred within the state was a strong pull. "It makes it possible in this low budget environment to shoot a movie here, where it's set," he says.
"I have been trying to do something with Peter and Marc for a long time," Bregman says. "They have very specific taste and no regrets. If it doesn't exactly hit their target it isn't something they're going to go for because they have the luxury of doing whatever pleases them. I understand what the target is and you only have to look at their movies to see that, and this one felt it was right smack in the middle and clearly it is.
"A 30-day shoot is always a very challenging schedule and it didn't feel like we were rushing on the film. We were shooting every day with two [Red] cameras, which is a really important thing with comedy, especially with guys who are so good at going off script. You cannot replay a direction for the other side of the conversation, so you need two cameras to capture it and cut it. We also had two cameras to effectively double the time of the shoot… We had five hours of material a day, which is great when you let the actors go at it. Our mantra was to let the actors act."