The founding partner of Featurent talks San Sebastian and working with filmmaker Alejandro Amenabar.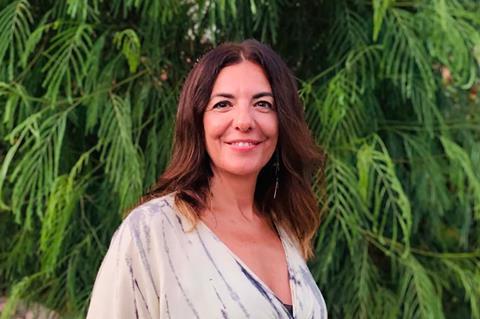 Rosa Garcia Merino is a founding partner of Featurent, a company that combines production and publicity work. Her career in the industry started in PR, working on several of Alejandro Amenabar's films including The Sea Inside, The Others and While At War, as well as Alejandro Gonzalez Inarritu's Biutiful. As an executive producer, Garcia Merino's upcoming titles include Chiqui Cara­bante's black comedy La Fortaleza and Javier Marco's debut feature Josefina, starring Emma Suarez, which is premiering in the New Directors section at San Sebastian. At the fest­ival she will also handle promotion for Amenabar's debut TV series La Fortuna for Movi­star+ and Manuel Martin Cuenca's The Daughter.
What is your office like?
My office can be anywhere that's light and quiet enough to concentrate. Somewhere I can meet my colleagues and discuss ideas and goals. The idea of an office as such changed a long time ago and, more and more, we are all adopting a hybrid model that combines working at home and sharing a common space to see the people we work with. All this helps to enhance flexibility, creativity and the work-life balance.
What is the first thing you do when you start work each day?
Check my emails and meet up with the team.
What was your first job in the film industry?
I started as a publicist.
Who do you look up to in the industry and why?
I admire Alejandro Amenabar for his talent, his hard work and his team-working skills. He knows how to lead, and it's so inspiring working with him. I also have great admiration for producers Fernando Bovaira [of MOD Producciones] and Emma Lustres [of Vaca Films]. I have learned a lot over the years working with both of them.
Who helped you when you were first starting out?
I started very young and the first person who gave me a chance was one of the pioneers of marketing and communication in the industry, Charo Ema. A great teacher. I'm also grateful to producers Jose Sainz de Vicuña, Ana Amigo and Luis Hernandez de Carlos [former director of Warner Sogefilms], who introduced me to the world of film distribution.
What was your favourite film growing up?
Billy Wilder's The Apartment.
What do you like best about your job?
Meeting people and getting to know all sorts of stories.
Who is the most famous person in your contacts book?
It is somebody who will value my discretion.
What are you most proud of professionally?
The campaign for Alejandro's The Sea Inside — a magnificent film. From the first reading of the screenplay you could tell it would go far, and it did. It took us to the Oscars [winning for best international feature film in 2005].
What is your favourite festival or event and why?
I love the San Sebastian film festival for its selection of films and also because it's held in one of the most beautiful cities in the world. Even if you are crazy busy with work, there's always time to go for a stroll on La Concha beach and enjoy the local gastronomy. I feel at home there, working is a pleasure and I have the chance to meet up with good friends.
With whom would you most like to take a meeting?
Frances McDormand, Meryl Streep and Michelle Obama. I love the work of these women and the values they promote.
Where do you want to be five years from now?
By the sea and helping produce stories that I like and that help in the defence of values, of freedom and the care of our environment.
What excites you about the future of the business?
The amount of talent it attracts and its ability to adapt to change.
What is the biggest challenge facing the business?
To tell stories that go beyond the mere need to fill gaps and only entertain. Stories that can help us keep an open mind and a fairer society.
What book are you reading?
The Vanishing Half by Brit Bennett, a novel that reflects on identity among many other themes.
What TV series should everyone watch this year?
It's A Sin, The Crown, Mare Of Easttown and Succession.
Who would play you in the biopic of your life and who would direct?
I don't think my life is interesting enough to make a film about it, but after seeing Rifkin's Festival [Woody Allen's 2020 film set at San Sebastian Film Festival], who knows?